Brand Guidelines for B Corps
Share your B Corp Certification status and story, and make sure you're doing it right. Read on for some key how-tos.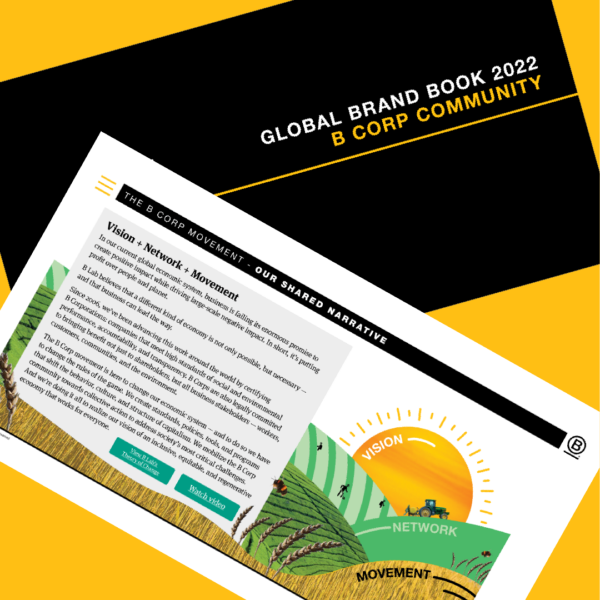 Download the Complete Guidelines
Are you a marketing or design professional? Read the complete Brand Book for B Corps from B Lab Global.
Download the Brand Book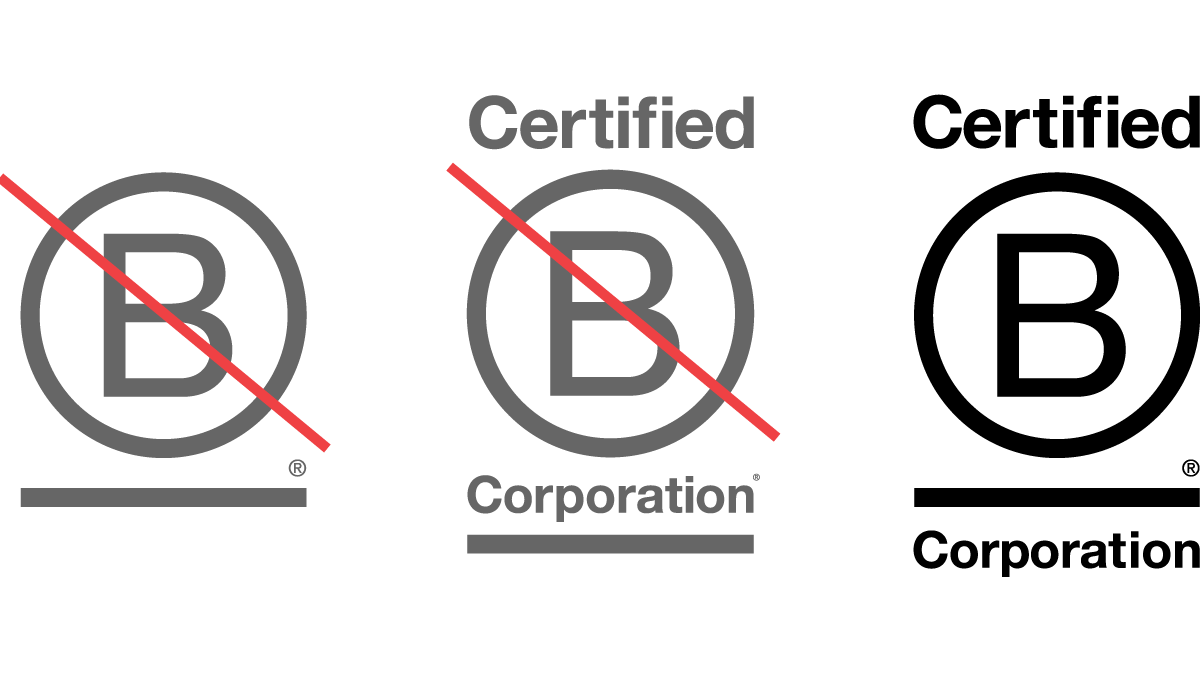 Correct Logo Usage
Please use the Certified B Corporation logo with the line above "Corporation." Make sure to use the logo in either white or black, and not any other color.
The "Circle B" alone should only be used by B Lab.

Download the Logos
Tagline and Logo Lockups
We've updated our tagline and logo lockups to give you options.
PLease Note:
The top-left tagline lockup now says "high," not "highest."

The logo lockup should be positioned in the lower-left hand corner of any promotional material — such as advertisements, window displays.

B Corps can replace "this company" in lockup with their company name. 
Download the Tagline Lockups

How to Talk About B Corps
Brand Voice: The voice of the B Corp movement and B Lab is positive, inclusive, and credible. When announcing or talking about your certification and work as a B Corp, aim to follow these principles in the brand book.
Certified B Corporation™: Certified B Corporations, or B Corps, are companies verified by B Lab to meet high standards of social and environmental performance, transparency, and accountability. This name is always styled as "B Corp," with a space, not "B-Corp" or "BCorp."
B Corp™ Movement: The B Corp movement is a global movement of People Using Business as a Force for Good®. Together, we are shifting our economic system from profiting only the few to benefitting all, from concentrating wealth and power to ensuring equity, from extraction to regeneration, and from prioritizing individualism to embracing interdependence.
Resources for B Corps in the U.S. & Canada
We've added few extra resources specifically for U.S. & Canada, in addition to B Lab Global's brand book. Find additional resources below. 
Additional Resources:
Sign Up for our B The Change Newsletter
Read stories on the B Corp Movement and people using business as a force for good. The B The Change Newsletter is sent weekly on Fridays.