9 Footwear B Corps with Sustainable Supply Chains and Earth-Friendly Materials
September 13, 2021
These footwear companies are stepping up for people and planet by ensuring worker protections and shaping sustainable supply chains. By encouraging their partner businesses to adopt transparent practices and use eco-friendly materials, the nine U.S. and Canadian Certified B Corporations listed below are minimizing their environmental footprint while helping customers trod lighter on the Earth in comfortable shoes. Learn more about their sustainable practices, then check out their styles to find the perfect pair for you.
United States
Allbirds' dedication to sustainability extends beyond its own operations and products — including the signature, ultra-comfortable Wool Runner style and newer Tree Dasher model. The B Corp stands out as an innovator that incorporates natural materials and recycled products in its shoes to minimize its environmental footprint, and collaborates with other companies to multiply its positive impact. With a commitment to reverse climate change, Allbirds recently announced new carbon reduction targets for the next decade and invited other businesses to follow its lead. Suppliers must commit to a code of conduct that reinforces worker protections and transparent operations.
---
United States
Nisolo offers footwear and accessories made to match its high social and environmental standards as an industry disruptor. To show its support for fashion industry workers and draw attention to employee rights, the B Corp launched the Lowest Wage Challenge — asking companies to publish their lowest wage, promoting transparency and change. Nisolo visits and vets its factories and leather tanneries for their social and environmental practices, and is expanding this oversight to the farms in its supply chain.
---
Canada
After manufacturing its footwear in Ethiopia factories for a decade, Canada-based Oliberté pivoted to local production in 2019 due to financial concerns. After ensuring that most of the Ethiopian factory workers found new opportunities, Oliberté shifted its focus to creating and maintaining quality jobs and supporting its community. Each pair of shoes comes with a lifetime warranty, reflecting the B Corp's commitment to quality materials (including natural rubber and hormone-free leather) and manufacturing. In response to the COVID-19 pandemic, Oliberté began manufacturing non-surgical masks in Canada to meet the growing demand.
---
United States
The action of giving with no expectation of receiving drives OluKai, which designs footwear with anatomically contoured footbeds that mimic the "wet sand" feel and provide comfort and support. The B Corp's island-inspired styles capture the Aloha spirit with handcrafted details, and its respect for people and planet are evident in the nonprofit Ama OluKai Foundation the company established for its giveback program.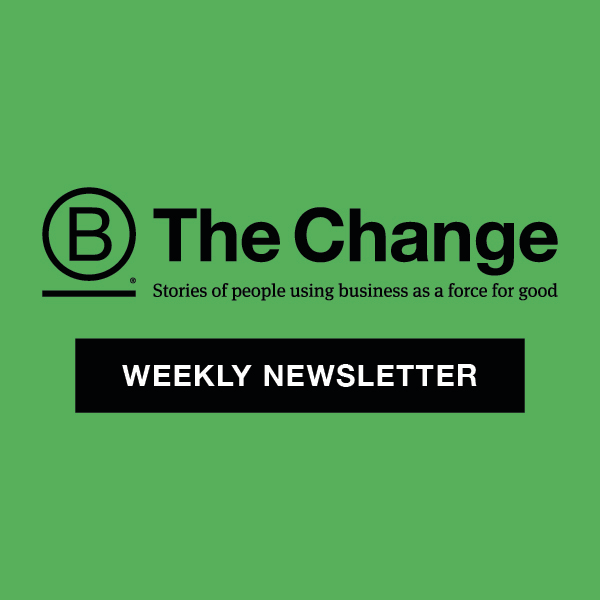 Subscribe to B The Change Weekly
Delivered on Fridays, B The Change Weekly delivers the most important and most relevant stories about people using business as a force for good from the past week. The newsletter features a weekly note from the B the Change Team, and insight and context on the stories we share.
SUBSCRIBE
United States
Patara crafts footwear that is lightweight and comfortable by incorporating quality and eco-friendly materials like hemp, cork, organic cotton, recycled PET, and natural rubber. Designed for travel, the B Corp's shoes incorporate curated materials and textiles inspired by locations around the globe, and come in recycled and recyclable packaging.
---
Canada
Using leather from tanneries that are audited and certified by The Leather Working Group, Poppy Barley designs stylish, comfortable shoes that are made to last. Through its production, materials, and packaging, the Canadian B Corp also creates a sustainable supply chain. Every two years, Poppy Barley certifies its factory partners for ethical practices to ensure workers are paid a living wage and work in safe conditions, and seeks packaging that reduces its environmental impact.
---
United States
With a commitment to giving, Therafit Shoe creates comfortable and fashion-forward footwear and donates a portion of each purchase to a charity partner of the customer's choice. Proceeds go directly to organizations focused on medical research, education, or the preservation of the planet and its resources. By prioritizing four pillars — comfort, customer, charity, and community — the Florida-based B Corp aims to create a positive impact with each pair of shoes.
---
United States
These aren't the typical flip-flop: TIDAL makes a beach shoe that is more comfortable for the wearer and the Earth, thanks to thicker soles, renewable materials and comfy straps designed for durability. The New York-based B Corp partnered with a supplier to craft a renewable, lasting sole using a new material called Renewafoam™. TIDAL uses its business as a force for community good by sourcing all materials from U.S. suppliers and prioritizing fair hours and wages for employees.
---
United States
Since its start in 2006, TOMS has marketed footwear for positive impact and now commits a third of its profits to grassroots good through nonprofits and other organizations that support equitable progress and communities. With a range of shoe styles, from its signature Alpargatas to slip-ons and sneakers, TOMS gives customers a way to show they care about community as well as fashion.
Sign Up for our B The Change Newsletter
Read stories on the B Corp Movement and people using business as a force for good. The B The Change Newsletter is sent weekly on Fridays.