BlueDot is a Canadian company with global reach. Our vision is to be the world's trusted source of infectious disease intelligence. Our vision is to build a platform that combines data, science, design, and technology, to transform how organizations and individuals worldwide rapidly and effectively detect, assess, and respond to infectious diseases.
At BlueDot, difference is supported, celebrated, and cherished. We are continuously working on ways in identifying and eliminating barriers that may exist within our own processes, programs, and practice. Our team went through valuable and intensive DE&I training in partnership with Feminuity. We are also proud to be Diversio certified.
In addition, we aim to hire great people from a wide variety of backgrounds and hope to achieve the full participation of equity-seeking groups (including women, Indigenous Peoples, persons with disabilities, members of visible minority/racialized groups, and members of LGBTQ2+) in tech careers.
Connect: LinkedIn | Twitter | Instagram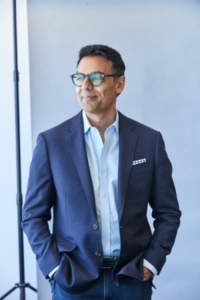 Kamran Khan is a practicing infectious disease physician and a Professor of Medicine and Public Health at the University of Toronto. After completing his training in infectious diseases, preventive medicine, and public health at Cornell, Columbia, and Harvard, he returned to Toronto just before SARS crippled the city during the 2003 outbreak. Deeply motivated by this event, Kamran has dedicated his career — as a clinician, academic, and entrepreneur — to finding solutions that help the world better prepare for and respond to dangerous infectious disease threats. Dr. Khan recently received a Governor General's Award for his work transcending clinical medicine, public health, big data, and artificial intelligence.