Champions Retreat 2022: Daily Recaps
November 30, 2022
Tuesday, November 29, 2022
We can feel the theme coming to life, as we spent our day and evening connecting with one another at Champions Retreat 2022, living into Humanity @ Work in person, with some of us meeting colleagues, network members, or fellow industry peers off-camera and in real life for the first time.
We are looking forward to kicking off our first day of sessions Wednesday: With a virtual ticket (still available here!), you can watch a portion of the sessions Wednesday and Thursday and take advantage of the in-app messaging features.
In community,
The team at B Lab U.S. & Canada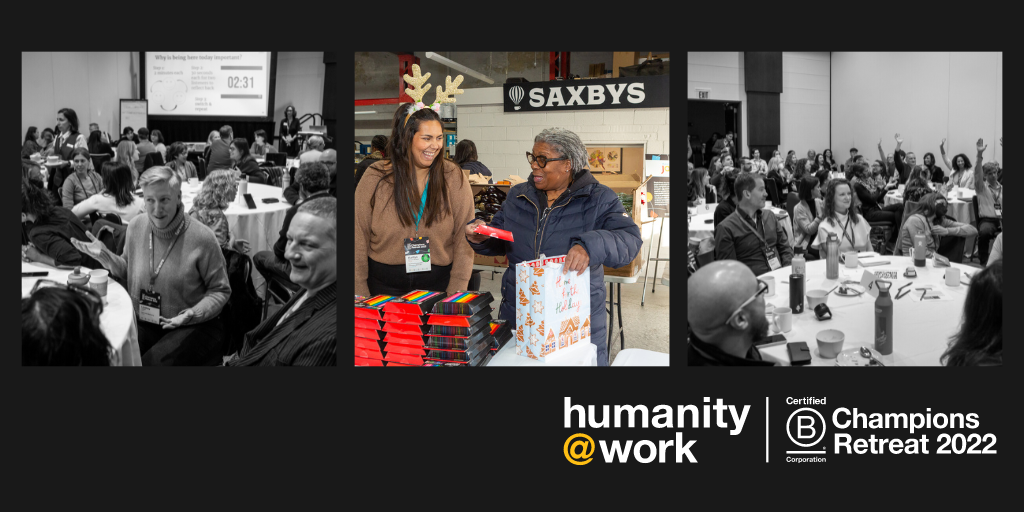 Tuesday's Highlights
Our first day of activities was full of engaging and thought-provoking connection points for attendees – including our Opening Reception at the Franklin Institute. Be sure to check our social media (especially our Instagram stories and Twitter feed) for live, day-of updates!
Here are some highlights (and links to learn more) from our first day together:
Tours and Service: Several Champions Retreat attendees either took a Badass Women's History Tour with UnTours and Beyond the Bell Tours; went behind the scenes at Black- and women-owned Grant Blvd; engaged in community service for the Point Breeze community with Ya Fav Trashman, Five Below, Sharing Excess, Simply Good Jars, and Saxbys; took an on-foot tour of community-based public murals; or went on a walking tour of the only formalized Gayborhood in the country, in partnership with Simply Good Jars and Beyond the Bell Tours. All of these experiences uncovered unique perspectives within our host city and encouraged attendees to connect directly with one another and with the history, context, and culture of Philadelphia. As shared by Irving Chan Gomez of B Lab Global, "The Gayborhood Tour highlighted the diversity within the queer Philadelphia community fighting for human rights, with an understanding and connection to the intersectionalities with other movements and identities towards collective liberation. Personally, it was inspiring to hear about other queer people taking actions that impacted queer life, not only in Philadelphia, but globally."
Opening Reception: The Opening Reception was held at the Franklin Institute, one of the oldest and premier centers of science education and development in the country. The reception was presented by Beneficial State Bank, and supported by Bonterra Organic Estates and Fair Trade USA, and our B Inspired sponsor, Guayakí. As hundreds reconnected after years apart, the intent for the event's Humanity @ Work theme was set by the Youth Poet Laureate of Philadelphia, Telicia Darius, "Let me buy into you like you buy into me."

Worth Repeating
We heard how Humanity @ Work shows up in local businesses, neighborhoods, and across the country as Champions Retreat attendees got to work learning, discussing, and giving back.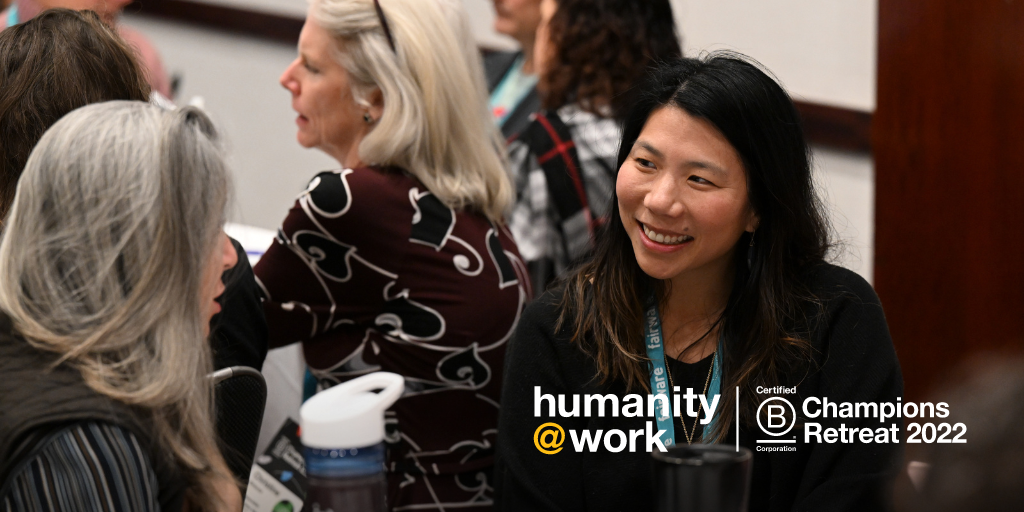 Thanks to Our Sponsors!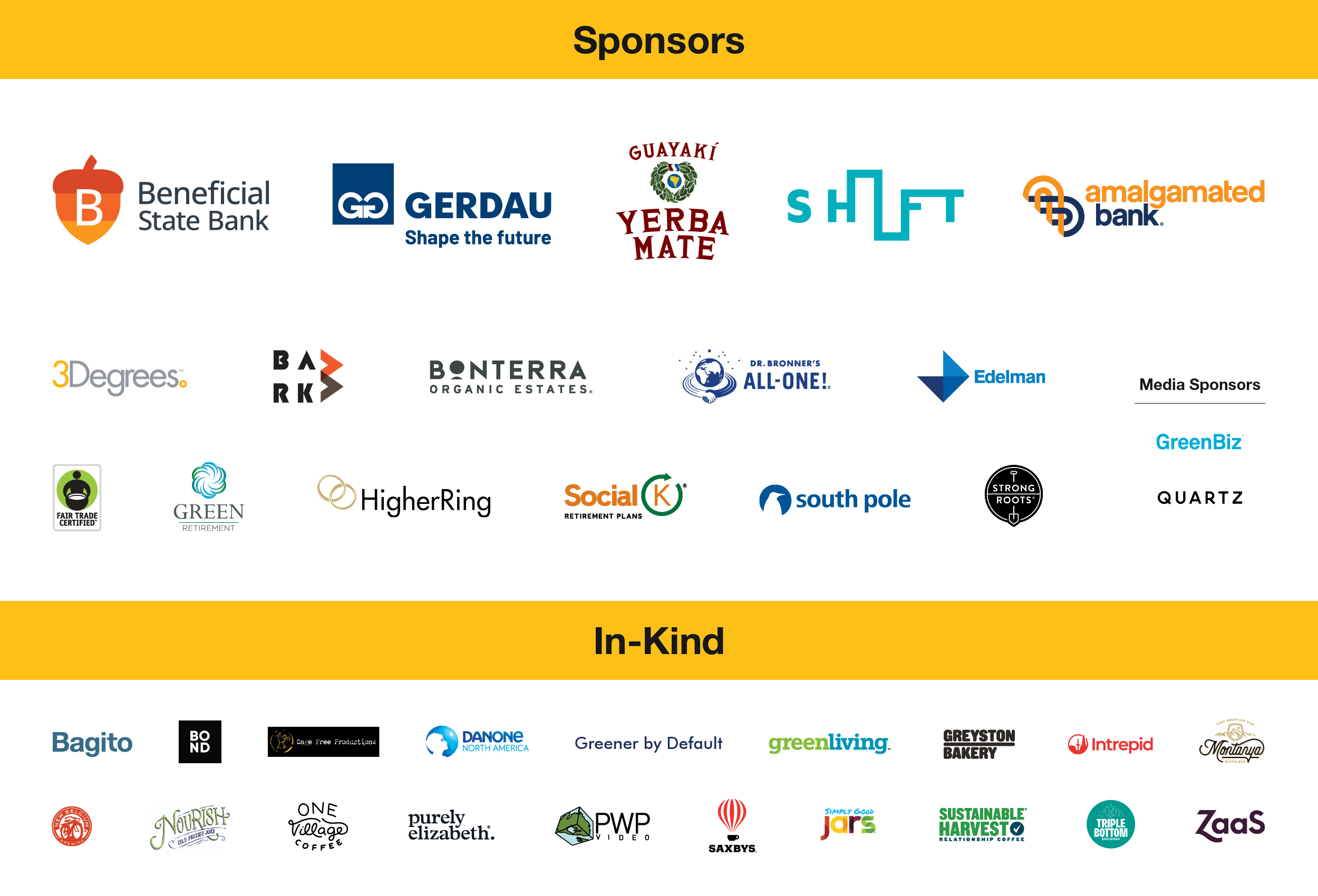 Wednesday, November 30, 2022
Before we can build a new economy that brings our human values into our business values, we must (re)imagine what's possible. Champions Retreat emcee, Tynesia Boyea-Robinson challenged us to approach the work with a "moonshot mindset, a belief in the impossible, and then marry it with the substance and the curiosity of the processes and policies and procedures we need in place to make that happen."
Dr. Tiffany Jana, Founder and CEO of TMI Consulting, brought attendees along to the future, where we world-built our future together. Dr. Jana shared that we should now "go forward and co-create the world we just visited." To get there, we have to stay inspired and driven to do the work, as Saleem Chapman, Philadelphia's Chief Resilience Officer, shared what keeps him coming to work every day: "It's the opportunity to create a reality that we've never manifested or thought about before, much less actualized."
We look forward to continuing to co-create that reality with this community during the final day of Champions Retreat — and the days, months, and years to follow.
In community,
The team at B Lab U.S. & Canada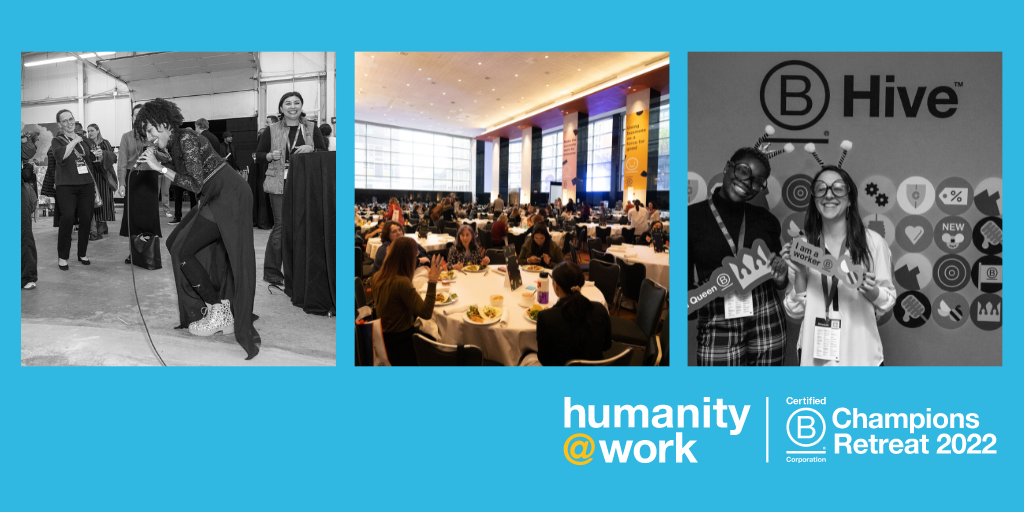 Wednesday's Highlights
The discussions, including those held from the stage and in the halls, lobby, and gathering spaces, were energizing. And we also held space for the deep, heavy conversations, challenging where we are and the systems currently in place, and tackling the long, collaborative work to rethink, reshape, and relearn.
From the main stage, we visited 2035 — and then drilled down into what it will take to get there. Dr. Jana took attendees on an Afro-Futurist Regeneration Journey to Champions Retreat in 2035, where we co-created a world where:
"We have healthy and regenerative food systems for all."
"I am the parent of two teenage daughters who have autonomy over their bodies and safety."
"We appreciate all that people can do. In 2035, everybody is a contributor to the community."
And so much more.
The afternoon plenaries took a closer look at multinational certifications, racial equity, and climate justice, including presentations by several leaders in our Level Program, which strives to support businesses facing systemic challenges to economic empowerment. As Aurora Archer of The Opt-In shared, "I need all of us to level up and create the change not only in your organizations but in our communities and business community as a whole so that it represents all of us."
In the closing plenary, Farmer Cee said she operates Green Heffa Farms with a motto of "we grow slow so we don't owe. … We don't want to owe environmentally, consciously, financially," she said. "I try to be an example to farmers aspiring and current and try to educate other businesses as well."
We dove deep in our breakout sessions on how to start — and keep — going. Concepts and resources that were shared include:
Reconciliation Action Plan at your organization: In the words of panelist Annie Korver, "A reconciliation action plan is a framework. The intent is to center the voices of Indigenous peoples and to consider how you can be in relationship, how you can move forward and participate actively and proactively with accountability as it relates to reconciliation. Those components of the plan allow you to act with a vision."
Employee ownership: Employee-owned companies have better business performance, but to get that better business performance you need to couple employee participation and engagement with employee ownership.
Advocacy action: The ACLU and Planned Parenthood led a session highlighting B Corps that have taken advocacy action, and encouraged all B Corps to consider how their mission is tied to being public champions for justice and how they can build advocacy into their practices.
Supply chain and farmer equity: Two sessions looked into the role of certifications as well as regenerative farming and trade practices to work toward equitable recognition and treatment for farmers and the planet. This work requires engaging with everyone along the supply chain to understand their reality, measure to know what is having the best impact, and share the positive outcomes, including carbon sequestration and financial value, throughout the supply chain and especially back to the planet and farmers.
Sustainability disclosures and ESG: Currently, there are lots of different frameworks for ESG in the market, but they are increasingly harmonizing. The U.S. SEC upcoming climate disclosure rules will be finalized soon, and while they are not required for private companies at this point, it is recommended that you start understanding what kind of questions you'll be getting from your customers, and if you fall within the value chain of a public company they're going to start asking you questions.
Outside the sessions, conversations continued. One of the best parts of the in-person conference is the ability to take a conversation with an old or new friend outside of the sessions to keep the dialogue going. On Wednesday, that included:
Sharing food and conversation. During breakfast, lunch, and networking breaks, the rooms hummed with animated conversation — the energy was tangible and audible throughout the day. Attendees gathered for plant-based meals at the event, a menu choice chosen for individual and planetary health to "eat the change we wish to see," with support from our B Mindful sponsor Dr. Bronner's, and our Nourishment Sponsors, One Village Coffee, Saxbys, Nourish Juice, Lotus Foods, and Strong Roots.
Attendees gathered at MaKen Studios North for our B Together reception and celebration, hosted by SHIFT Capital, a nationally recognized neighborhood investment group. We met some of Philly's creative community of craftspeople, entrepreneurs, nonprofits, and producers as we checked out MaKen North's modern-day workshops. After the reception, Triple Bottom Brewing hosted our After Party, supported by B Inspired sponsor Guayakí.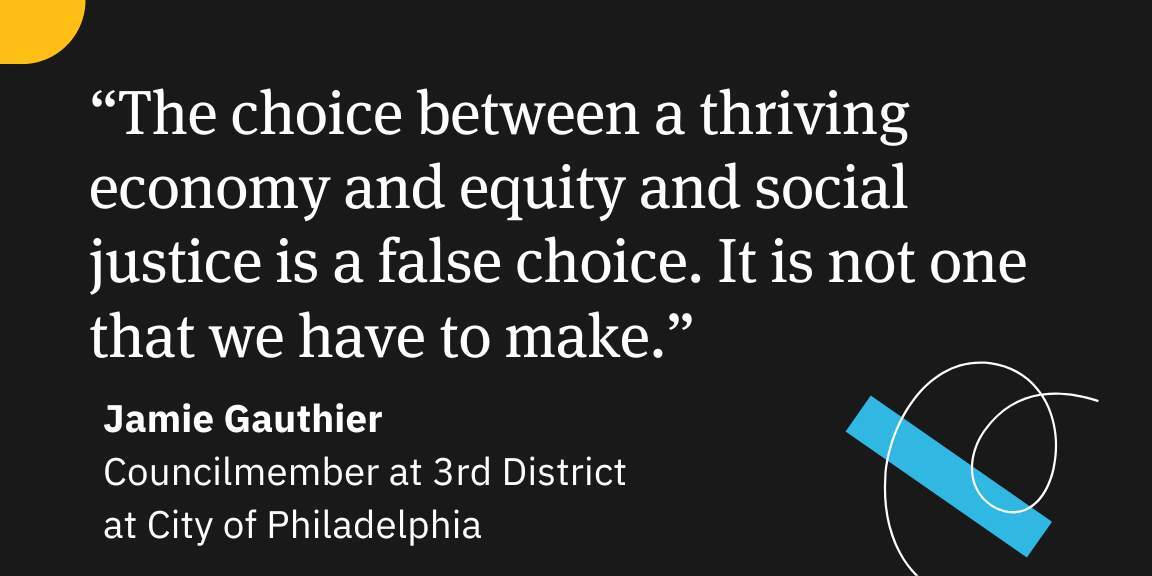 Worth Repeating
Here are just some of the powerful messages shared during Wednesday's sessions:
"I'm grateful that the people on the front lines of what that change is going to be, is all of you." Tynesia Boyea-Robinson | CapEQ
"There are more than 14,000 Indigenous Peoples here in the Philadelphia area. We are here, carrying the strength of our ancestors, continuing to uplift our community, and ensuring we are excellent ancestors for those who will come after us." Tailinh Agoyo | We Are the Seeds
"That an inclusive, equitable, and regenerative economy is not only possible but can help our community thrive. … The choice between a thriving economy and equity and social justice is a false choice. It is not one that we have to make." Jamie Gauthier | Councilmember at 3rd District at City of Philadelphia
"What can you stand to lose? What are you willing to sacrifice? Don't just focus on what's good enough to give up." Dr. Ellonda Williams | B Lab Global
"Fundamentally, we believe our business is more competitive by this integration of purpose. … How can we impact this movement … and prove the model at scale? We understand that role and are committed to it." Shane Grant | Danone North America
 "What do we bring to the table that's unique? As a financial institution, what can we do? What can we do as an investor to encourage publicly traded companies to overcome challenges?" Maura Keaney | Amalgamated Bank
"What if a lending institution asked how are you measuring social and environmental performance?" Jaime Arroyo | ASSETS Lancaster
"We've been able to grow not just in capital but as humans, and we have grown a perspective of abundance. We talk not just about regenerative agriculture but also regenerative trade." Fredy Alexander Perez Zelaya | COMSA
"The support is critical to the survival of woman of color businesses. We're the fastest-growing group of entrepreneurs but receive the least funding." Tanya Morris | Mom Your Business
"There is not climate justice because we have not dealt with climate racism. … Who profits if we lose the planet?" Farmer Cee Stanley | Green Heffa Farms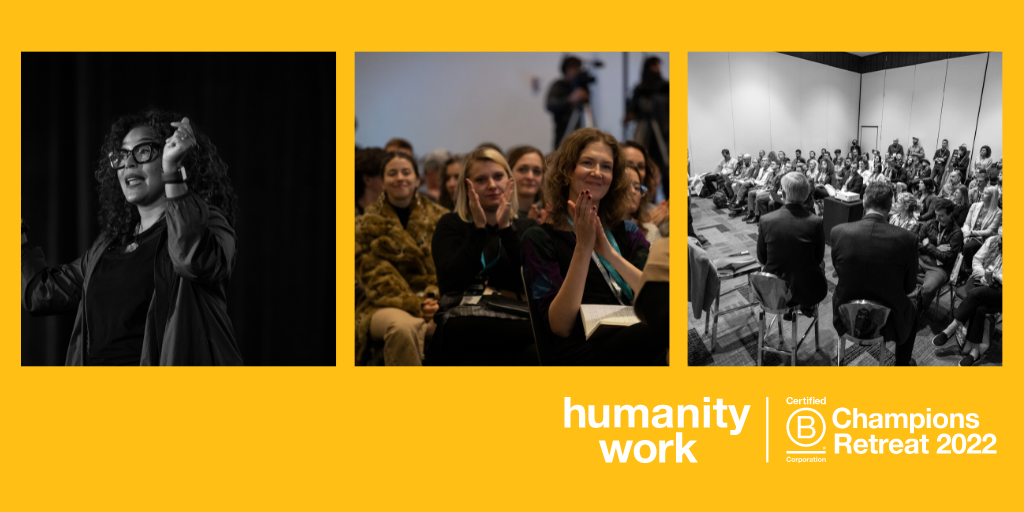 Sign Up for our B The Change Newsletter
Read stories on the B Corp Movement and people using business as a force for good. The B The Change Newsletter is sent weekly on Fridays.