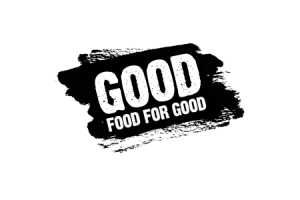 Black, Indigenous, People of Color and woman-owned, Good Food For Good (FOR GOOD) is an organic food company with a philanthropic mission. We believe in not only making great-tasting food with clean ingredients but to do good for all people and the planet we share. As a Certified B Corporation, through our Buy One, Feed One program, we're combating world hunger by donating one meal for every single jar of sauce we sell through food banks and non-profit organizations.
One in nine people still go to bed on an empty stomach each night. This fact is the driving force behind Good Food For Good. We started this company on the philosophy of making healthier, delicious meals for everyone and donating meals for those in need. Every time you buy our product, we donate a meal to someone in need to fight world hunger through our partnerships with Food Banks Canada, LA Food Bank and the Akshaya Patra Foundation.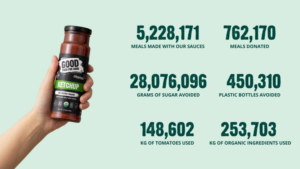 We have proudly donated over 800,000 meals through our Buy One Feed One program and made a positive difference in millions of servings through our organic no added sugar sauces.
For Good — giving back is as integral to our brand as Good Food. Our brand name is more than just a name. It's a promise that we have made to the world and it's the rule that guides all our decisions within the company. We make sure everything we make is GOOD FOOD and all actions we take are FOR GOOD. FOR GOOD incorporates a lot more than Buy One Feed One for us. It drives decision in the following areas:
Packaging — We chose to use glass as it is better for the environment.
Ecommerce — Ecommerce packaging is known to be plastic heavy; we designed a corrugate solution specifically for Ecommerce that is 100% plastic free.
Hiring — We are an inclusive workspace and have always supported youth and immigrants.
Mentoring — As a brand in business for a few years of now we like to support upcoming Black, Indigenous, People of Color brands as we understand the unique challenges our community faces.
Plant-Based — Even when it comes to food, we chose to stay plant-based as it is better for the environment.
Proud to be a B Corp and hope we can live up to the B Corp values every day.
Meet Richa Gupta, Entrepreneur and Mother
The pursuit of a dream to help consumers lead healthier lives, the company started with one simple question:–how do you make eating healthy easy and delicious while making a difference in the world? Good Food For Good was founded in 2013 by entrepreneur and mother Richa with a simple idea: making it easy for everyone to eat well and do good.
With an MBA & over fifteen years of experience in retail, fashion and food marketing, after becoming a new mom and working as a marketing executive, she constantly found it challenging to feed her family good food on busy nights.
She grew up eating fresh home-cooked meals every night, a blessing she often took for granted. As an adult, she strived to cook the same kind of wholesome, hearty meals she grew up on, but the lack of options that were both convenient and nutritious made it increasingly difficult to eat healthy. After becoming a mother, Richa knew there was something she needed to do to make a change. How could people be expected to compromise health for convenience? Driven to make a difference through food, she started Good Food For Good using only ingredients you would add if you were cooking yourself.
"I grew up in a family where my mum cooked fresh food, three times a day. So even just grabbing a pizza for dinner, as a working mom, I had so much guilt over not being able to cook healthy food for my kids. Anything that my mother did for me was the best that I wanted to do for my own child."
Today, she is actively working on building better, healthier experiences for people with a goal to make it easy for everyone to eat well and do good.