Learning Journeys
B Lab U.S. & Canada's Racial Equity and Climate Justice teams are developing a Learning Journey of trainings that will allow the B Corp community to strengthen its knowledge of racially equitable, inclusive, and climate justice-centered business practices. The Learning Journey will include 101-level training designed to support participants in their justice, equity, diversity and inclusion (JEDI) journey within their companies and themselves. The goal is to provide the B Corp community with the necessary tools, education and support to galvanize around racial equity and climate justice.
Register for the first 101 learning journey starting in fall 2023 using the button below. Indicate your interest in the second 101 learning journey (exact dates TBD).
Fall 2023 Registration
The first learning journey cohort, Racial Equity and Climate Justice 101, will launch in February 2023 through a partnership between B Lab U.S. & Canada and
Be More With Anu
. Self-paced over 3-5 hours, the course will cover topics such as justice, equity, diversity and inclusion (JEDI) foundations, prioritizing self-care and applying mindfulness to this work and exploring the intersections of race, ethnicity and culture. Please indicate your interest via the form below and we will follow-up in January with specific instructions for registering.
Learning Journey 101 Key Info:
Dates: February 13 – April 7, 2023
Format: on-demand / self-paced
Cost: $450 per person (no one is turned away for lack of funds, scholarships available, please email knealis@usca.bcorporation.net)
Partnership with BEMORE with Anu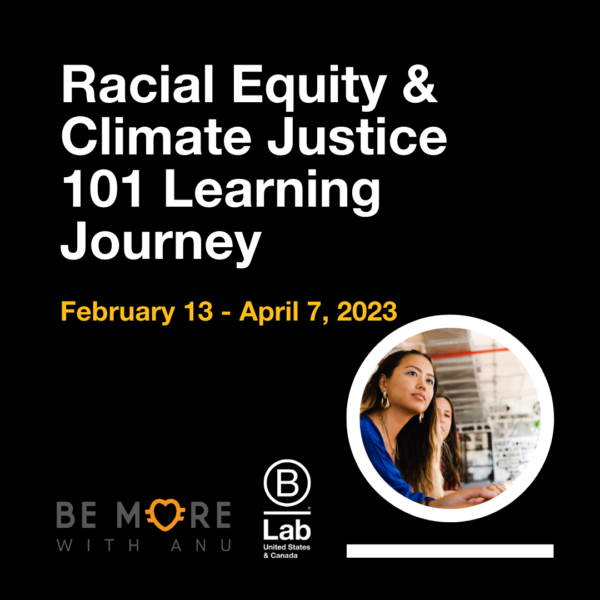 If you are interested in participating in a Learning Journey, please register for the winter 2023 cohort below and stay tuned for future cohorts.
Future Learning Journey Registration
Additional Support via White Men for Racial Justice (WMRJ)
White Men for Racial Justice is an anti-racist pro-justice community of practice rooted in personal transformation, relationships of mutual accountability, and taking action in our sphere of influence. Our shared purpose is to dismantle racism and the culture and systems of white supremacy in ourselves, our communities, and our country. B Lab U.S. & Canada is partnering with White Men for Racial Justice (WMRJ) to offer the Racial Justice & Climate Justice 101 Learning Journey via their platform and with additional support from their community for those who identify as white men.
The winter 2023 Learning Journey offering with WMRJ has now closed. For information on future sessions, email Jay Coen-Gilbert, co-founder of B Lab and WMRJ at jay@imperative21.co
The CEO Blueprint for Racial Equity
The 2021 CEO Blueprint for Racial Equity will guide you beyond diversity and inclusion commitments to the heart of the business opportunity ahead. Dive in to learn more.
FAQs
Any employee of a Certified B Corp.
Self-paced and on-demand over 3-5 hours. *
The course will be hosted on Thinkific, an online course platform.
Registrants will receive a link to the platform and a code to log in upon registering via Eventbrite.
*completion time will vary depending on the participant
For up to one year from the course state date (February 13, 2023).
Yes, we are offering a scholarship, no questions asked for anyone in need. Please email Kylie Nealis, Sr. Program Manager, Climate Justice, to express your interest.
BE MORE with Anu trains organizations in breaking bias to advance Diversity, Equity, Inclusion, & Belonging (DEIB) Foundations. We believe in being the change we wish to see in the world and leading by example. Founded by Anu Gupta, a gay immigrant of color, we are a registered benefit corporation with a diverse team from many walks of life.
B Lab U.S. & Canada is one of six global partners of the B Lab global network. We foster and mobilize a growing community of people and businesses working toward a fair and inclusive economy in the United States and Canada. More than 2,000 make up the U.S. & Canada community, supported by, B Lab U.S. & Canada