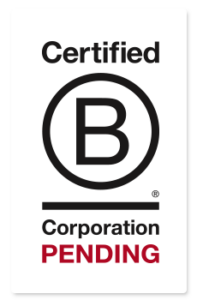 B Corp Certification is based on the verified practices and policies of a company over the past year—not what it aspires to do in the future. That means that only companies that have been in operation for at least twelve months are eligible for B Corp Certification.
However, B Lab heard from the market that early stage companies needed a way to signal to stakeholders like investors, board advisers, employees, and prospective clients that they were on track to certifying as a B Corp. B Lab created Pending B Corp status to help those early stage companies make that commitment count.
To become Pending B Corps, companies go through the B Impact Assessment with best estimate answers and meet the legal requirement for certification. With a $1000 fee, B Lab grants the company use of the Certified B Corp: Pending intellectual property to help them publicly communicate their commitment.
After a year of operation, Pending B Corps can apply for full certification and can continue to use the Pending intellectual property as long as they have submitted the BIA for review.
Over 100 companies have sought out Pending B Corp status in order to:
Signal to current and future investors that their company is already beginning to measure and manage its social and environmental performance with the best tools available
Demonstrate strong governance by adopting the legal framework early to protect mission and brand equity from the beginning
Early stage companies do not need to become Pending B Corps in order to pursue full B Corp Certification later on. Above all, start-ups hoping to become Certified B Corporations should focus on building a great business! Remember, the first rule of mission-driven business is "no margin, no mission."
This program is available in select markets of B Lab's global network.