Reduced, Reused, Recycled: Reflections From a Black, Southern Woman
February 27, 2023
This article is a personal perspective from an employee at B Lab, the nonprofit behind Certified B Corporations. In this series, we invite B Lab employees to share their experiences, inspiration, hopes, and challenges as they work toward a more inclusive and regenerative world. This edition of B Lab Voices is from Lauren Everett, Digital Marketing Specialist, Marketing. 
When I joined B Lab Before B Lab, there was my maternal grandmother Minnie, who collected plastic bottles every week and recycled them for change before her weekly ShopRite run. On a rainy Thursday evening, she would tie her hair in a plastic bag to walk across the street for Bible study when she couldn't find her poncho. I took mental notes on her collection of pickle jars for various uses — drinking water, bacon grease collection, a flower vase, and so on. I watched my grandma Minnie care for elderly white women whose families could afford in-home care for their loved ones. Practically the same age, if not older, than her clients, my grandmother recycled that energy into ritual. She ventured across the street almost daily to pray for herself and others. To give thanks to God for allowing her to be of service. My paternal grandmother, Jimmie, taught St. Louis's children. She taught them history, their history, aka American history. Not to mention the grace of a God-fearing woman through her character and charm. She was of service, also. She was recycling her energy in her ritual of roller skating each week with her best friend. 
Recycling, transmuting, alchemizing… something I would eventually find myself doing in my own way.

Recycling was a learned behavior, out of necessity — at first. My pickle jars catch rainwater, although it's only legal for outdoor use in Georgia and illegal in California. My plastic bags catch shrimp shells while I make jambalaya for my family. That is if my bathroom trash isn't full. My late grandmother Jimmie's fur coat hangs in my closet. It's been years, and I haven't found the right time to wear it, to honor her St. Louis winters, to honor the style she knew I'd evolve into when I was ready.
When I joined the B Lab U.S. & Canada team, I had one question in mind, "how do I make "this movement, this language" make sense to people who look like me?" 
"How do I explain what a stakeholder economy is? Or the need for climate justice and where we fit in?" I asked my tribe about their relationships to recycling or how they feel about climate change. More often than not, climate change was nothing to worry about now. We notice what's happening in other parts of the world, odd weather events here and there, but overall it's just another mild winter.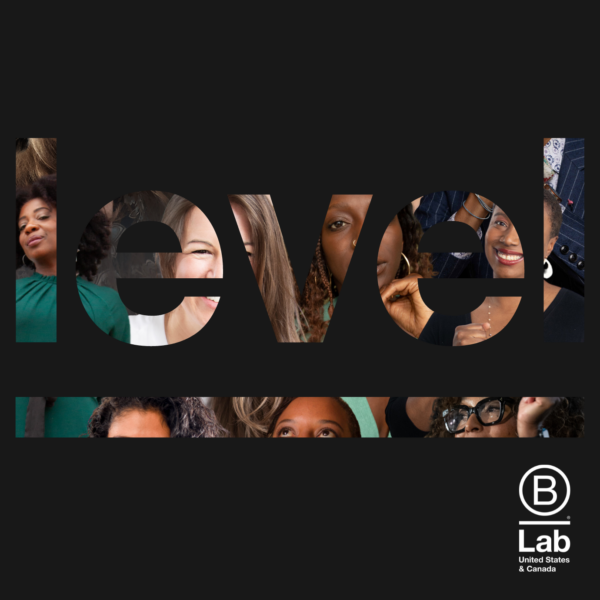 Level Up
We are now accepting applications for Level in June 2023! Please submit your application by April 3, 2023.
Learn More & Apply
But climate change is not in the so-distant future for many of us. According to NYC.gov, "Currently a Major Source of Noise and Air Pollution, Cross-Bronx Was Built to Divide Largely Black and Latino Working-Class Neighborhoods." One of those being a neighborhood I lived in with my family for three years during the COVID-19 pandemic. During that pandemic, I enjoyed reading The 1619 Project by Nikole Hannah-Jones, and one essay (truthfully, among all) in particular stood out to me, Kevin M. Kruse's "What Does A Traffic Jam in Atlanta Have to Do With Segregation? Quite a lot." The number of aha moments while reading this article of what seemingly feels like my travels from home, just north of Atlanta, to my mother's historic southwest Atlanta residence was incalculable. Incalculable like the amount of time wasted in traffic for millions of Black and Brown ATLiens who don't have direct and reliable public transportation via the Metropolitan Atlanta Rapid Transit Authority (MARTA) to move them around a city that has capitalized off of their cultural contributions… existence, even. 
None of these moments of reflection, both outside and on the periphery of understanding the B Corp Movement, helped me come closer to articulating our role within the movement. 
That is until I realized that the B Corp Movement, really any movement in American history, would not have the intended effect, if not for the mental, physical, emotional, spiritual, financial, and so on… labor of Black women. I noticed a glaring gap when I joined what I think is the beginning of a movement. Where are all the Black women? Is the lack of Black women within the movement why I struggle to speak the language? How many women have come before me, fluent in the language of disruptive change, innovation, if you will, only to get lost in B Lab's translation? We may receive an invitation to indulge in the farm-to-table experience, but our hands weren't in the kitchen preparing the meal, nor did we bless the food.

We are reduced to "movement builders" while rarely seeing the reward; see: Stacey Abrams. We are reused in pop culture; see: every cool TikTok, music, fashion, beauty, pop culture, "anything" trend. We are recycled down to what society, the media, our community, and traumatizing conditioning have convinced us to be; see: any Black woman ever scrutinized for one thing while a non-Black woman is praised for the same thing. 
I sent my partner off to work with his lunch in a plastic bag. Thanks to my pickles, I have a new mason jar for drinking lemon-infused water.

The B Corp Movement has a fighting chance of making the impact it intends to because Black women, among so many other ambitious, audacious and aggravated folx, have always spoken the language and have always put in the work, if not by another name or necessity. When reduced, reused, and recycled (RRR), Black women are confined to whatever definition, whatever supporting character, whatever you want her to be. That does her, the movement, and you a grave disservice. 
Luckily for me, for B Lab, and for you, we have Level, one of B Lab U.S. & Canada's most pertinent programs that not only acknowledges the imbalances of entrepreneurship for Black, Indigenous, and Women of Color but actively works to address and level the playing field in order to make space for everyone at the table. May it be the parting of the Red Sea that B Lab needs, a clear path to a brighter future for all. Speaking a universal language that eliminates the RRR cycle, much like its participants are breaking generational cycles for their families and themselves. For people and planet.
Sign Up for our B The Change Newsletter
Read stories on the B Corp Movement and people using business as a force for good. The B The Change Newsletter is sent weekly on Fridays.