B Corps Declare a Climate Emergency: How and Why to Take This Step to Commit to Climate Action and Justice
May 12, 2021
Businesses Take Climate Action Now — Individually and Collectively — to Protect Planet and People for the Future
Amid an accelerating drumbeat of environmental and social crises, more than 500 Certified B Corporations declared a climate emergency in December 2019 as part of their commitment to Net Zero 2030. Hundreds more have joined them since, as the crises and harm to the planet and its inhabitants have continued: the Australian bushfires of late 2019/early 2020, the COVID-19 pandemic and subsequent economic and societal upheavals, and the severe winter weather in 2020 that in part led to deadly power outages in Texas.
More and more  B Corps are joining the call to take action on environmental and social justice. As they do, they are paying heed to recent climate forecasts by taking steps to limit greenhouse gas (GHG) emissions and the potential harm to people and the planet. In acknowledging and addressing the dual crises of climate change and social inequality, B Corps are collaborating with other organizations and businesses to try new methods and identify best practices. These include Business Declares, a group of companies that have declared a climate emergency, as well as the B Corp Climate Collective and its partners.
To guide B Corps and other companies declaring a climate emergency, B Lab UK and partner organizations produced a downloadable playbook with examples and other resources for climate action. By declaring a climate emergency, businesses and organizations make a public commitment. Additionally, they take the first step as climate action leaders to adopt policies and practices that will help them innovate and prepare for the future while best prioritizing their stakeholders.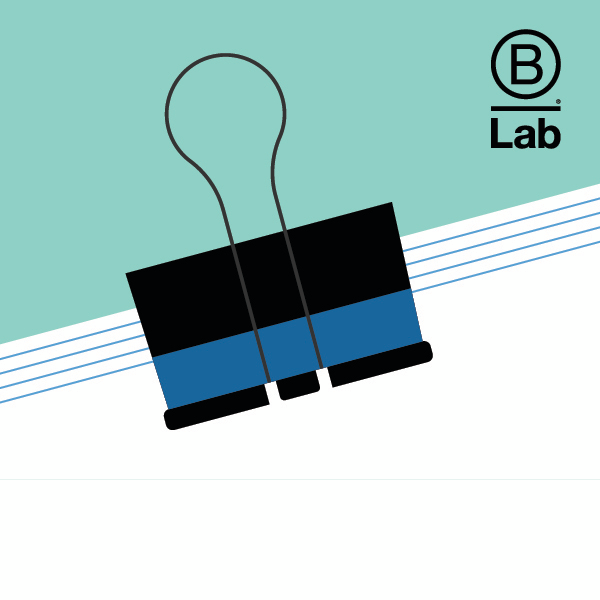 B Corp Climate Collective Resources
This resource page includes links to two playbooks from B Lab — How to Declare a Climate Emergency: A Playbook for Business, and The Climate Justice Playbook for Business: How to centre climate action in Climate Justice — plus other guides and information to drive your climate action plans.
Learn More
Launching Climate Action by Declaring a Climate Emergency
Among the hundreds of B Corps that have declared a climate emergency as part of their commitment to net zero by 2030 is Fetzer Vineyards, a California-based winemaker that has prioritized sustainability since its founding in 1968. The B Corp sees its climate emergency declaration as a grounding focus for its work. "It is a constant reminder that the climate crisis is not some far-off future problem — it is today's problem," says Jessica Baum, Director of Regenerative Development & Sustainability at Fetzer Vineyards. "We have committed to using our voice and our power as a business to be a force for change and to push the limits to do more and be better."
That includes viewing the climate crisis as an environmental issue as well as a human issue. "We know that resilience in the face of a changing climate is an issue of justice, equity, diversity and inclusion, and the effects disproportionately impact people who are Black, Indigenous, or People of Color," Baum says. "The climate emergency is intersectional in nature and cannot be solved by looking at carbon alone."
UK-based B Corp COOK shares similar advice for companies considering how to deepen their climate action work. As part of the food industry responsible for a quarter of the world's GHG emissions, COOK has launched several programs to reduce its carbon footprint, starting with its direct operations. COOK has examined the impact associated with producing the ingredients for its meals and cooking them in customer homes. "It's not as daunting as it all sounds," says Andy Stephens, Head of Sustainable Food at COOK. "You'll be able to learn as you go. Start small and start now."
The declaration of a climate emergency is an indication of a commitment to climate action for COOK, Fetzer Vineyards, and other B Corps taking the lead on climate action. Below they share more about what declaring a climate emergency means for businesses — as suggested in criteria set by the Business Declares network and shared in the Climate Emergency Playbook — as well as how they are incorporating climate justice into this work.
Steps to Take to Declare a Climate Emergency:
Develop a Climate Emergency Plan.
Fetzer Vineyards: This is in process, and will be part of our 2030 roadmap. We have taken initial steps to measure our full Scope 3 GHG emissions from cradle to consumer, which will inform our science-based targets. We continue our 30-plus year commitment to regenerative agriculture, which increases our resilience in the midst of the climate crisis.
COOK: Our response to declaring a climate emergency has included updating our environmental policy, developing a decarbonization roadmap, and kicking off Project Zero, our business wide program to deliver on our net zero ambition. When these are combined, they set out what we are trying to achieve, some detail on how we are planning to achieve it, and a process to engage people across the business to deliver on these plans.
Publish or share this declaration publicly, and report annual progress.
Fetzer Vineyards: As a benefit corporation, we amended the bylaws of our company at the board level to adopt a legal purpose to provide benefit for people and planet through our business. Unlike businesses that are legally required only to provide profit for shareholders, we are legally required at Fetzer Vineyards to consider other stakeholders every step of the way. There is simply no other crisis with as great an impact on all of our stakeholders — workers, communities, customers, and planet — as that of the climate crisis. Declaring a climate emergency allows us to elevate this legal commitment, codify our intention, and set rigorous goals that we will continually and publicly report on.
We have shared this resolution publicly, along with our commitment to become climate positive by 2030. Because wine is crafted from a single agricultural input — grapes — that is largely locally sourced, we can dig into our supply shed and work to farm carbon as we farm grapes, ultimately moving quickly toward our goal. This swift and collective movement will help us be some 50% of the way to our 2030 goal of climate positivity soon.
COOK: We have updated our environmental policy, a document that has been signed off by our board. It includes COOK's pledge to:
Continually improve our direct environmental impact and ensure our actions are in line with keeping global warming below 1.5 degrees above pre-industrial levels.
Consider how we could have a positive environmental impact, or at least reduce our current impact, before making decisions or taking actions.
Encourage and empower our people to drive positive change in our environmental performance.
Be transparent about our environmental performance and open to challenges on where we can improve.
Accelerate current climate action trajectory to meet net zero goals and keep our planet with 1.5 degrees.
As part of our decarbonization roadmap, we have plotted a target trajectory for meeting our Science-Based Target of reducing our Scope 1 and 2 GHG emissions by 29% by 2025 from a 2017 baseline. We have spent time exploring the various activities across the business that contribute to these emissions — use of natural gas in our kitchens, use of diesel in our fleets, and refrigerant gas leaks from our freezers — and where there are opportunities for emission reductions in the future. We have agreed on an initial roadmap to hitting our targets that involves a combination of purchasing Green Gas and shifting to refrigerants with lower global warming potentials and vehicles not powered by traditional fossil fuels.
COOK's Scope 1 and 2 carbon intensity was our lowest since we started monitoring this in fiscal year 2018-2019, and we expect that the decarbonization roadmap we have in place will mean this continues to decrease on a year-on-year basis.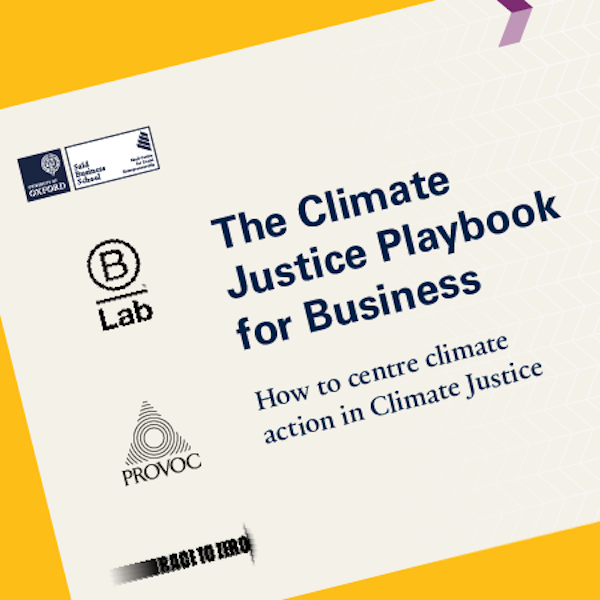 The Climate Justice Playbook for Business
This practical guide from B Lab features information to help business leaders understand the intersection of climate action and social justice and advance a justice-centered approach to climate action.
DOWNLOAD
Set interim targets for net zero by 2030.
Fetzer Vineyards: We are doing this by setting an internal price on carbon in the absence of legislation to do so. As we look ahead, we will be bringing products to market that embody our progress toward climate-positive operations, allowing consumers to be a key part of our journey to climate positive.
COOK: We are using our 1.5 degree Science Based Target for fiscal year 2024/2025 as our interim milestone to achieving net zero in our direct operations by 2030.
Share best practices. Connect and engage with your peers.
Fetzer Vineyards: Throughout the COVID-19 pandemic, we have worked to share best practices through online webinars and workshops, and are always talking to other B Corps and like-minded businesses to learn from one another.
COOK: We are in the process of better understanding our Scope 3 emissions and the best way to measure and reduce these. During this process we have been lucky enough to learn from fellow B Corps, such as Pukka, Innocent, and Judes, about their experience in this area. We are also a member of the B Corp Regenerative Agriculture Working Group, an amazing group where we can share and learn from other B Corps committed to creating a food system that has a positive impact on nature.
Advocate for change. Encourage staff and stakeholders to take action.
Fetzer Vineyards: We have formed a new B Corp-focused employee engagement team, the B Squad, composed of 10 employees from across the organization. This group is working to promote internal education, engagement, inspiration, and communication around our sustainability and regenerative development initiatives. We are also preparing an internal campaign to build awareness, alignment, and engagement through every sector of our organization.
Beyond our walls, we convene with other businesses to share ideas for regenerative farming policy solutions in a Healthy Soils Working Group within Ceres' BICEP network. The group aims to help identify paths forward for policy influence in the essential areas of agriculture, forestry and land use that collectively have the potential to create widespread change. Fetzer Vineyards has incorporated climate justice into this work by purchasing ethical carbon offsets with co-benefits for people and ecosystems and by mobilizing an internal DEI task force to evaluate and reshape practices and policies.
COOK: We have recently launched a Sustainability and Ethics questionnaire with our suppliers. This will allow us to better understand the impact of our supply chain and where we might be placed to support improvements, for example calculating a Scope 1 and 2 footprint for the first time.
COOK has extended its climate action reach to Kenya through a program that provides new, efficient stoves that use less fuel and reduce exposure to indoor air pollution. The BURN stoves are made locally, creating jobs and providing an economic boost, and serve as GHG offsets for the B Corp.
Sign Up for our B The Change Newsletter
Read stories on the B Corp Movement and people using business as a force for good. The B The Change Newsletter is sent weekly on Fridays.