How B Lab U.S. & Canada Will Drive Systemic Change: Advancing Racial Equity, Climate Justice, and a Stakeholder-Driven Economy
June 3, 2021
Channeling the B Corp Community to Create Environmental and Social Benefit
As the world grapples with a global pandemic, systemic racism, gross human inequality, and climate change, B Lab U.S. & Canada is leaning into nearly 15 years of experience to realize its vision of an inclusive, equitable, and regenerative economic system for all people and the planet.
During its recent State of the B event, leaders from B Lab U.S. & Canada (a regional partner of B Lab Global) shared how the nonprofit organization will mobilize the collective impact of businesses in the Certified B Corporation community in pursuit of that vision. The almost 4,000 B Corps around the world are harnessing the capacity of business and the capital markets to address environmental and social challenges — reducing inequality, meeting human needs, addressing the climate crisis, stewarding natural resources — and drive systemic change to reset the economy.
"As leaders and stewards of this movement, we have both an incredible opportunity and responsibility to use business as a force for good and to reset our economic system so that it works for everyone," says Kara Peck, Senior Director of Strategy and Partnerships for B Lab U.S. & Canada.
Impact Focus: Racial Equity, Climate Justice, and a Stakeholder-Driven Economy
B Corps are leading this effort through policies and practices that address environmental and social challenges and are accountable to stakeholders rather than only shareholders. In the U.S. and Canada, the policies and practices include a continued focus on advancing racial equity, climate justice, and a stakeholder-driven economy. These three interdependent concepts are key to effecting change and advancing the vision of B Lab U.S. & Canada.
"To address equity and justice for all, we must first start by focusing on the most marginalized to ensure they are no longer left out. For us in the U.S. and Canada, this means first focusing on racial equity," Peck says. "As Angela Glover Blackwell reminds us, in her seminal work titled the 'curb cut effect,' when we create the circumstances that allow those who have been left behind to participate and contribute fully, everyone wins.'"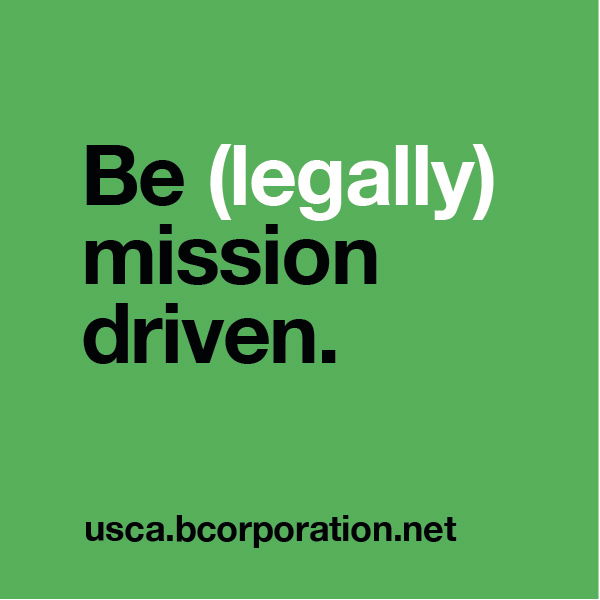 Read More About People Using Business as a Force for Good
Because they incorporate a stakeholder focus in their everyday work, B Corps have been leaders in lifting and launching policies and procedures on racial equity, climate justice, and a stakeholder-driven economy. See B Lab U.S. & Canada's stories page for articles on these and other B Corp topics.
Learn More
Seizing the Opportunity to Drive Economic Systems Change
The B Corp community is poised to seize the opportunity to rebuild in the wake of the COVID-19 pandemic, racial justice reawakening, and other systemic challenges to create real change. Rooted in the B Lab's global vision for change, B Lab U.S. & Canada has set a five-year goal to scale specific transformational business practices and public policies that systemically advance climate justice, racial equity, and a stakeholder-driven economic system. To achieve this, B Lab U.S. & Canada will:
Continue to recruit companies that demonstrate their commitment to using business as a force for good, and encouraging them to join our B Corp community.
Fortify support for the B Corp community, so that all B Corps derive value from their certification and embrace justice, equity, diversity, and inclusion.
Foster opportunities for B Corps to connect and learn from each other, including through networks based on identity (e.g. for Black, Indigenous, Latinx, and other People of Color), role, impact area, and more.
Create equitable access to B Lab's tools and resources, identifying and addressing barriers that exist to historically marginalized business leaders joining and fully engaging in the B Corp movement.
Mobilize collectively for impact in three areas of focus: climate justice, racial equity, and stakeholder-driven economy.
Amplify the impact of the B Community through thought leadership and invite other business leaders to join us.
"We know that in order to change the system, we must take a holistic approach," Peck says. "We must change not only how businesses behave, but the cultural expectations of business, and the laws, policies and legal structures that govern businesses and the markets they operate within."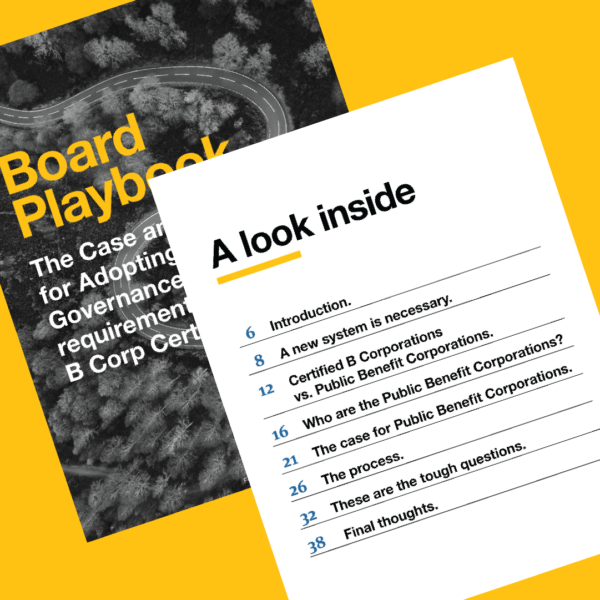 A New Way of Doing Business
Read the Board Playbook: The Case and Process for Adopting Benefit Governance as a Requirement for B Corp Certification
DOWNLOAD
Mobilizing and Amplifying Collaborative Action Among B Corps
In pursuit of these goals, B Lab U.S. & Canada will turn to lessons it has learned alongside the B Corp community in recent years from the net zero by 2030 and benefit corporation legislation initiatives that have created energy and effective collaboration among B Corps:
More than 1,200 companies, including nearly 900 B Corps, have committed to the pursuit of net zero by 2030 as part of their work to address the climate crisis by reducing their carbon emissions and environmental footprint.
In the last decade, benefit corporation statutes that codify stakeholder governance have been enacted in 39 states in the U.S., and in five countries around the world. By law, benefit corporations must account for the negative impacts of their operations on all stakeholders rather than maximizing wealth for shareholders and imposing costs on others.
Building on these initiatives, B Lab U.S. & Canada will incorporate infrastructure and resources to mobilize the B Corp community and other allied businesses around racial equity, climate justice, and a stakeholder-driven economic system.
"As a nonprofit dedicated to changing a fundamentally broken system, we believe it's our role to cultivate, mobilize, and amplify the collective voice and impact of this community of credible, stakeholder-driven business leaders in order to drive economic systems change for the benefit of all," says Kim Coupounas, Global Ambassador for B Lab and co-founder of the B Corp Climate Collective, the body shepherding the B Corp community's climate strategy.
B Lab U.S. & Canada also will incorporate some essential steps to mobilize the B Corp community:
Developing and improving impact standards and tools, such as the B Impact Assessment, that guide companies and define what leadership looks like in each impact area.
Harnessing the energy of companies that come together as an action collective, bringing their passion and pragmatism to a joint cause.
Aligning with external stakeholders to leverage expertise and external momentum.
Galvanizing collective energy around a set of bold ambitions — calls to action that address root causes of our global crises.
Combining those bold ambitions with a clear policy agenda to use a collective voice to advocate for structural change.
Learn more about B Lab U.S. & Canada's Theory of Change
Sign Up for our B The Change Newsletter
Read stories on the B Corp Movement and people using business as a force for good. The B The Change Newsletter is sent weekly on Fridays.