How This Business Supports the LGBTQ+ Community During Pride Month and Throughout the Year
June 9, 2021
Through In-Store and Online Programming, B Corp The Body Shop Advocates for Inclusion and Equity
June is Pride Month, a celebration of the lesbian, gay, bisexual, transgender, and queer (LGBTQ+) community and a commemoration of the Stonewall riots on June 28, 1969, in New York City that brought broader attention to the then-gay liberation movement. In the 50-plus years since, Pride Month serves as a time to lift the modern movement for LGBTQ+ rights. It is also a time when some businesses shift to a rainbow-theme logo — echoing the rainbow LGBT flag — and launch other outreach efforts in a show of support for inclusion and equity.
Certified B Corporations are creating companies where employees can bring their full selves to work and building communities where all consumers can feel welcome and supported year-round.
One B Corp focusing on LGBTQ+ inclusion throughout the year is The Body Shop, a global beauty brand that this year launched Self Love Uprising, a movement to promote self-love. Hilary Lloyd, The Body Shop's VP Marketing & Values, North America, says the movement is just one example of how it continues to demonstrate the activist spirit of Anita Roddick, who founded the company in 1976 in Brighton, England, with a commitment to social and environmental advocacy.
"To create a positive change in the world, we must start with creating a positive change within," Lloyd says. "With this campaign, we call for people around the world to rise up with self-love, especially in a society that promotes self-doubt and insecurity."
With about 3,000 retail locations in more than 70 countries, The Body Shop can involve employees and customers in community advocacy efforts and reinforce their connection with the company. It's another way The Body Shop lives its values as a B Corp, a certification it gained in 2019, and as a part of parent company (and B Corp) Natura &Co.
"Being a B Corp allows us to set our commitments and then track progress against them, so we know that we are truly walking the talk," Lloyd says. "We think it's such a natural fit for us, given our roots as an activist brand, and we're so proud to be the biggest female-founded B Corp globally."
In the Q & A that follows, Lloyd shares more examples of how The Body Shop demonstrates its support for the LGBTQ+ community — during Pride Month and the rest of the year — and advocates for long-term change so that all communities are more inclusive.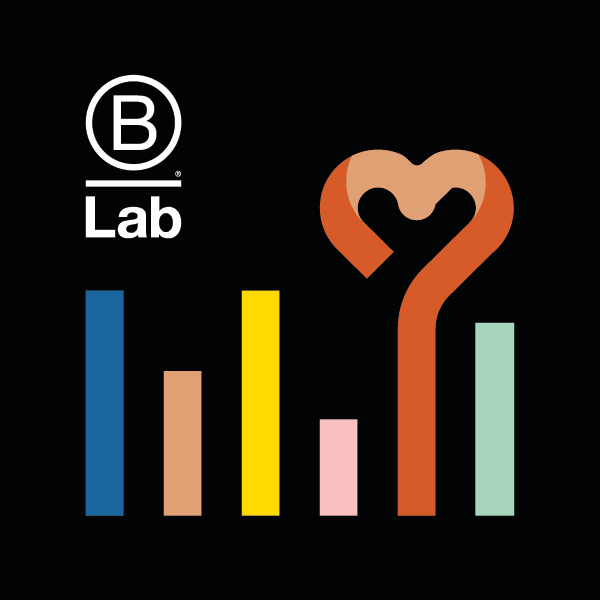 The Future of Work Is Now
The community of Certified B Corporations knows that profits don't have to come at the expense of other stakeholders. Learn more in this downloadable report.
DOWNLOAD
How does The Body Shop involve employees, customers, and other stakeholders in its year-round advocacy work for the LGBTQ+ community?
The Body Shop's purpose is to fight for a fairer and more beautiful world. As part of our Self Love Uprising movement, we worked with Ipsos on a survey that found 40% of LGBTQ+ people globally rank in the lowest quartile of self-love. Recognizing this index result may come from a range of factors such as discrimination, rejection, and homophobia, The Body Shop North America is pledging to not only celebrate self-expression, but to also fight for LGBTQ+ equality.
Carrying this movement through the year, The Body Shop North America is asking people to join them as they fight against labels that inhibit self-love, drawing on the power of collective action, allyship, and celebration of diversity and community. Employees, customers, and the general public are invited to advocate for LGBTQ+ equality through petition signing, as well as learning ways to be a better ally. Our online Pride Hub includes resources for people in Canada and the United States. It was created in partnership with Impactree, a purpose-driven engagement platform, so customers can read and learn ways to be a better ally on the Pride Hub and take action by signing the petitions.
How does The Body Shop identify initiatives to support or amplify? How do The Body Shop stores serve as community hubs for advocacy?
The Body Shop reached out to a number of stakeholders to identify advocacy and policy work within the LGBTQ+ community that would be positively impacted by our corporate allyship, campaigning, and resources. We wanted to learn from and follow the leadership of those who were closest to the issues, and based on recommendations from multiple stakeholder conversations, we decided to proceed with each organization (U.S. and Canada). It was really important for us to start with the issue at hand and think about how we could leverage our resources to support as a response.
In the United States, The Body Shop is teaming with Equality Federation to support the Equality Act to stand against the anti-trans bills that have cropped up in full force in 2021. We're donating $1 for each petition signature and hope to get 25,000 signatures. In Canada, we're collaborating with All Blood is Equal in Canada to drive action against a blood ban that applies to gay men, bisexual men, trans women, and men who have sex with men, again matching donations for signatures in-store and online.
Within our 204 locations across the U.S. and Canada, our employees are highly engaged in campaigning and advocacy work. Through our customer consultant guide, our employees receive information on our Pride initiatives and support driving customers to sign the petition via QR codes in-store. Store teams also are encouraged and supported in identifying and addressing local community needs.
How does The Body Shop strive to create inclusive marketing campaigns and outreach while avoiding rainbow washing?
It was important that the campaign be inclusive from the get-go, so we brought in voices from across the community at every part of the process to ensure we were considering multiple viewpoints very intentionally. We also made an effort to move these conversations from transactional to collaborative; for example, joining the All Blood is Equal as a coalition partner in addition to the policy advocacy and donation efforts. We wanted to celebrate the work of LGBTQ+ activists throughout the summer on our social media and in stores to show representation, but we also worked behind the scenes with our nonprofit partners and internal employee networks to align the work that we were doing in meaningful ways.
Our internal policies needed to match the external policy work we were taking on, and our support of the Equality Act and the Blood Ban isn't limited to a Pride Month window but integrated in our ongoing activism work. Similarly, we've been working with one of our Self Love Uprising "Leading Lights," Tommy Dorfman, on an ongoing basis because their message of pride and self-love is so relevant year-round.
The Body Shop North America has become a member of Open to All, a national nondiscrimination campaign focused on the idea that everyone should be welcome regardless of race, ethnicity, national origin, sex, sexual orientation, gender identity and expression, immigration status, religion or disability. This month The Body Shop North America will be participating in a panel discussion with Open to All and corporate partners, moderated by Yelp, on June 10 for a discussion titled, "Rainbow-Washing, Social Responsibility and The Importance of Being Open to All."
Can you share other examples of other policies or practices that support members of the LGBTQ+ community and provide an inclusive workplace that other businesses could adopt?
The Body Shop has made a deep commitment to its LGBTQ+ family of colleagues. We are in constant review and enhancement of our internal policies to ensure all TBS employees are fully accepted and supported. Examples of this include training and support around sexual orientation and gender identity terminology, including pronouns and pronoun usage; the replacement of all gender-specific pronouns with gender-neutral pronouns in our employee handbook; and the upcoming rollout of our Transition at Work policy designed around acceptance and allyship.
One important tip would be to create space for feedback and open conversation. The Body Shop has done this by creating a network for LGBTQ+ employees across the globe, to join and provide critical input on campaign direction and marketing.
Rise Up with Self Love & Fight for Change Together
Sign Up for our B The Change Newsletter
Read stories on the B Corp Movement and people using business as a force for good. The B The Change Newsletter is sent weekly on Fridays.