Why Businesses Must Protect Voting Access for All Eligible Americans
September 21, 2022
Resources for B Corps to Advocate for Voting Rights and Get Out The Vote
The right to vote lies at the heart of American democracy and any nation where public officials are elected by citizens and every vote is equally counted. But trust in U.S. institutions and voter participation have decreased in recent years, as Americans lose confidence in politicians, the Supreme Court, and the media. Repeated allegations of voter fraud in the wake of the 2020 elections have created new barriers to voting for some Americans as the 2022 midterms near. 
Why don't more eligible voters participate in U.S. elections? Political watchers point to a variety of reasons, including ID requirements, registration rates, apathy, and polling place accessibility. The increasingly divisive nature of partisan politics and a recent wave of policies designed to limit voter access also damper participation. 
Voting rights also became a newly emphasized area of partisan focus after the 2020 election, when more Americans voted by mail and in advance, due in part to the COVID-19 pandemic. Since then, states have adopted or considered laws overhauling election systems. People in marginalized communities also are more likely to face barriers to voting access, especially in recent years. According to the ACLU, "Over the last decade, instead of protecting the Voting Rights Act (VRA) and expanding access to the ballot box, the Supreme Court and courts across the country have dismantled and gutted crucial parts of the VRA." 
In the face of these barriers and obstacles, business leaders are increasingly stepping up and speaking out for democracy while encouraging more eligible voters to show up at the polls and make their voices heard. This includes the Certified B Corporation community, which has a goal of building a more inclusive and resilient economy with practices and policies that involve and amplify the voices of those who have been overlooked or excluded. 
To help B Corps drive social and political change on voter access and participation, B Lab U.S. & Canada has launched a "We The People Means All The People" campaign that includes resources, events, and other assets. This includes an Oct. 3 webinar in partnership with the ACLU, National Urban League, Southern Poverty Law Center, Amalgamated Bank, and the Leadership Conference on Civil and Human Rights. Watch for more coverage on voting rights and B Corps in the coming weeks as we build up to the 2022 midterm elections.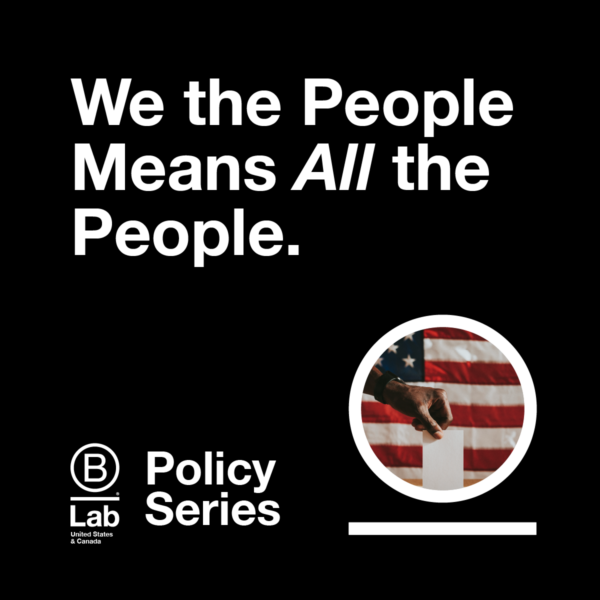 A Voting Rights Webinar for B Corps
B Lab U.S. & Canada, alongside the ACLU, National Urban League, Southern Poverty Law Center, Amalgamated Bank, and the Leadership Conference on Civil and Human Rights, is hosting a webinar on how B Corps can engage in voting rights advocacy. Join us for this important discussion on how B Corps can engage in voting rights policy.
REGISTER NOW
How Companies Can Support Voting Rights and Voter Access 
B Corps and other companies can support voter access in several ways, including with internal company policy, external communications, and advocacy. B Corps are already taking the lead by engaging with their customers, employees, and communities on this important issue. 
To help B Corps build on these efforts, B Lab U.S. & Canada created an online resource page with information to share with employees and customers so they can get more familiar with their voting rights. Here are a few highlights: 
Why Voting Rights Matter
Voting Laws Roundup 2022

: This overview from the Brennan Center for Justice examines how state lawmakers have focused on enacting election interference legislation, with six states already passing nine laws that threaten to undermine voters' confidence in the security of elections.

Voting Rights in the Deep South

: The Southern Poverty Law Center's Voting Rights Practice Group works with community partners and organizers to engage and mobilize voters, restore voting rights to returning citizens, pursue electoral policy reforms, and bring litigation to challenge unconstitutional and discriminatory voting practices. 

Midterm Elections: How These Offices Impact Your Rights

: This midterm election overview from the ACLU shares some of the elected offices that may be on the ballot, to help voters better understand how these officials wield the power to protect civil liberties and civil rights. 
Voting Rights Toolkit: Ensure Each Citizen Can Vote
Vote 411 Election Information

: Encourage your colleagues to visit this site from the League of Women Voters Education Fund where they can see what's on the ballot, check their voter registration, find their polling place, and discover upcoming debates in the area. It also includes a checklist for first-time voters.

Voter Registration Status

: Use a drop-down menu to select your state and verify or update voter registration on this site from the National Association of Secretaries of State. It also includes links to local election officials who can answer questions about voter registration status.

Know Your Voting Rights

: Before and on Election Day, this ACLU site can be used to learn more about how to exercise voting rights, resist voter intimidation efforts, and access disability-related accommodations and language assistance at the polls.
How Businesses Can Support Voting Rights
Corporate Civic Playbook

: Join more than 1,200 companies committed to building a future where everyone participates in shaping our country, and where every company empowers employees and customers to be active and engaged in civic life.

Time to Vote

: This nonpartisan, business-led initiative aims to ensure employees across America don't have to choose between voting and earning a paycheck. Participation includes giving employees access to and information about early voting or vote-by-mail options, and offering paid time off on Election Day or making it a day without meetings.

Taking Action on Voting

: Like the B Corp community, the American Sustainable Business Council believes that voting strengthens an inclusive and equitable economy. It shares links to policies and calls to action to help protect voting rights and democracy.
Find resources to help B Corps protect voting rights and Get Out The Vote
Sign Up for our B The Change Newsletter
Read stories on the B Corp Movement and people using business as a force for good. The B The Change Newsletter is sent weekly on Fridays.