Behind the Gift: 11 Gifts That Reshape the Economy
November 17, 2021
A B Corp Gift Guide to Companies Innovating and Advocating for a Stakeholder Economy
The Certified B Corporations on this list offer a sampling of the ways businesses are reshaping the economy through their practices, policies, and products. These companies take the values they uphold and exemplify through their everyday operations to open public, external conversations for change, through policy advocacy, support for community and environmental organizations, industry innovation, and more.
When you purchase one of these items as a gift for a friend or family member — or for yourself — your dollars go to B Corps speaking up and showing up for a more resilient and inclusive economy.
---
Alter Eco | United States
Price: $3.99 USD
As one of the first public benefit corporations, Alter Eco operates on four pillars: organic clean ingredients, Fair Trade sourcing, recyclable and compostable packaging, and climate neutrality through reforestation and regenerative agriculture. Through the Alter Eco Foundation, the B Corp champions regenerative agriculture in the cacao industry to help reverse climate change and secure farmer income. Ecuadorian and Dominican cacao are used to create this dark chocolate bar for those who are serious about chocolate.
---
Eco Lips | United States
Price: $9.99 USD
By sourcing ingredients to ensure authenticity and that the growers receive a fair price, Eco Lips helps developing communities share in its success. The B Corp also supports several organizations that benefit nature and the people in its home town, including a tree-planting project, a recreational trail, and a nature center. Its organic lip balms are packaged in the first plant-based, plastic-free lip balm tube. The plastic-free Candy Cane three-pack carton makes a great stocking stuffer or holiday gift. The holiday lip balm flavor features invigorating peppermint and warming vanilla.
---
Fairware Promotional Products | Canada
Price: Varies
With a commitment to ethical sourcing as a member of the Fair Labor Association, Fairware is a full-service promotional merchandise distributor that evaluates its partners for social and environmental responsibility standards. As a founding member of the Canadian Benefit Corporation movement, Fairware has been committed to using business as a force for good from day one. The B Corp is also active in increasing inclusivity in its local community, including through its long-term commitment to the Vancouver Street Soccer League, a volunteer-run organization that reaches out to individuals who are, have, or are at risk of, experiencing homlessness. They also reach out to individuals who feel marginalized within their communities, or are recovering from drug and alcohol addictions. The B Corp specializes in custom branded, ethically sourced sustainable products to support campaigns, promotions, and communication efforts.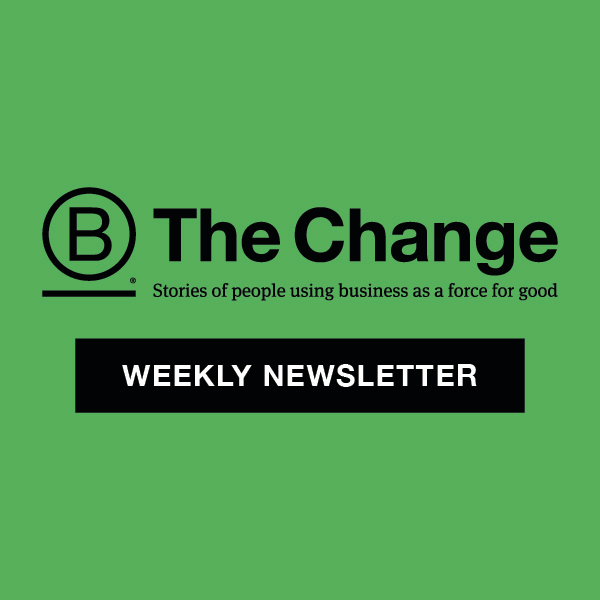 Sign up for B The Change Weekly
Learn more about the growing movement of Certified B Corporations using business as a force for good, and sign up to receive the B The Change Weekly newsletter for more stories like this one, delivered straight to your inbox once a week.
SUBSCRIBE
---
Frankie & Jo's | United States
Price: Varies (only available in the U.S.)
With a belief that plant-based food is the way of the future, Frankie & Jo's creates vegan ice cream with clean and recognizable ingredients made using traditional methods. This year, the B Corp formed a partnership with Sustainable Seattle to further support its mission and sustainable initiatives. This included regularly promoting and partnering with other women- and Black, Indigenous, and People of Color-led businesses, organizations, and artists across Seattle and the Puget Sound region. The dairy-free and gluten-free frozen treats come in everyday and seasonal flavors, and can now be ordered for zero-waste delivery throughout the United States.
---
The Human Beauty Movement | United States
Price: $100 USD
The Human Beauty Movement operates as a carbon-neutral organization, uses recyclable packaging, minimizes use of plastic, and offers a free package return program. The B Corp takes its environmental practices one step further by advocating for policy and climate action through the Climate Collaborative CodeRed4Climate and Call4ClimateNow campaigns. In addition to policies that care for the environment, The Human Beauty Movement creates products that use plant nutrients like this facial oil with antioxidant, adaptogenic, anti-aging and moisturizing properties. It's a great gift for those on your list who could use some soothing self-care for mind, body, and soul.
---
Legacy Vacation Resorts | United States
Price: $99 USD to $499 USD per night
Create lifelong family memories with a gift of travel to vacation resorts that respect the environment, employees, and community. While using business as a force for good, Legacy Vacation Resorts aims to educate others in the hospitality industry on how to attain sustainable economic development. Its accommodations range from hotel-style guest rooms and kitchenette-equipped studios to one-, two- and two-bedroom-deluxe suites with spacious living areas and fully equipped kitchens. Select from eight locations throughout the United States and start planning your next getaway.
Sign Up for our B The Change Newsletter
Read stories on the B Corp Movement and people using business as a force for good. The B The Change Newsletter is sent weekly on Fridays.