Behind the Gift: New England
November 29, 2021
7 Gift Ideas from B Corps Based in New England
This holiday season shop for your friends and family from local B Corps based in New England. In this gift guide, you'll find a mix of food and beverages, clothing, reusable items, and more. Not only does this list highlight some wonderful B Corps, we've also indicated which are small businesses, women-owned, have committed to NetZero by 2030, and were listed as a Best For The World B Corp in 2021.
---
By Badger
Price: $16 USD
This trio of moisture-locking lip butters in planet-friendly tins comes packaged in a recyclable gift box. Soft, smooth, and oh-so-soothing, the lip butters are made using organic ingredients that are grown and processed with the highest degree of respect for protecting the environment, the workers, and the natural properties of the plants. Each lip butter delivers a lasting smooth, natural shine. Badger is a second-generation family business making organic skincare since 1995.
---
By Cabot Cheese
Price: $18.95 USD
Cabot was the first dairy co-op to become a B Corp in 2012, and the company continues to strive to not only make the world's best cheddar but make it in a way that is best for the world. Cabot is owned by hundreds of member family farms across New England and New York. The co-op sources all of its milk from its member-owners and works to source other cheesemaking products locally. Co-op ownership means every member-farmer gets a vote, ensuring that perspectives of all the members are equally represented. This cheddar sampler is a delicious gift showcasing the range of great cheddars offered by the farmer-owners of Cabot. Mild, Smooth Sharp, Extra Sharp, and Seriously Sharp 8-ounce bars provide the perfect introduction to the world's best cheddar.
---
Price: $5.95 USD
King Arthur Baking is a 100% employee-owned company, where every worker's voice is heard and every decision results from openness, collaboration, and communication. The B Corp's collective ideas and decisions are woven into its brand: a company run by bakers, for bakers. An essential ingredient for every baker, this unbleached all-purpose flour works in any recipe calling for flour or all-purpose flour and yields exceptional results. It's a basic pantry ingredient that King Arthur's has perfected and tested with the strictest specifications in the industry, so you can rely on it for holiday cooking and baking needs.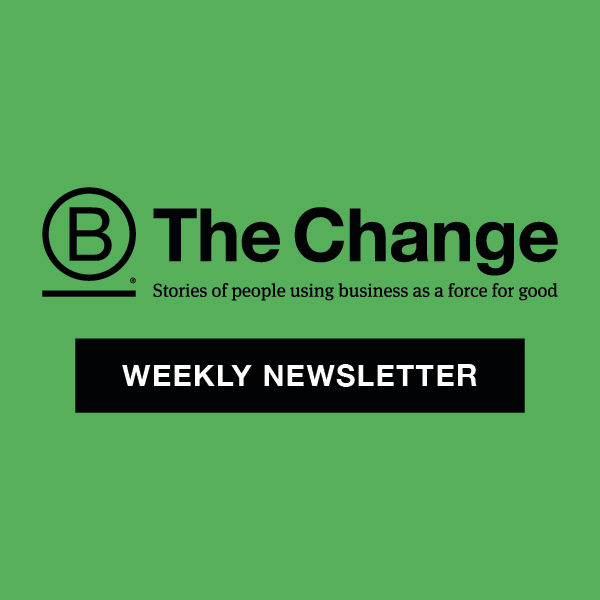 Sign up for B The Change Weekly
Learn more about this growing movement of Certified B Corporations using business as a force for good, and sign up to receive the B The Change Weekly newsletter for more stories like this one, delivered straight to your inbox once a week.
SUBSCRIBE
---
Price: $15 USD
Help spread joy this holiday season with a gourmet collection of 12 organic chocolate squares in 38% milk and 57% dark chocolate. Inside each individually wrapped square is a suggested act of kindness encouraging recipients to bring joy to others. In return, enjoy a sweet reward. This gift encourages you and your gift recipients to give back yourselves, starting with the ideas within each chocolate. Like a snowflake, each act of kindness is fleeting, but its beauty and combined influence can have a lasting impact. Treat yourself, or someone special, to this gift box and remember: The greatest gift to share is kindness!
---
Price: $125 USD
Add a taste of Maine to your holiday with this pack that contains 1 pound of flash-frozen knuckle and claw lobster meat, a pack of New England-style split-top buns, Luke's Secret Seasoning, and two Maine-made whoopie pies. Luke's Lobster traces every pound of seafood so it knows the regulations that bind that fishery to sustainable harvesting methods. The B Corp also builds strong producer relationships by buying directly from individual fishermen or from fishermen's co-ops. Luke's also recently expanded its product offerings to include underutilized species that introduce customers to new sustainable seafood options, build resiliency in the seafood supply chain, and create opportunities for Maine's fishermen and aquaculturists.
---
Price: Varies
This gift is about being part of change: the journey toward a cleaner ocean. While a razor and toothbrush set doesn't solve the enormous problem of ocean plastic, every step counts. Each POPi product plays a role in stopping the flow of wayward plastic that contaminates the oceans and harms marine animals. In addition to using recycled ocean plastic to create these products, Preserve donates 25% of proceeds from POPi product sales to nonprofits that work to clean up oceans and beaches, support marine conservation, and research plastic pollution.
---
Price: $34 USD
All Prosperity Candle products support women relocated to the U.S. from refugee camps. Prosperity Candle also helps provide food, medical care, and critical assistance to refugee and displaced families around the world through partners like the International Rescue Committee and International Medical Corps. Reminiscent of decorative Spanish interiors, the Marbella Collection offers wonderful textures in neutral colors that inspire any home with warmth. And the Marbella candle holder can be used as an elegant planter pot once the candle is finished. Each ceramic candle is hand poured to order and arrives gift boxed with a story card about the woman artisan who made it. The reusable candle holder makes a perfect gift for the environmentally conscious. Select from nine scents or go fragrance-free.
Sign Up for our B The Change Newsletter
Read stories on the B Corp Movement and people using business as a force for good. The B The Change Newsletter is sent weekly on Fridays.