Behind the Gift: New York Area
November 29, 2021
7 Gift Ideas from B Corps Based in the New York Area
This holiday season shop for your friends and family from local B Corps based in the New York area. In this gift guide, you'll find a mix of food and beverages, clothing, reusable items, and more. Not only does this list highlight some wonderful B Corps, we've also indicated which are small businesses, women-owned, have committed to NetZero by 2030, and are Faitrade Certified.
---
Price: $15.99 USD
This three-piece set is created from eucalyptus harvested on a woman-owned farm in Australia whose employees consist of at least 50% women. These farmer partners also have committed to giving back to Australia's wildlife by dedicating over a mile and a half of their land to create a koala sanctuary planted with hundreds of eucalyptus trees. The trees also provide eucalyptus for Babo's blend that nourishes, moisturizes, and soothes skin and body for children and adults.
---
By Eco-Bags
Price: $13.99 USD
This purchase is good for you and good for the planet. The Eco-Bags string bag is light, easy to stow away, exceptionally soft, and expandable. It's the perfect go-to tote for shopping, organizing, a day at the beach, laundry, and more. Plus, these zero waste bags that first hit the market in 1989 have been called the new it bag by Vogue — showing that circular style is always in fashion.
---
Price: $6.49 USD per four-pack
The organic and regenerative line of baby food from Happy Family Organics is made with ingredients farmed with the future in mind. This new line for little ones 6 months and older is made with ingredients grown using regenerative farming practices that can help to mitigate climate change by building healthy soil that captures carbon from the atmosphere. As a brand on a mission to change the trajectory of children's health through nutrition, Happy Family Organics knows that only a healthy planet can grow healthy foods and pursues a commitment to cultivating a sustainable world for little ones today and for future generations.
---
By MPOWERD
Price: $45 USD
Power up with this inflatable solar light. With cell phone charging capabilities, 150 lumens, and lasting up to 50 hours on a single charge, this compact solar lantern will take you further than ever before. Each product sold through MPOWERD helps provide clean energy to people around the world who need it most.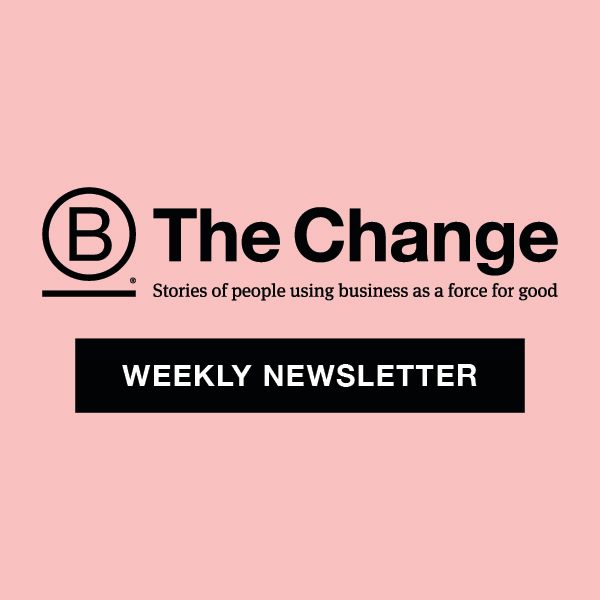 Sign up for B The Change Weekly
Learn more about the people at Certified B Corporations using business as a force for good, and sign up to receive the B The Change Weekly newsletter for more stories like this one, delivered straight to your inbox once a week.
SUBSCRIBE
---
Price: $36 USD
Enjoy a delicious flavor experience while supporting the lifesaving work done by Rescue Chocolate's beneficiaries. Rescue Chocolate donates all profits to various animal rescue organizations. This particular recipe features a chewy-crunchy combo with cinnamon, nutmeg, ginger, and fleur de sel flavors and works to bring awareness to feral cat colonies.
---
SheaMoisture (Sundial Brands)
Price: $15 USD
SheaMoisture is the legacy of Sofi Tucker, a pioneering mother of four and entrepreneur who began selling shea butter, African Black Soap, and homemade beauty preparations in 1912 in Sierra Leone. SheaMoisture honors her vision with products featuring Fair Trade shea butter handcrafted by women in Africa, and every purchase supports the company's mission to reinvest in those communities. This Hydrating Body Kit with 100% virgin coconut oil, coconut milk, and shea butter nourishes and restores all skin types — a great gift for others or for self-care.
---
Price: $6.49 USD
With a mission to end exploitation in the chocolate industry, Tony's Chocolonely uses Fairtrade practices to reshape the cocoa industry to end the poverty cycle that many farmers experience. To eliminate modern slavery, illegal child labor, and deforestation prevalent in the cocoa industry, the B Corp developed five rules for responsibly sourced cocoa: pay a higher price, use 100% traceable beans, encourage strong farmers, promote better quality and productivity, and go for the long term with five-year plans and agreements. Its holiday offerings include this minty dark chocolate bar with a fir-tree-shaped section.
Sign Up for our B The Change Newsletter
Read stories on the B Corp Movement and people using business as a force for good. The B The Change Newsletter is sent weekly on Fridays.