Behind the Gift: Western Canada
November 29, 2021
This holiday season shop for your friends and family from local B Corps based in Western Canada. In this gift guide, you'll find a mix of food and beverages, clothing, reusable items, and more. Not only does this list highlight some wonderful B Corps, we've also indicated which are small businesses, women-owned, have committed to NetZero by 2030, and were listed as a Best For The World B Corp in 2021.
---
By Abeego
Price: $18 CAD
Since 2019, all Abeego team members have received a living wage (as defined by Living Wage Canada), as the B Corp believes its people are its top resource for sustainability. Employees are also offered counseling services, remote working options, and flexible hours. In addition, Abeego embraces pay transparency to help employees better understand the logical, equitable, and justifiable method to compensation and reduce the potential stress and animosity that stems from secrecy or closed-door policies. This food wrap set — a great gift for foodies and busy families — keeps food fresh longer as the beeswax wrap protects and breathes, mimicking nature's peel.
---
By ChopValue
Price: $77 CAD
Enjoy a beautiful and eco-friendly wine and cheese serving board made from recycled chopsticks. This distinctive three-piece set features two of ChopValue's best-selling coasters and a signature charcuterie board. With a network of distributed microfactories, ChopValue aims to create a positive and resource-efficient impact for a carbon-neutral future.
---
Price: $15 CAD
Drizzle Cinnamon Spiced Raw Honey is warm and inviting. Spread over toast, stir into oatmeal or yogurt, or drizzle over baked brie for some sweet comfort on a chilly day. Every purchase of a cinnamon-spiced raw honey jar does more than supporting a small business. It also helps protect and create jobs for beekeepers and farmers while nourishing honeybee populations to ensure the continued health of their environment.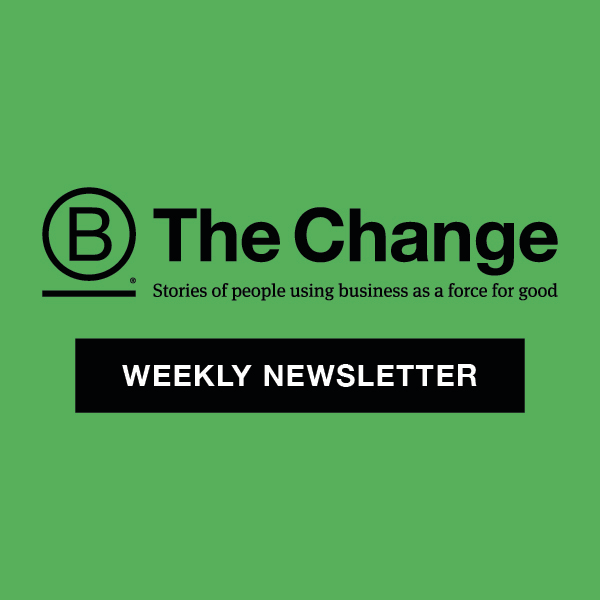 Sign up for B The Change Weekly
Learn more about the growing movement of Certified B Corporations using business as a force for good, and sign up to receive the B The Change Weekly newsletter for more stories like this one, delivered straight to your inbox once a week.
SUBSCRIBE
---
Price: Varies
With a commitment to ethical sourcing as a member of the Fair Labor Association, Fairware is a full-service promotional merchandise distributor that evaluates its partners for social and environmental responsibility standards. As a founding member of the Canadian Benefit Corporation movement, Fairware has been committed to using business as a force for good from day one. The B Corp is also active in increasing inclusivity in its local community, including through its long-term commitment to the Vancouver Street Soccer League, a volunteer-run organization that reaches out to individuals who are, have, or are at risk of, experiencing homlessness. They also reach out to individuals who feel marginalized within their communities, or are recovering from drug and alcohol addictions. The B Corp specializes in custom branded, ethically sourced sustainable products to support campaigns, promotions, and communication efforts.
---
Price: Varies
Eliminate the guesswork, stress, and time of meal planning with Fresh Prep, a sustainable meal kit and prepared meal delivery service. Fresh Prep helps you plan, source, and prepare ingredients for a meal made in 30 minutes or less. Enjoy fresh, pre-cut, and pre-portioned ingredients delivered to your door in reusable cooler bags and the industry-leading Zero Waste Kit. For Fresh Prep, where the food comes from, the quality of the ingredients, and their impact on the environment are just as important as how the meal tastes.
---
Price: $9,349 CAD
Combine education and adventure with the trip of a lifetime to experience firsthand the heart of polar bear country. Travelers gain exclusive access to important research infrastructure, world-renowned scientists, and knowledgeable guides to learn how the polar bear habitat can be preserved. Join Frontiers North Adventures to witness the work that is being done and learn how you, too, can contribute to important conservation efforts for generations to come.
---
Price: $50 CAD
Join the community of artists and everyday makeup users who are rethinking beauty and reorganizing their routines to a more sustainable alternative. Curate your look with only what you need and love. The ECO MYO Kit is a fully customizable magnetic cosmetics case designed for the eco-conscious minimalist. MYO Cosmetic Cases aim to reduce wasteful cosmetic packaging with a refill and reuse makeup system.
---
Price: $126 CAD
Organic Ocean was founded by passionate fishers focused on creating positive change throughout the fishing and seafood industry. Since launching its online fish market, Organic Ocean has donated enough seafood to create two meals for every order it receives. The B Corp has launched Until We Are All Fed, which, as the name implies, is intended to provide for the donation of seafood for as long as it takes to end hunger within its community. Experience one of their most popular premade seafood packs, Organic Ocean's Couples Pack, which consists of an assortment of premium quality, sustainably harvested seafood items. It's the perfect variety for those that appreciate convenient, healthy, sustainable seafood.
Sign Up for our B The Change Newsletter
Read stories on the B Corp Movement and people using business as a force for good. The B The Change Newsletter is sent weekly on Fridays.