2021 Best for the World Environment: B Corps Leading the Way to a Sustainable Planet
July 19, 2021
7 Companies Leading the Way in Environmental Sustainability
When it comes to prioritizing the environment, these Certified B Corporations go above and beyond. As 2021 recipients of Best for the World™ for the Environment, these companies are leading the way toward a more sustainable and regenerative planet.
Best for the World B Corps are companies that score in the top 5% in their corresponding size group in one the five impact areas evaluated on the B Impact Assessment — community, customers, environment, governance, and workers.
Here, we highlight how seven B Corps in the U.S. and Canada are keeping their environmental impact at the heart of their missions — and how other businesses and organizations can follow their leads.
British Columbia | Sustainable products and decor
What others might see as waste, ChopValue sees as a resource. ChopValue recycles chopsticks and repurposes them into eco-friendly furniture and homeware products. The circular economy is embedded into the company's business model — and ChopValue wants to make this the norm.
ChopValue empowers entrepreneurs who want to feel good about the business they own. With microfactories located around the world, franchising allows ChopValue to grow into a global brand without losing relationships with its communities. This business model also allows ChopValue to locally source and manufacture products handcrafted by local talent.
Other businesses can follow ChopValue's lead by utilizing resources that would otherwise end up in a landfill, create products with the intention of making them last, and be active in the community by sharing and learning more about specific issues like waste and resource conservation.
Pennsylvania | Sustainable architecture and consulting firm
This Pennsylvania-based B Corp is a multidisciplinary architecture and consulting practice situated at the intersection of sustainability and the built environment. evolveEA has been a carbon neutral company since 2011 and its services cover sustainability in the built environment. evolveEA has the capacity to analyze its GHG emissions and those of its clients, creating a carbon-neutral strategy and measuring improvement toward environmental goals, including net zero emissions. evolveEA tracks how much energy and water its LEED certified projects are designed to conserve as well as many other metrics related to its projects.
For other organizations looking to develop sustainable and equitable practices, evolveEA suggests starting with simple, accessible changes first, then looking at sustainability initiatives holistically. Companies and organizations can assess what sustainability means to them, what the value proposition is, and begin with a company-wide sustainability mandate. From there, organizations can find ways to integrate sustainable practices into their operations, while simultaneously creating a culture of sustainability in the organization. This will ensure that operational practices are continually improved and employees become champions for a sustainable workplace.
Massachusetts | Mission-driven company transforming underutilized spaces into biodiverse productive landscapes
Green City Growers transforms underutilized spaces into biodiverse, food-producing landscapes by using regenerative agriculture practices. The B Corp is specifically focused on urban landscapes, including large rooftop garden projects.The company now manages more than 170 unique farm and garden locations throughout the Northeast, and in March 2021 announced that employee-owned grower-shipper, Tanimura & Antle based in Salinas, California, made an investment as the majority shareholder and new partner of Green City Growers. As the company continues to grow and see success in its business development, its environmental impact grows along with it.
Other businesses can get started on similar practices by aiming for positive impact to be at the core of their business model. Green City Growers encourages other businesses to incorporate positive practices during the earliest stages of building their business. Companies can also consider ways to incorporate food production into their facilities, whether on a rooftop or even in a few pots in a window.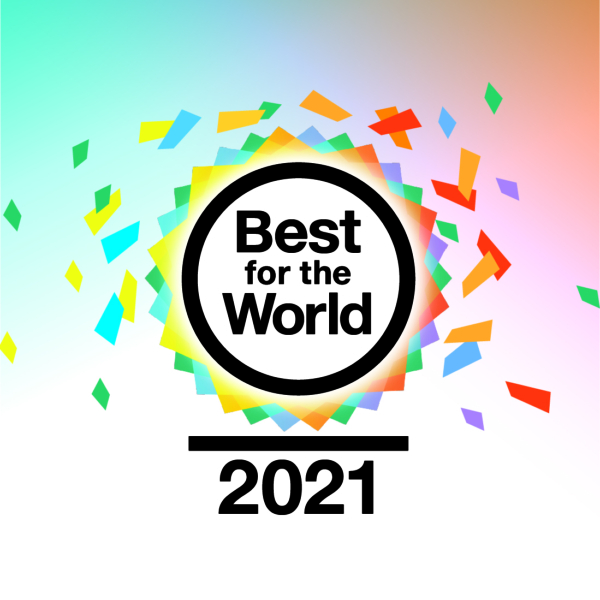 Meet the 2021 Best for the World B Corps
The B Corps named as 2021 Best for the World have B Impact Assessment scores that rank among the top 5% in their business size group for the five impact areas: community, customers, environment, governance, and workers. See who made the lists, which are viewable by impact area and then broken down by company size and home country.
See the lists
British Columbia | Sustainability services company that helps organizations measure and improve their sustainability performance.
GreenStep's products and services have been carefully designed to deliver environmental benefits. Specifically, this B Corp helps companies measure and reduce their consumption of energy, waste, and carbon through the delivery of energy assessments, waste audits, carbon footprint measurements, and life-cycle impact analysis. Through its Sustainable Tourism division, GreenStep provides assessments to tourism businesses and destinations, helping them measure and improve their sustainability performance. GreenStep's EcoFund program helps companies fund large carbon-reduction projects within their own businesses.
GreenStep has also made a number of changes internally to reduce its environmental impacts and carbon footprint. Through Bullfrog Power, GreenStep is powered by 100% low-impact renewable energy, and as a carbon-neutral company, GreenStep measures its carbon footprint using EcoBase Carbon Software and offsets what it can't reduce through Offsetters. GreenStep has implemented several practices to reduce its carbon footprint, including composting food waste at its office with a vermicomposter, and recycling everything that it can, which has led to a waste diversion rate greater than 90%. GreenStep's office has an energy management policy encouraging equipment and lights to be turned off each day, and GreenStep has worked to complete an energy assessment and make energy-efficiency upgrades. Its office space was chosen for its abundance of natural light, its location downtown, and its proximity to accessible walking, cycling, and transit routes. GreenStep encourages carpooling for business travel, and the use of video conferencing for team meetings.
GreenStep believes all businesses have opportunities to create mission-driven cultures by integrating key sustainability goals and objectives into their business models, influencing their supply chains, and engaging the communities and stakeholder groups in which they operate. It follows a simple process within its company and with its clients that other businesses can follow too; establishing a sustainability performance baseline in order to understand the current situation, and from there setting goals and creating an action plan to improve performance over time. These actions can be strategic; focusing on company priorities and those that will also provide immediate returns on investment, financial and otherwise.
Kansas | Dairy farm focused on creating sustainable dairy foods
Soil sustains all life — and the team at McCarty Family Farms wants to do their part to protect it. The crops used to feed their cows are grown with regenerative farming methods. In addition to protecting the soil from erosion, these methods help regenerate the soil and increase carbon sequestration.
McCarty recognizes that all species — big and small — play an important role in supporting a healthy ecosystem on its farms. In addition to McCarty's work in regenerative farming, the B Corp also supports biodiversity by planting trees, creating pollinator habitats, and maintaining bird, bug, and bat boxes around the farms. Today, McCarty Family Farms has more than 58 wildlife boxes in place and 25 acres of native plants reserved for pollinators.
As a water technology farm, McCarty works with the local water district and has a conservation plan in place to ensure it always uses water effectively and efficiently. McCarty also depends on innovative tools to help it conserve water. On average, water from McCarty farms is reused at least three times. To do even more for freshwater conservation, its innovative milk condensing plant helps us reclaim the natural waters from the cow's milk. The farm then uses the reclaimed water for cleaning and crop irrigation, reducing our fresh water needs while the reduced milk volume requires a much smaller footprint to send to customers.
Other businesses can follow this B Corp's lead simply by getting started with a shift toward sustainable practices. The team at McCarty believes making small changes or improvements can make a true impact on your footprint and your business. Additionally, connecting with other like-minded business leaders can be a great way to locate resources and build connections that can lead to valuable collaborations.
Colorado | Rum Distillery
From day one, Montanya made a commitment to the environment. Its facilities are 100% wind powered, it offsets carbon production, its bottle supplier is certified Cradle to Cradle — and more.
This Colorado-based B Corp has found more sustainable options for the items it uses regularly. Montanya uses the glass supplier Owens Illinois, the first beverage packaging company in the world to become certified under the Cradle to Cradle program. Montanya has also worked hard to reduce its landfill-bound waste by 75%. Additionally, Montanya sources its sugar cane — another huge input — from a family-run co-op in Louisiana that implements sustainable practices and treats its workers fairly.
Since its B Corp Certification in 2018, Montanya has continued to make progress and improvements, like installing an onsite biodigester for its distillery and Tasting Room and becoming certified plastic neutral. Montanya is part of a carbon offset program with Terrapass, which plants trees, installs innovative renewable energy, and captures methane from landfills.
Additionally, Montanya is implementing new processes to track all of its inputs and outputs of waste, energy, and carbon use to maximize efficiencies while lessening our footprint.
For other businesses that want to implement sustainable practices, Montanya believes the most important thing is just to get started. The team at Montanya encourages other businesses to question how things have always been done — just because something is the standard or what people are familiar with doesn't mean that's how things should be or need to be done. Start to notice assumptions and look for new ways that are better for the planet, your people, and your community.
New Hampshire | Natural and organic products
The company philosophy at W.S. Badger Co. flows from the ground up, starting with a deep reverence for the land supporting its building and continuing to the soil and partnerships that supply its ingredients. Once a nutrient-depleted sandpit with sparse vegetation, after a lot of love and composting, the soil beneath its building is returning to a thriving ecosystem teeming with biodynamic vegetable gardens and medicinal herbs.
While this work has transformed Badger's local footprint, the company is also making significant progress in lightening its impact within the global ecosystem. In 2020, it partnered with fellow B Corp ReVision Energy to install 1,384 rooftop and ground-mounted solar panels, transitioning its manufacturing facility to 100%renewable solar energy.
Badger's Sustainability Committee introduces changes to make its day-to-day habits a little greener every year — like energy-efficient hand dryers, waste and energy audits, plastic-free July and pollinator education, composting, and expanded recycling. But sometimes, shrinking its footprint means getting really creative. A few years ago, W.S. Badger committed to "Save Every Drop" during production runs. This was put to the test when a batching error created an unusable vat of oils and waxes. These leftovers sparked the idea for a unique new product: an outdoor citronella candle made from oils gleaned from production.
Other businesses can follow in Badger's footsteps: The first step is to start small.
Businesses can look at their current policies and practices and determine where they can make incremental and sustainable improvements. But businesses shouldn't shy away from setting big, lofty goals, too. Badger encourages other businesses to lean into making sustainability a company-wide effort and part of your ethos, with every department taking ownership of ways to improve your carbon footprint. And don't hesitate to rely on fellow B Corps for encouragement, insight, and expertise. It sounds corny, but there is strength in numbers, and the global B Corp community is a force to reckon with.
Sign Up for our B The Change Newsletter
Read stories on the B Corp Movement and people using business as a force for good. The B The Change Newsletter is sent weekly on Fridays.