Q&A: How to Know Whether a Company Is Really Purposeful or Just Marketing That Way
January 12, 2022
Whether it's as workers, consumers, or business owners, people are increasingly looking to align their careers and spending with companies that value social and environmental good as well as a healthy bottom line. But in an era of greenwashing and unverifiable ESG claims, it can be challenging to know which businesses are truly committed to working for a healthier planet and more inclusive economy.
More than 10,000 companies worldwide have signed on to a legal structure known as the benefit corporation that incorporates creating value for all stakeholders, including workers, consumers, the environment, and community. These businesses are executing on their mission and values while overturning the concept of shareholder primacy — which prioritizes profits, even when derived from behaviors that create inequality, environmental damage, and social fragmentation.
By incorporating responsibility to stakeholders into their company's legal DNA, benefit corporations uplift the people who contribute to their success and protect the environment for future generations. Companies that adopt benefit corporation governance also can align investors, boards, shareholders, and stakeholders around the shared objective of creating long-term value.
By law, benefit corporations have the same protections and permissions as other for-profit corporations but have a higher level of transparency, accountability, and purpose. This means benefit corporations must account for the negative impacts of their operations on all stakeholders rather than maximizing wealth for shareholders and imposing costs on others. Benefit corporations also have growing relevance for the future as more people prefer jobs with purpose and stability. This legal status gives prospective and current employees confidence that the company is legally committed to its mission and long-term legacy.
As more large companies and investors realize that the pursuit of shareholder profits lies at the root of many systemic challenges — including health, income, and racial inequities — businesses that are accountable to balancing interests across all stakeholders have greater flexibility to adapt and survive during difficult times. The stakeholder governance legal framework also is one of the requirements of B Corp Certification, which designates that a company meets standards for social and environmental impact. (Learn more about the differences between benefit corporations and B Corps.)
Key elements of benefit corporation governance include:
An expanded purpose beyond maximizing share value to create general public benefit.
Greater accountability as directors are accountable to consider stockholder and stakeholder interests when making decisions.
Transparency with respect to the expanded purpose.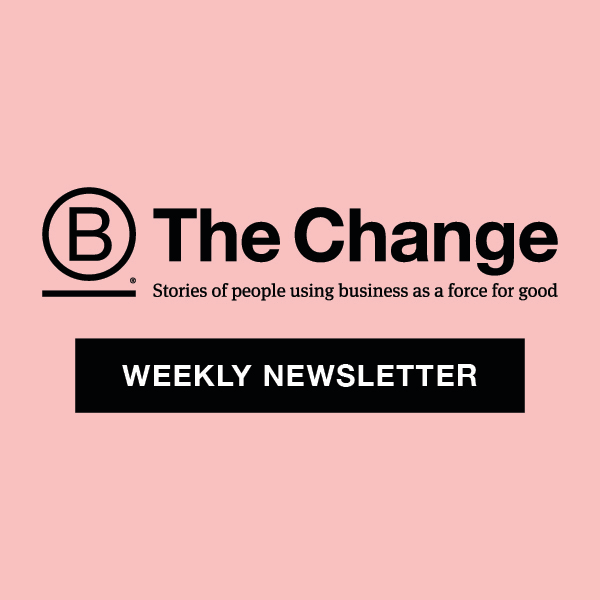 Subscribe to B The Change Weekly
Learn more about this growing movement of Certified B Corporations using business as a force for good, and sign up to receive the B The Change Weekly newsletter for more stories like this one, delivered straight to your inbox once a week.
SUBSCRIBE
The following Q&A outlines more about the legal requirements of B Corps and other purpose-driven companies. It shares highlights from recent webinars presented by B Lab, the nonprofit that oversees B Corp Certification, as well as the Board Playbook, a downloadable resource from B Lab to help business leaders navigate the journey to adopt benefit corporation status.
How does a company's location affect its ability to become a benefit corporation?
The legal requirement varies based on where the business is currently incorporated. Lawmakers have adopted it in more than 40 states as well as in British Columbia in Canada. Options vary in other states and countries. Use this online resource to find more information on the benefit corporation pathway in each state.
How did benefit corporation legislation originate?
The model benefit corporation legislation was drafted and promoted by B Lab, and was first adopted in 2010 by Maryland lawmakers. A majority of states, including Delaware, have now adopted some form of benefit corporation legislation.
What does the internal process look like for companies to transition to benefit corporation governance?
The process varies depending on a company's size and structure, as companies with a Board of Directors and shareholders must obtain their approval. The specific legal requirements for a company also differ based on the company's entity type — corporation, articles, partnership, worker-owned co-operative, etc. — and location. The benefit corporation statutes are not the same in every country, province or state. Find more information about what requirements your company would need to meet by entering specific company information in the "How the legal requirement works" online tool.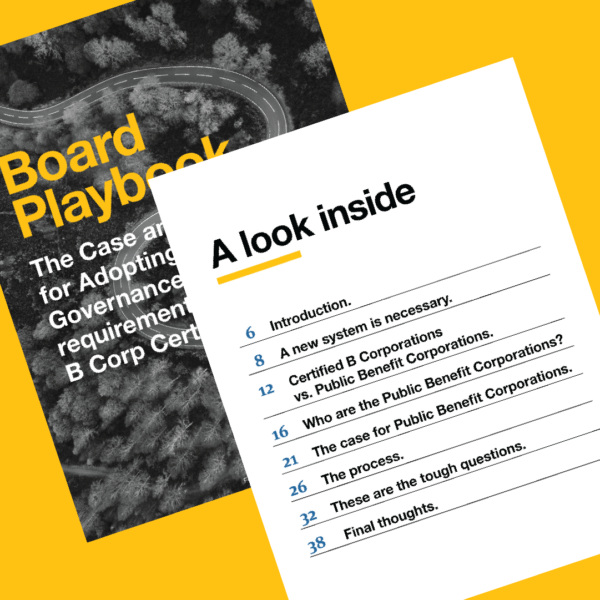 The Board Playbook
To help business leaders navigate the journey to adopt benefit corporation status as a requirement of B Corp Certification, B Lab U.S. & Canada provides this downloadable resource, the Board Playbook, to lay out the process and demystify the risks.
DOWNLOAD
What about shareholders and boards?
As benefit corporations, public companies can attract investors with a longer-term perspective and build management credibility by making decisions with extended positive impact. They can avoid short-term pressures from shareholders because directors must make decisions based on building shared and durable value for all stakeholders, rather than just trying to increase the current share price.
The benefit corporation structure also gives directors additional options and protections under the law, when making decisions rather than defaulting to the option that creates the most value for shareholders.
Additional Resources
B Lab offered three webinars in late 2021 with more information on meeting the legal requirement for B Corp Certification as well as resources for legal assistance with the transition to benefit corporation governance:
Sign Up for our B The Change Newsletter
Read stories on the B Corp Movement and people using business as a force for good. The B The Change Newsletter is sent weekly on Fridays.