A New Playbook for a New Economy Led by Stakeholder Capitalism
February 1, 2021
The Case and Process for Adopting Benefit Governance
As the gap between haves and have nots grows and the climate crisis accelerates, business leaders can seize the opportunity to address economic disparity and take climate action by adopting a model for a new economy — stakeholder capitalism — and pursuing benefit corporation status to embed their company's purpose and ensure a positive legacy.
Through the legal structure of benefit corporations, businesses can expand their focus beyond shareholder primacy, the tenet of traditional capitalism that demands profits for shareholders be the sole focus of a corporation, and instead consider the impact of corporate actions on a number of stakeholders: workers, customers, community, environment, and shareholders. Yes, the bottom line remains important, but the business also must deliver value to this broader group and take responsibility for the negative impacts it creates. By using business as a force for good, benefit corporations uplift the people who contribute to their success and protect the environment for future generations.
The community of Certified B Corporations — more than 3,500 businesses around the world, including Patagonia, Ben & Jerry's, Allbirds, and Beautycounter — are leading the way by tackling pressing global challenges and building a new economy led by stakeholder capitalism. To help other business leaders navigate the journey to adopt benefit corporation status as a requirement of B Corp Certification, B Lab is releasing a new downloadable resource, the Board Playbook, to lay out the process and demystify the risks. This article shares highlights and testimonials from the playbook.
"Only when stakeholder governance becomes normative and institutional will this be accessible for the companies with limited resources but unlimited passion to serve their communities and their workers," says Andy Fyfe, Growth Catalyst, B Lab U.S. & Canada. "This playbook levels the playing field as the most practical guide to date for companies to adopt the highest form of stakeholder governance."
In the playbook's introductory letter, Allbirds Co-Founder Joey Zwillinger shares why the company pursued benefit corporation status and how that decision has shaped and will drive the business for the long term:
"Adopting this governance framework has legal tradeoffs. On one hand, it provides broader latitude to executives to act on behalf of public beneficiaries in addition to shareholders. On the other hand, it also creates liabilities for companies and its executives such that investors can hold the company accountable to achieving the public benefits it has chartered in its governance documents. This is flexibility and accountability. Great leaders should have both, but it takes courage and a sense of responsibility for what the executive's role is in the world."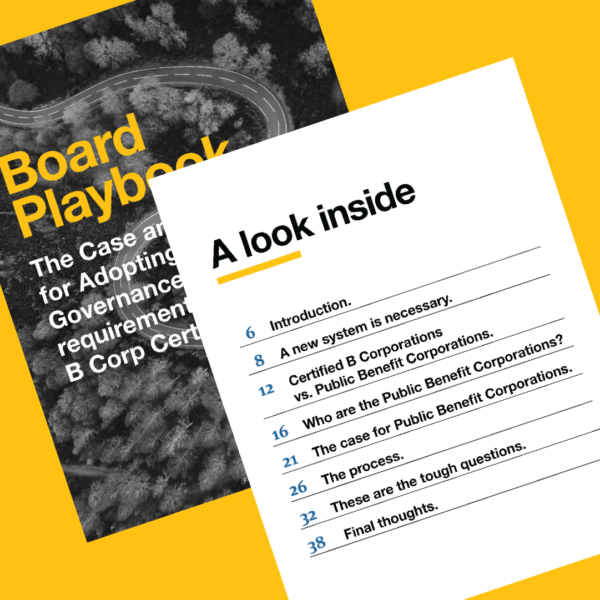 A New Way of Doing Business
To help business leaders navigate the journey to adopt benefit corporation status as a requirement of B Corp Certification, B Lab U.S. & Canada is releasing a new downloadable resource, the Board Playbook, to lay out the process and demystify the risks.
DOWNLOAD
Operating with Purpose and Transparency
By law, benefit corporations have the same protections and permissions as other for-profit corporations but have a higher level of transparency, accountability, and purpose. This means benefit corporations must account for the negative impacts of their operations on all stakeholders rather than maximizing wealth for shareholders and imposing costs on others.
In the last decade, benefit corporation statutes have been enacted in 39 states in the U.S. The movement is growing internationally as well: In 2020, the first Canadian benefit corporation law became effective in British Columbia, adding to prior adoption in the United States, Italy, Colombia, Peru, and Ecuador.
The more than 10,000 benefit corporations are changing the purpose of business by leaving behind shareholder primacy. Here are a few ways these leaders are demonstrating that responsible business can be successful business:
Lemonade, an innovative insurance broker backed by SoftBank, Sequoia and other venture capital funds, completed the most successful IPO of 2020, raising 139% on its first day of trading (after pricing above the underwriters' range)."This isn't just 'do good' stuff, it's about aligning interests. So I don't make money by denying your claims, and you'll think twice before embellishing your claims, and hopefully we'll turn what is today a two-player game, a conflicted relationship between two players, into a trilateral relationship by involving nonprofits as well. … It's allowed us to climb the ranks to be the number one most trusted and loved brand in insurance, and we've only been in the market for three years." — Lemonade CEO Daniel Schreiber
Vital Farms, which markets pasture-raised eggs and butter, followed suit in 2020 with an IPO earning a market cap of $1.3 billion at close while receiving a valuation of $136 million just two years earlier."I was always looking for the exit. Instead of looking to get rich, I realized I could build a company where I was focused on employees, customers, shareholders, and the environment. It's so much more fun than focusing on profit." — Vital Farms Founder Matt O'Hayer
Veeva Systems, a provider of cloud-based software products with a $40 billion market cap, is the first publicly traded company to adopt benefit corporation status — receiving 99% approval from its shareholders in January 2021."We met with our top 20 investors, other influencers, and proxy advisory firms. For a significant cross-section of investors — especially those that are more ESG-focused, that have been thinking about multi-stakeholderism or writing about the importance of purpose — I would describe the reaction as almost pent-up demand. There was almost a sense of relief — finally someone's doing this. That was a pretty significant proportion of the shareholders that we spoke to." — Veeva Systems Senior Vice President and General Counsel Josh Faddis
A Compelling Case for Benefit Corporations
Benefit corporations will have growing relevance for the future, as more people prefer jobs with purpose and stability. This legal status gives prospective and current employees confidence that the company is legally committed to its mission and long-term legacy.
As benefit corporations, public companies can attract investors with a longer-term perspective and build management credibility by making decisions with extended positive impact. They can avoid short-term pressures from shareholders because directors must make decisions based on building shared and durable value for all stakeholders, rather than just trying to increase the current share price.
As more large companies and investors realize that the pursuit of shareholder profits lies at the root of many systemic challenges — health, economic, and racial equity among them — businesses that are accountable to balancing interests across all stakeholders have greater flexibility to adapt and survive during difficult times.
The benefit corporation structure also gives directors additional options and protections under the law, when making decisions rather than defaulting to the option that creates the most value for shareholders.
The final sections of the playbook include information about the legal aspects of the certification process, produced in partnership with Freshfields, an international law firm; and a "tough questions" section, produced in partnership with Mayer Brown LLP, a global law firm advising the world's leading companies and financial institutions, including public benefit companies on Environmental, Social, and Corporate Governance (ESG) and other socially minded matters.
Pamela L. Marcogliese, a partner at Freshfields, says the playbook is a timely resource for businesses developing or deepening their stakeholder framework.
"Now, more than ever, companies are focused on a wide range of ESG issues, driven by concerns from their stakeholders, including their employees, their customers, members of their communities, and their stockholders," she says. "B Corp Certification, and eventual conversion to a public benefit corporation, crystallizes a company's commitment to these important constituencies."
Stephanie Hurst, an associate with Mayer Brown, says clients pursuing ESG-related matters, including becoming a B Corp or benefit corporation, have many questions about how the market may view that change and whether it could increase their personal liability.
"In the fast-evolving ESG landscape, with many areas of first impression, these considerations can be multifaceted and, at times, feel overwhelming," she says. "We think that the Board Playbook, the initiative spearheaded by B Lab, is an excellent resource for companies seeking B Corp Certification or benefit corporation status that provides practical insights and guidance to address the key considerations, and we are happy to have collaborated with B Lab on this important project."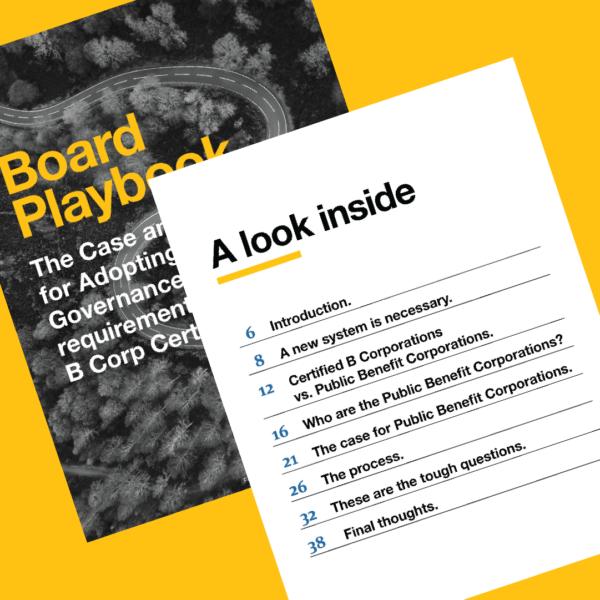 A New Way of Doing Business
To help business leaders navigate the journey to adopt benefit corporation status as a requirement of B Corp Certification, B Lab is releasing a new downloadable resource, the Board Playbook.
DOWNLOAD
Sign Up for our B The Change Newsletter
Read stories on the B Corp Movement and people using business as a force for good. The B The Change Newsletter is sent weekly on Fridays.