B Corps Doing Business Better: Screening Supply Chains for Positive Impact
March 23, 2021
By Screening Suppliers for Environmental and Social Practices, B Corps Benefit People and Planet
The B Impact Assessment serves as more than an evaluation method for companies pursuing or renewing B Corp Certification: It also can be a screening tool to encourage suppliers to adopt practices and policies for positive impact. Screening suppliers for positive impact with the help of the assessment also can expand the B Corp community by exposing more companies to the stakeholder mindset that incorporates workers, environment, customers, community, and shareholders.
By helping B Corps — and, in turn, their suppliers — measure their impact and pursue continual improvement, the B Impact Assessment is a critical component of the B Corp movement. B Corps of all sizes rely on goal-setting, best-practice sharing, and improvement metrics within the B Impact Assessment to advance a more inclusive and regenerative economy. Suppliers are more than businesses that provide products — they offer services that affect the environment, employ people, and serve customers. By encouraging or requiring suppliers to factor environmental and social benefits into their business decisions and practices, B Corps amplify their values and build the B Economy.
As we continue to celebrate B Corp Month, we share examples of just a few of the B Corps that are strengthening the stakeholder capitalism model by evaluating supplier environmental and social practices, and raising the bar for all companies to do business better.
Seventh Generation's Supplier Code of Conduct
Seventh Generation markets household and personal care products designed to protect our planet and our health, and ensure an equitable and healthy planet for the next seven generations. The Burlington, Vermont-based B Corp has built a business with $200 million in annual revenue in more than 25 countries.
Its Supplier Code of Conduct, first adopted in 2013, includes social and environmental standards that collaborating companies must meet or pursue with an emphasis on respect for people and the environment as well as practices that are ethical, transparent, and responsible.
Several sections of the supplier code focus on worker rights, outlining that suppliers cannot use child labor (workers under 15) or involuntary labor, must have inclusive hiring and employment practices, and will respect the rights of employees to join associations of their choice and bargain collectively. By upholding these expectations — as well as others addressing health and safety and compensation — Seventh Generation helps advance and expand worker rights around the globe.
Natura &Co's Brand and Supply Chain Impact Management
After completing its third time through the B Impact Assessment, which B Corps take every three years for recertification, Natura &Co continues to evolve and grow its environmental, social, and economic impact. In addition to Natura, two of its cosmetics group brands are B Corps: The Body Shop, since 2019, and Aesop, which has just achieved this recognition. This group also includes Avon, which Natura acquired in 2020 and aims to get B Corp Certified by 2026.
Based in Brazil, the multinational brand with $14 billion in annual revenue has global reach and impact through its operations and stakeholders. Last year, Natura acted to amplify that impact by announcing its sustainability vision with a plan to tackle some of the world's most pressing issues, including addressing the climate crisis, protecting the Amazon rainforest, defending human rights, and embracing circularity and regeneration by 2030. Its suppliers play key roles in several of these goals, including Natura's circularity approach:
Setting a goal to achieve Net Zero carbon emissions by 2030 for its four brands, which means Natura will track emissions throughout its value chain and that of its suppliers, from extraction of raw ingredients to packaging disposal.
Upholding intolerance on human rights infringement in line with UN Guiding Principles by 2023 for its network, particularly for its supply chain. Natura also will enforce full traceability and/or certification by 2025 for its supply chains and advance programs for sourcing of critical ingredients, specifically for palm oil, mica, alcohol, cotton, paper and soy.
Natura also is helping build the B Corp movement by serving as a mentor company to four large multinational, publicly traded companies in the B Movement Builders initiative: Bonduelle, Gerdau, Givaudan, and Magalu. While most of the 3,800-plus B Corps are small-to-midsize businesses with fewer than 250 employees, B Movement Builders are larger companies with at least $1 billion in annual revenue.
B Lab, the nonprofit that oversees B Corp Certification, launched the B Movement Builders initiative to create new coalitions that will advance stakeholder capitalism as part of a more inclusive and regenerative economic system. By committing to more transparent and sustainable operations, the B Movement Builders will work with Natura and others in the B Corp community to drive change on a larger scale.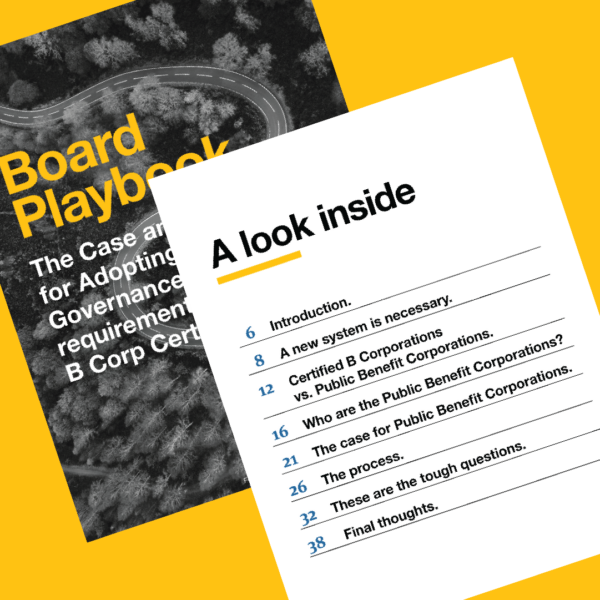 A New Way of Doing Business: A Board Playbook
To help business leaders navigate the journey to adopt benefit corporation status as a requirement of B Corp Certification, B Lab U.S. & Canada created this downloadable resource, the Board Playbook, to lay out the process and demystify the risks
DOWNLOAD
Bridges Fund Management's Investment Portfolio Screening
For companies in the financial industry, the supply chain includes the businesses in which they invest. Bridges Fund Management, a London-based fund manager and B Corp since 2015, uses the B Impact Assessment to help evaluate potential investments. By examining results from the B Impact Assessment, Bridges tracks performance over time and sets impact goals for the coming year.
People who are looking to align their dollars with their values can invest with Bridges Fund Management and know they are supporting stakeholder-minded companies that are working toward positive impact and addressing global challenges.
As Stefanie Kneer, Head of Impact Management at Bridges Fund Management, says: "In our view, the B Corp framework has clear and tangible benefits for investors. And over time, this should come to represent an additional benefit to businesses, too — because by certifying as a B Corp, they're making themselves more investment-ready."
Sign Up for our B The Change Newsletter
Read stories on the B Corp Movement and people using business as a force for good. The B The Change Newsletter is sent weekly on Fridays.