2021 Best for the World Workers: B Corps That Put Workers First
July 20, 2021
6 Companies Modeling a Human-Centered Workplace
Employees are a company's most valuable asset, and creating an equitable work environment that centers around the company team is a foundational conscious business practice. The 2021 recipients of Best for the World™ for Workers are Certified B Corporations that are modeling business practices that center the people who sustain our economy.
Best for the World B Corps are companies that score in the top 5% in their corresponding size group in one the five impact areas evaluated on the B Impact Assessment: community, customers, environment, governance, and workers.
Here, we highlight six B Corps in the U.S. and Canada who are centering workers at the base of their operations and share how other businesses can build off of their leadership.
Illinois | Marketing Growth & Consultancy Agency
The heart of Bluedog's People Over Profits philosophy is recognizing employees as individuals with an intrinsic desire for autonomy and holistic growth. Bluedog's self-designed career growth model, known internally as the Growth Universe, applies life-skill and cross-skill training benchmarks for all employee levels. Bluedog's firm belief in creating an environment where all "Onlynesses" (as coined by Nilofer Merchant) can flourish focuses the company's human development strategy toward enabling mindset shifts rather than tactical how-tos. Bluedog crafts job descriptions and develops career growth paths to enhance individual contribution and engagement.
Bluedog also hosts a yearly all-company Summit training with relevant topics — Emotional Intelligence, reader-centered writing, Conscious Capitalism, and more — to give everyone from entry-level employees to executives immediately applicable tools to act on the shared vision to "do good as we do well." Bluedog also relies on a biannual engagement survey as the primary tool for employee feedback to the organization. Bluedog reviews the results with its leadership team to evaluate progress in long-term initiatives and adjust where needed.
The anonymous annual engagement survey and the holistic approach to all-company retreats and employee training/professional development are two ideas other companies and fellow B Corps can adapt to their workplaces.
Alberta | Construction Company
Chandos is a 100% employee owned company with a broad base of ownership – more than 60% of the company is owned by non-executives. The Chandos Construction ownership structure is modelled after the ESOP structure which allows all employees who work at the company after one year to become an owner regardless of role or tenure. As a result, Chandos is one of the only construction companies in Canada that offer ownership options to carpenters and hourly employees.
Chandos strongly believes that employee ownership is a significant opportunity in Canada as we approach the largest transfer of private wealth with the transition of baby boomers from the workforce. Rather than private owners choosing to sell their companies to investment firms, employee ownership can be a viable and economically positive option. There are different organizations working in Canada to promote employee ownership as an ownership transition model and we would strongly encourage private owners to look into these possibilities. A recent success story is the employee purchase of Taylor Guitars facilitated by the Healthcare Ontario Pension fund with a significant amount of advocacy from Social Capital Partners out of Toronto.
Massachusetts | Sustainable Design Consulting Firm
Green Engineer has practiced open-book accounting for more than 10 years. In 2014, Green Engineer became employee-owned, with staff able to become equal partners in the business after they've worked at the company at least two years. Employee ownership creates long-term engagement of staff and gives a competitive advantage against conventionally organized competition. Green Engineer also offers unlimited paid time off and pays 100% of the cost of employee health insurance. Green Engineer provides every staff member with a professional development budget that they can use at their discretion with guidance from mentors in the office.
Several years ago, Green Engineer began quarterly all-hands design sessions where they look inwardly at their own structure and practices to see where we can grow and improve. More recently, these have grown to include discussion and actions on JEDI (Justice, Equity, Diversity and Inclusion) issues.
Green Engineer serves as one model for how internal transparency and shared ownership can empower employees, improve a company's operations and positive impact, and create a foundation for further growth.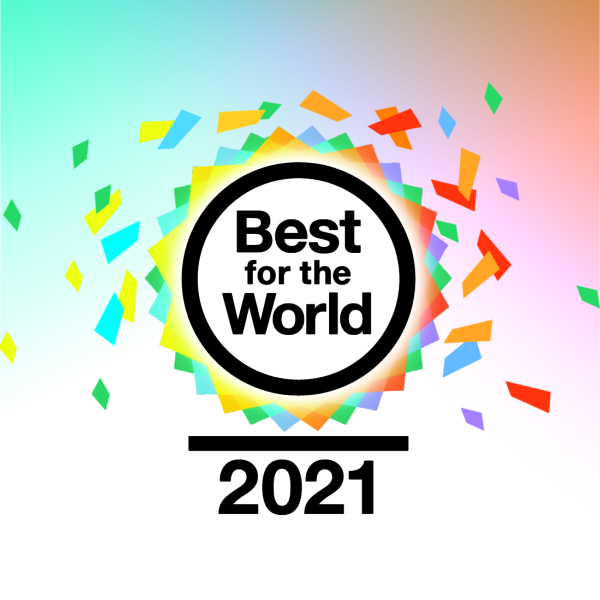 Meet the 2021 Best for the World B Corps
The B Corps named as 2021 Best for the World have B Impact Assessment scores that rank among the top 5% in their business size group for the five impact areas: community, customers, environment, governance, and workers. See who made the lists, which are viewable by impact area and then broken down by company size and home country.
See the lists
British Columbia | Law Firm
Kent Employment Law is focused on implementing equitable policies as part of the B Corp community. Kent's policies allow workers to take up to two paid days off per year for volunteer work, provide funding for professional development courses for employees, allow employees to build flexible schedules, and a breastfeeding policy that accommodates mothers in the workplace.
Kent Employment Law believes creating worker-centered policy begins by creating polls so workers can give feedback regarding what areas the business could improve on regarding their needs.
Ontario | IT Solutions
PeaceWorks is a company that believes that people are its most valuable asset. As part of its commitment to staff, PeaceWorks offers a comprehensive benefit package, flexible work days, part-time and full-time employment opportunities, internal and external training, fair and above living wage compensation, and the opportunity to become an owner in the company after two years of employment.
PeaceWorks recently modified its performance review structure to include a review every six months. Each review is meant to ensure that corporate and personal goals are being achieved, including training and new project ideas, and that proper compensation is received for each role. PeaceWorks encourages volunteering and provides flexible working hours and time that can be used to help in the community. Staff have chosen to use some of this time to help out at schools, churches, foodbanks, shelters, and more.
PeaceWorks encourages other organizations in the B Corp community to give staff the opportunity to participate in the operation of the company and allow staff the chance to learn the responsibility and pride of ownership.
British Columbia | Corporate Sustainability Management
In Synergy's strategic plan, its No. 1 objective is to cultivate a world-class team. Synergy's founders wanted to make the B Corp a place where they'd like to work, so they created a flexible, collaborative, and supportive work environment with a focus on health and wellness. This includes unlimited vacation opportunities, remote-work options, employee-controlled schedules, work-life balance tracking, paid volunteer time, and a focus on excellence and empowerment. Synergy also provides health and wellness goals, ongoing professional training and quarterly knowledge sharing opportunities between staff.
Synergy models the power of putting employees first and asking what is important to them in their careers. The introduction of Synergy's annual Career and Professional Development Plans that are run in addition to its annual reviews gave Synergy significant insight into the needs and wants of their team. The responses have helped Synergy identify and implement policies and programs to better support its workers, and makes this one of the first recommendations for other companies to follow.
Sign Up for our B The Change Newsletter
Read stories on the B Corp Movement and people using business as a force for good. The B The Change Newsletter is sent weekly on Fridays.