Creating a Business Climate Action Plan Centered in Justice
October 27, 2022
How Companies Can Center Most Affected Communities in Climate Action Work
With the future of our planet under threat, more business leaders are taking action on climate change. As they adjust practices and policies to help heal and protect the Earth, businesses also have a responsibility to center people and justice in their climate action. At the core of climate justice is the recognition that those who are least responsible for climate change are more likely to suffer its most devastating effects, now and in the future. Globally and in the U.S. and Canada, these populations are disproportionately People of Color and systematically oppressed communities.  
It's essential that companies develop climate action and transition plans that center climate justice by placing the needs and voices of those who are most impacted by climate change at the forefront. To guide Certified B Corporations and other sustainable businesses on this climate justice work, B Lab U.S. & Canada is offering a series of webinars featuring companies and organizations that are leading the way.
During part one of Creating a Climate Action Plan Centered in Justice, Raj Aggarwal, President at B Corp Provoc, pointed to the collaborative nature of the B Corp community as a source of strength and momentum for climate justice work. Through collective action, B Corps and other sustainable businesses can be strong advocates for issues that are important to them and their stakeholders, he said.
With climate justice as one of its three pillars of change, B Lab U.S. & Canada encourages B Corps to incorporate equity into their environmental impact work as part of their continuing journey of learning and improvement. "We're looking at a human-centered approach to climate action," Aggarwal said. "Climate justice focuses on the most vulnerable people who are first and worst most impacted by climate change, and because of their proximity to the issue are most likely to have a solution."
To help businesses along their climate justice journey, B Lab released the Climate Justice Playbook for Business in early 2021. The downloadable playbook includes examples of how B Corps are influencing policymakers, working with suppliers to develop climate-friendly solutions, and partnering with other aligned businesses. An upcoming second version of the playbook will incorporate the voices of people on the frontlines of the climate crisis and experts at 10 frontline climate justice organizations. Learnings from these conversations will help shape ways that B Corps and other businesses can advance climate justice through their practices and partnerships.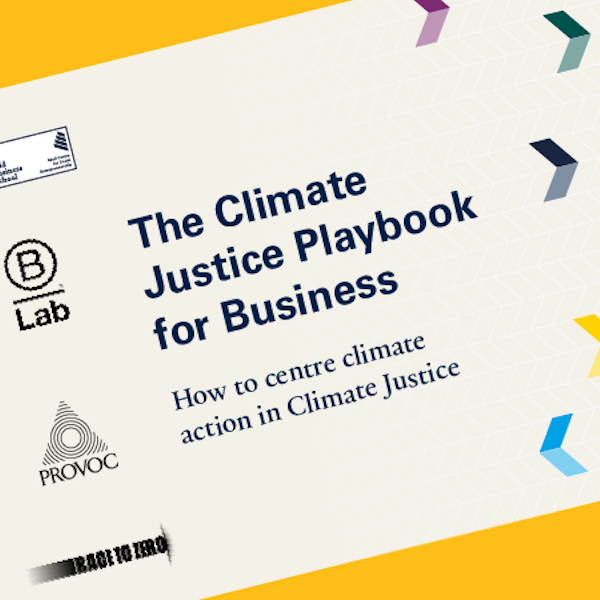 How to Center Climate Action in Climate Justice
This practical guide from B Lab features information to help business leaders understand the intersection of climate action and social justice and advance a justice-centered approach to climate action.
DOWNLOAD THE PLAYBOOK
Developing Tools and Practices for Business Climate Action
Heather Schrock, Director of Environmental Partnerships at the Bonneville Environmental Foundation, provided a look at the greenhouse gas protocols framework. She said businesses can use the framework to calculate a baseline understanding of their climate impact and identify areas where they can reduce or offset carbon emissions. "When you're thinking of centering justice in your climate action plan, it's important to understand there are many tools and many actions you can take as a business, and carbon offsets are just (some of the tools) in the toolbox to fight climate change," Schrock said. 
Some carbon offset options incorporate social or environmental justice, such as grasslands projects that engage local agricultural communities. Stacked offsets purchased from nonprofit organizations send part of the revenue to support programs and projects that may incorporate equity. Companies looking to incorporate equity also can consider carbon offsets that align with impact standards for the UN Sustainable Development Goals, Schrock said.  
Another organization realizing amplified impact through collective action is Cooperative Coffees. The green coffee importing cooperative has 23 roaster members, including 11 B Corps, in the U.S. and Canada. The cooperative measures the carbon footprint and compensates farmers for their environmental services, said Melissa Wilson Becerril, Cooperative Coffees Impact Manager. "Coffee is a Colonial product that came of age in the times of trans-Atlantic trade," she said. "It has that history of human trafficking and extraction, and it grows in tropical regions of the world at elevations that are susceptible to changes in temperature and rain patterns and sun."
Cooperative Coffees seeks to remake the coffee industry by pursuing sustainability through long-term relationships and mutual understanding. "We decided to start understanding what roaster needs and farmer needs were. Consistently the most important pressing need on the agricultural side was climate change mitigation," Becerril said. "And we understand that since sustainability costs money, we need to put money toward these efforts."
That's why Cooperative Coffees started an impact fund in 2015 to address supply chain barriers and fund carbon capture and climate justice projects at origin. Roasters contribute 3 cents per pound of all coffee sales to the fund, and more than $900,000 has been invested into producer-led projects focused on regenerative agriculture practices and reforestation efforts. 
"Smallholder farmers of organic coffee are not the cause of climate change but they are geographically and economically positioned to bear the brunt of its negative impacts," Becerril said. "We believe they are a part of the solution if we empower them and listen to them in order to be able to take action." Through a partnership with other organizations, Cooperative Coffees launched the Cool Farm Tool pilot project to recognize the carbon sequestration efforts of farmers and increase the rate of sequestration. Once the pilot phase ends in January 2023, they hope to scale the project and involve more companies in the coffee industry as well as others who work with smallholder farmers, she said. 
How Businesses Are Addressing Climate Change
Is your business looking for ideas on making a positive environmental impact? Check this free online report from B Lab that compiles articles and resources to help your business become a climate leader. Whether you work at a large company or an agency, get inspired to do more today.
DOWNLOAD THE REPORT
Changing the Banking System for Good Through a Net Zero Transition
Industry transformation is also a goal for Francis Janes, Industry Relations & Partnerships Director at Beneficial State Bank Foundation, which is the majority owner of B Corp Beneficial State Bank. As part of the bank's climate justice work, Janes delivers education to bankers to help execute net zero transition plan within a climate justice framework. 
"We're trying to change the banking system for good and help banks think through what it looks like to transition to net zero no later than 2050," Janes said. That includes outreach to organizations like the Western Bankers Association, where he shared information about climate action and climate justice. "In all our work, we're pretty explicit in saying we cannot do climate action training without weaving in and integrating what it looks like to embed climate justice into this work," Janes said.
Climate discussions in the financial industry often focus on steps such as decarbonization of investment portfolios, he said. But Janes said Beneficial State Bank encourages them to think more broadly and realize that climate and justice are interdependent. "What we are telling our audience and our bankers is that if we don't do this transition well, we're going to exacerbate all the inequities and inequalities we see in our world," he said. "We cannot tackle the climate crisis without truly addressing the global inequality crisis. They're interlinked, and we must think holistically and broadly." 
Watch the full conversation
Sign Up for our B The Change Newsletter
Read stories on the B Corp Movement and people using business as a force for good. The B The Change Newsletter is sent weekly on Fridays.