A Call to Action for B Corps: Climate Justice Is Racial Justice
January 18, 2023
Co-Creating Climate Justice Rooted in Equity and Inclusion
"Who profits if we lose the planet?" — Farmer Cee Stanley, President and CEO of B Corp Green Heffa Farms
As a community of businesses creating a more inclusive and resilient economy, Certified B Corporations believe in creating benefits for their primary stakeholders — people and the planet — which both face growing dangers from climate change. At the recent Champions Retreat 2022 hosted by B Lab U.S. & Canada, a session on Co-Creating Climate Justice lifted the stories of business and community leaders who feel and see the effects of the climate emergency in their daily work. These activists also called on B Corp leaders to center climate justice in their business decisions and collaborate with people in communities most affected by the climate crisis.
Dr. Cynthia Estremera Gauthier, Director of Racial Equity & Engagement at B Corp Strategy Arts, said the need for climate justice is evident in the fact that a person's ZIP code determines their life expectancy — in Philadelphia and elsewhere. Neighborhoods where the majority of residents are white have historically higher rates of income, wellness, and other lifestyle factors, and are less likely to face the impacts of climate change. "Study after study has long indicated that People of Color face disproportionate risks from pollution and climate injustice. Polluting industries are often located smack dab in the middle of our communities," she said. "Environmental racism is a form of systemic racism, as a policy or practice that differentially disadvantages people."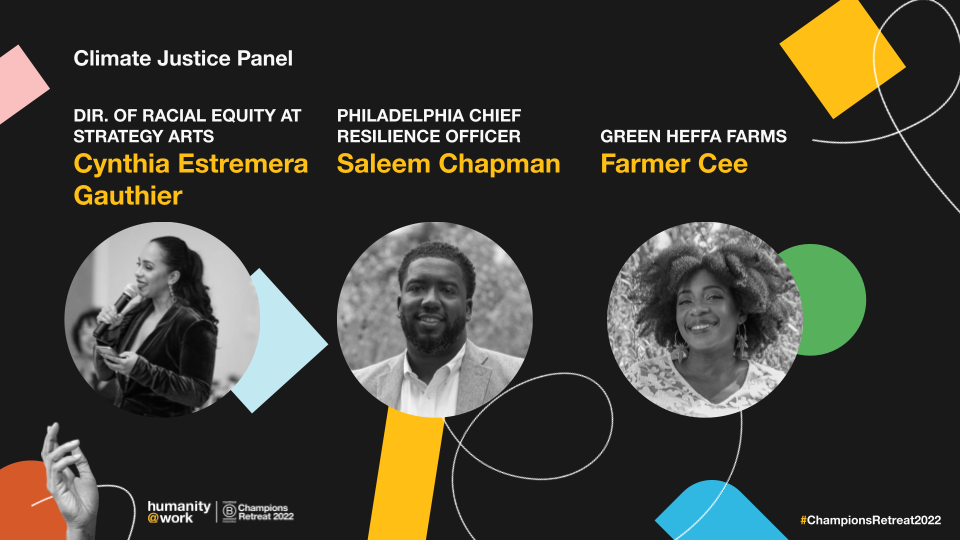 Gauthier has seen the impact of racism in her work at Strategy Arts with public health officials and organizations helping people deal with the social and environmental effects of redlining and other inequitable policies. The effects of climate change are yet another burden that these communities face, she said. "Black and brown people suffering from systemic racism … are more likely to be plagued by poverty, experience chronic health conditions, are exploited for their labor, and are now experiencing the harshest impacts of climate change." 
She served as moderator for the Champions Retreat session with Farmer Cee Stanley, President and CEO of B Corp Green Heffa Farms, and Saleem Chapman, Chief Resilience Officer and Director of the Philadelphia Office of Sustainability. Keep reading for highlights of their discussion and watch the full conversation.
How Can Businesses Address Climate Justice in Their Communities?
Stanley was a participant in the first year of B Lab U.S. & Canada's Level program, which includes models of engagement and support for businesses led by women who are Black, Indigenous, or other People of Color. As a Black woman farmer in the Southern region of the United States, she sees the effects of the climate emergency every day while leading Green Heffa Farms. "I don't have the privilege of not addressing environmental injustice and environmental racism and climate justice," she said. "There is no climate justice because we have not dealt with climate racism. … There is not the same valuation placed on every single member of our species." 
To take meaningful climate action and incorporate justice, she called on leaders of B Corps and other businesses to consider how racism affects their stakeholders: the workers, customers, and other community members treated differently because of their race. "They're stepping out into a community where they are constantly having to have resiliency," she said. "We don't have a choice about being resilient. Either you're going to be resilient or you're going to be destroyed, basically."
Stanley has faced barriers to bank loans in the agricultural industry, where 99% of land is owned by white farmers. "I (eventually) was able to get a loan. But I resented giving them my money and I resented paying them every single month. Because you didn't want me as a customer; you didn't appreciate me as a customer," she said. "You don't have 99% (of farmland) because you're the best. You have 99% because you have established systems that have made it possible. … I'm not the person that you're going to invest in. I'm not the person that you're going to think about when it's time to have any type of partnership."
Stanley hopes to teach her five grandchildren the importance of being a business owner — to build financial equity as well as racial equity — so they can make business decisions that align with their values and priorities and create a profit. "It's challenging to be a farming family and develop wealth in that manner," she said. "I hope that collectively the B Corp community … would partner with businesses such as mine so we can have that wealth creation and have less disparity in that space."
Read Farmer Cee Stanley's article on Leveling the Planting Field
Climate Justice Is Racial Justice
In his role with the city of Philadelphia, Chapman has witnessed the resilience and determination of people who have long faced the effects of systemic racism. "When I think about moving resilience forward in the city of Philadelphia, those are the communities I'm first seeking out," he said. "Those communities have dealt with existential threats for generations. … We often see there's a direct correlation between communities experiencing significant climate risk in the future and some type of racialized policymaking done in the past."
Whether it's redlining in heat-vulnerable neighborhoods or urban renewal in flood-prone communities, he sees how racism puts communities of color at higher risk. "When we think about how we move this work forward, we have to look to the past to resolve some of those injustices," Chapman said. "How do we situate ourselves in place and harvest the knowledge that has been developed in the community over generations that's respectful of its history, its current condition, and its self-created future of resilience."
Sign Up for our B The Change Newsletter
Read stories on the B Corp Movement and people using business as a force for good. The B The Change Newsletter is sent weekly on Fridays.