Centering Business Climate Action in Social Justice
April 26, 2023
Companies Must Seek Community Guidance and Engagement to Guide Climate Action and Justice
Certified B Corporations can deepen their climate action and advocacy by involving affected communities and centering people and equity. This means listening, learning, and collaborating with the people most impacted by climate change to advance climate justice — one of three pillars in B Lab U.S. & Canada's Theory of Change. 
To help businesses better understand climate justice and how they can explore it at their own companies, three B Corp leaders shared examples and ideas during the Climate Action Centered in Justice session at Champions Retreat 2022, a gathering for U.S. and Canadian B Corps and their communities. While their work includes science-based strategies and greenhouse gas (GHG) accounting, these B Corps are guided by community as they work to move from practices that are extractive and exploitative to those that are equitable and regenerative.
David Jaber, Founder of B Corp Climate Positive Consulting, said B Corps looking to make internal changes or speak up for policy change should turn to the B Corp community as a source of guidance and support. "These are bigger issues than any one of us can tackle," he said. At Climate Positive Consulting, Jaber and his team work with clients to develop climate strategy that includes measuring and reducing their GHG emissions. Climate justice takes that one step further, he said, by including the effects on the external world. "What GHG accounting can do is lead you to interventions that will create touchpoints with the external community and places where you can advance climate justice," he said. 
As companies explore how to center climate justice in their climate work, Jaber said they also must involve the people most affected by their actions. "Your climate action should not be creating more injustice," he said. "Do community engagement work to understand potential concerns with any intervention." Community engagement can include having conversations with farmers about regenerative agriculture practices or talking with community members about transportation idling practices. The people on the ground can share insight and suggestions that otherwise might not surface, he said, and inform more efficient and effective climate mitigation work.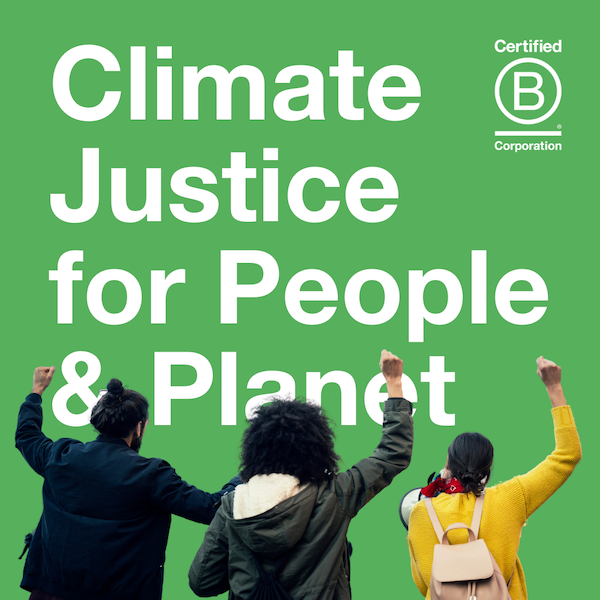 Earth Month 2023 Toolkit
This free downloadable resource helps businesses engage in reflection, learning, and action around climate justice. The toolkit includes a Climate Justice Reflection Challenge, glossary, and calls to action.
DOWNLOAD
Advancing Climate Justice Through Community-Guided Business Climate Action
Tory Hoffmeister, Manager of Energy & Climate Practice at 3Degrees Group, Inc., said the next few years will present an opportunity for more companies to incorporate climate justice as they prepare to invest more time, money, and effort in greenhouse gas interventions. "Right now is a critical juncture to step back and ask what criteria and goals companies can add on to those investments to at the very least ensure they don't repeat the environmental racism of the past or ensure those investments are a positive force for advancing climate justice," she said. 
Hoffmeister reiterated that involving community members is a critical component of successful climate action. "It's so important to listen to local communities on interventions that will be most effective," she said. "What justice and equity look like in any community will be so dependent on looking to the leaders in that community for their guidance on interventions."
Interventions can vary by company sector and size, she said. The majority of B Corps are smaller companies with a minor carbon footprint that primarily is due to electrical use, Hoffmeister said, and may wonder how to address the climate crisis while advancing equity. One option is to purchase what 3Degrees calls "impact recs." Funds from these renewable energy certificates contribute to projects that deliver justice and equity benefits to a community — solar panels installed in a low-income housing community that help families save on energy bills, for example. "A big piece of starting this work is keeping justice at the forefront of one's mind when thinking about climate and asking questions," she said.
Business suppliers and partners present another opportunity for justice. "Companies can take an approach of a different spirit when supporting smaller suppliers or more diverse suppliers," she said. "Look at your procurement strategy as an opportunity for engagement and support (on climate action). … Make sure investments align with your climate justice initiatives as well."
B Lab U.S. & Canada Climate Justice Commitment
Putting Justice First to Guide Business Climate Action
At MADE GOOD, a snack company that is part of B Corp Riverside Natural Foods, Head of Sustainability Taylor Stanley said it can be helpful to take a different viewpoint for climate work by considering how your company's operations affect human rights. "Consider flipping it, and thinking about justice issues first and there will likely be a climate impact that it's related to," he said. 
His work at MADE GOOD includes tackling climate impacts in the company's supply chain related to ingredients, packaging, and other factors. These generally are scope 3 emissions — those created beyond the company's internal operations — that require collaboration and innovation with business partners to address. "Where scope 3 emissions are on that chart, that's not where justice happens. It points you to where you have to do the work," he said. 
While much of the work to be done will happen with people outside your company, Stanley said the first step should be to have conversations with decision-makers at your company who will be affected by changes. "There are a lot of gray areas, but the first step is to have these conversations internally and make sure you're aligned on the goals." 
Without internal buy-in for climate justice projects, working with suppliers and community members is far less likely to be effective, he said. "The big challenge in any organization is not having these things siloed. I need to make sure that I'm doing my best to work with leaders of each business unit to make sure sustainability is embedded in those processes," Stanley said. "And empowering those individual procurement managers to own those projects with the buyers and companies they already have relationships with."
Stanley said MADE GOOD is building on trust-based partnerships with its chocolate suppliers in Peru to develop an online project to measure social and environmental impact on female-owned farms and their families. "We're not going to tell the farmers what to do. We want to leverage the relationship we have with our partners and taking what they say and letting them direct some of our efforts," he said. "We're going to do our part to provide some financial support, communication support, but make sure at some point the communities are being consulted and the efforts going into the project will have some positive impacts."
Watch Climate Action Centered in Justice
Sign Up for our B The Change Newsletter
Read stories on the B Corp Movement and people using business as a force for good. The B The Change Newsletter is sent weekly on Fridays.