Business Climate Advocacy for a More Just and Sustainable Future
April 20, 2023
Partnerships and Programs to Help B Corps Lead in Climate Justice
Certified B Corporations have an opportunity to lead in business climate advocacy by speaking up for policies that support climate justice and action and shift the economy away from extractive norms. To help B Corps start or better understand the role they can play in policy advocacy, B Lab U.S. & Canada hosted a webinar that provided a look at the 2023 U.S. climate policy landscape and inspiration for action. 
Kylie Nealis, Senior Program Manager for Climate Justice at B Lab U.S. & Canada, started the webinar with an update on upcoming programs and resources to help B Corps deepen their work for climate justice, racial equity, and a stakeholder-driven economy — the three pillars of B Lab U.S. & Canada's Theory of Change. 
In addition to a climate justice toolkit released for Earth Month, an update of the Climate Justice Playbook for Business is in the works, Nealis said. The playbook update will include interviews with people in communities most affected by the climate crisis. Learning about how they have engaged with businesses and how they would like to continue to do so will help inform B Lab U.S. & Canada's climate justice initiatives. "What we know to be true from the interviews and from a lot of our stakeholder engagement is that climate justice is racial justice," Nealis said.
Climate Justice Resources
Business Climate Advocacy Opportunities with Federal Officials
During the webinar, Kai Peterson, Senior Manager for Federal Policy at Ceres, provided an overview of the U.S. climate policy landscape and outlined opportunities at the state and local levels. Companies trying to determine how best to get involved in climate advocacy can turn first to the issues that most align with their industry and business model, Peterson said. "If you're a food or apparel company, engaging on the Farm Bill is a great opportunity," he said. "[Consider] what you see as most material to your own operations."
Peterson also touched on ESG (environmental, social, and governance) principles that are facing criticism from some state and federal leaders. ESG has gained momentum among some investment firms and other stakeholders who want more information about how companies approach environmental, social, and governance issues. The B Corp community can speak to the value of considering impact on people and the planet for long-term business success, he said.
"It's important to have a united business voice, both among small businesses and large businesses, about how climate risk is financial risk," Peterson said, "Climate change presents a risk to companies' growth plans and to the U.S. economy writ large."
The biggest opportunity for business climate action, he said, surrounds implementation of the Inflation Reduction Act (IRA) that Congress approved in 2022. Called "the most significant climate legislation in U.S. history" by the Environmental Protection Agency, the IRA includes funding, programs, and incentives like tax credits to speed the transition to clean energy. Peterson said the shift toward implementation of the IRA means federal agencies are working on rules for how these programs will work. Then state and local officials will implement the programs at their level. "There's a lot of opportunity for engagement here," he said, especially for B Corp leaders who can speak to potential economic and workforce opportunities. 
"We're looking at it as maximizing the three E's: How do we maximize the environmental, economic and equity benefits of IRA?" Peterson said. "A lot of the focus comes down to drawing attention to investments that are happening as a result of the IRA. … We've seen a lot of announcements already about companies making new investments in the U.S. as a result of various provisions within the IRA."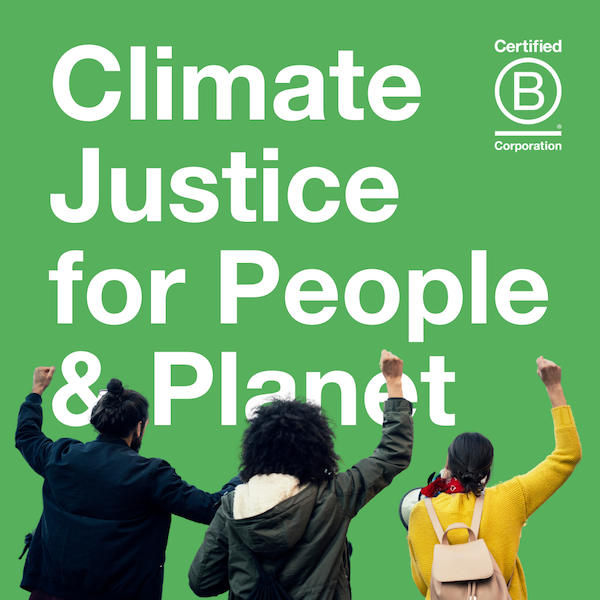 Earth Month 2023 Toolkit
This free downloadable resource helps businesses engage in reflection, learning, and action around climate justice. The toolkit includes a Climate Justice Reflection Challenge, glossary, and calls to action.
DOWNLOAD
Peterson outlined key opportunities and areas of interest in the IRA for B Corps: 
Environmental justice:

Potential to drive new and climate-smart investments in historically disadvantaged communities, while reducing pollution in those communities.

Clean hydrogen and carbon capture investments:

How to design these in the cleanest way possible. 

Federal procurement

: Incentives to purchase clean-energy products for federal buildings and transportation projects.

Electric power permit reform:

Potential for faster and more consistent streamlining of permits for energy projects, but that also could include mining and oil and gas site development.
Another federal policy climate opportunity for B Corps is the Farm Bill, which is expiring and up for reauthorization. During reauthorization, a new bill is proposed, debated, and eventually passed by Congress — a process that occurs about every five years for the Farm Bill. "We could see some progress and some additional funding for climate-smart agriculture," Peterson said. "But that's not going to be an easy lift." Ceres has a working group devoted to Farm Bill advocacy that includes companies in food, beverage, textile, and other agriculture-related industries. 
Peterson said other federal policy topics this year include Environmental Protection Agency regulation updates to limit emissions from existing and new power plants; new limits on methane that will affect the oil and gas industry; and continued discussion of the Forest Act, which would combat illegal deforestation. At the state level, he expects to see more IRA-related investments in public transition, offshore wind, and workforce development related to the transition to clean energy.
Business Climate Advocacy Opportunities in Your State and Community 
Advocacy on the state and local levels is another way for B Corps to build benefits for their communities, said Lisa Geason-Bauer, President of B Corp Evolution Marketing. During the webinar, she shared two case studies from her advocacy as part of B Local Wisconsin and how they could be put into practice by other B Corps. 
The first example highlights how B Local Wisconsin has partnered with the state's Citizens Utility Board (CUB), one of numerous organizations across the U.S. that advocate for utility ratepayers. In May 2022, B Local Wisconsin and CUB presented a webinar on business energy trends with the Wisconsin Sustainable Business Council and Wisconsin Conservative Energy Forum. The event demonstrates how B Corps can form advocacy partnerships for climate-forward issues, Geason-Bauer said. "Three very different organizations, all coming together under the CUB umbrella to have an open and honest conversation about tips and tools to help businesses address their energy challenge," she said.
During the May 2022 event, Geason-Bauer explained how businesses can use B Corp impact-measurement tools like the free SDG Action Manager to support their climate action and advocacy. "That tool is free, and it's out there for the world to use," she said. "We can leverage the B Impact Assessment as well as the SDG Action Manager tool when we're trying to do education in the community." 
The second case study came together after Congress approved the IRA, when several clients that Evolution Marketing works with decided to collaborate on a one-day training program for people who work at three state agencies in Wisconsin: the Public Service Commission, State Energy Office, and Office of Sustainability and Clean Energy. "This was a really diverse group of folks who are actually in the field working in this space," Geason-Bauer said. 
This event provided real-world examples of how B Corps value stakeholders in their operations and partnerships. Geason-Bauer helped frame the conversation by providing definitions of key terms such as health equity, food sovereignty, and climate justice, and shared information from the B Corp Climate Collective and Climate Justice Playbook for Business. "It really helped all of the stakeholders in the room to understand that we're looking at everything from a holistic standpoint," she said.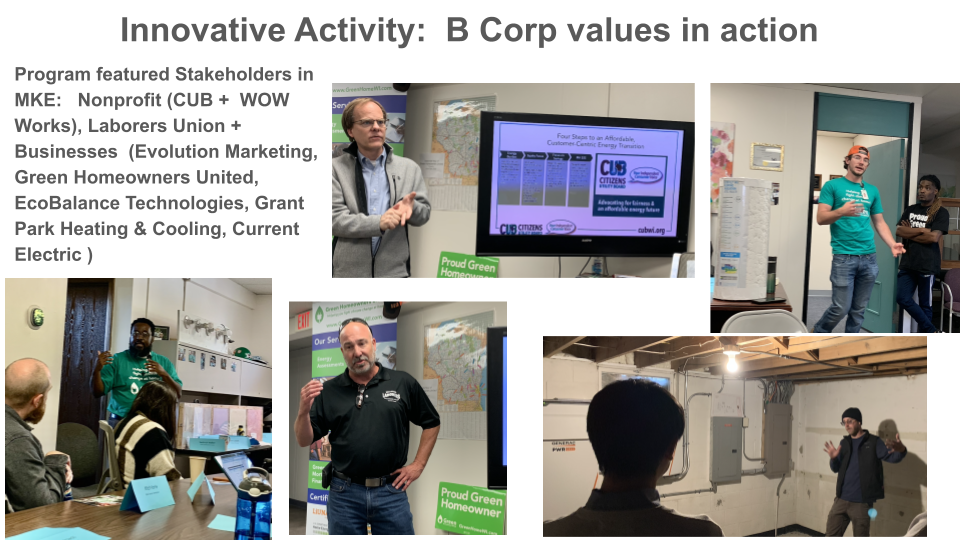 Representatives of the Laborers Union in Milwaukee and Green Homeowners United explained how they are teaming to bring clean energy resources to under-resourced areas of Milwaukee — an example of climate justice at work, Geason-Bauer said. For state agencies, it demonstrates the importance of stakeholder engagement. "It's not just about putting money there," she said. "You actually have to unpack that and find the best way to work with the people and hear from the folks working in the community." 
These projects play a positive role both in supporting workforce development, as Green Homeowners United has started to provide on-the-job training, and in expanding access to energy-efficient programs and dollars to lower-income neighborhoods. Through these advocacy events, Geason-Bauer sees the power of partnerships for impact and greater equity.
"The nonprofits in our state can't do it themselves. Government can't do it themselves. So we all have to really work together," Geason-Bauer said. "I feel like business has a responsibility, and as B Corps really, to help step up and lead by example, and in some cases, provide these opportunities or people just don't know."
Watch A New Landscape: Business Climate Advocacy in 2023
Sign Up for our B The Change Newsletter
Read stories on the B Corp Movement and people using business as a force for good. The B The Change Newsletter is sent weekly on Fridays.