Behind the Gift: 14 Gifts That Take Care of the Planet
November 3, 2021
A B Corp Gift Guide for Sustainable, Eco-Friendly Gifting
Behind every gift is some sort of environmental impact, whether positive or negative. If you're looking for gifts that are exciting, useful, and sustainable, this gift guide is for you!
We've rounded up 14 sustainable, eco-friendly ideas from the community of Certified B Corporations. Because all of these products are produced by B Corps, you can trust the companies are holistically working to have a positive impact on communities, workers, customers, and the environment.
Take care of the planet while you take care of your friends and family this holiday season.
By ChopValue | Canada
Price: $77 CAD / $57 USD
Enjoy a beautiful and eco-friendly wine and cheese serving board made from recycled chopsticks. This distinctive three-piece set features two of ChopValue's best-selling coasters and a signature charcuterie board. With a network of distributed microfactories, ChopValue aims to create a positive and resource-efficient impact for a carbon-neutral future.
---
By Fresh Prep Foods | Canada
Price: Varies (only available in Canada)
Eliminate the guesswork, stress, and time of meal planning with Fresh Prep, a sustainable meal kit and prepared meal delivery service. Fresh Prep helps you plan, source, and prepare ingredients for a meal made in 30 minutes or less. Enjoy fresh, pre-cut, and pre-portioned ingredients delivered to your door in reusable cooler bags and the industry-leading Zero Waste Kit. For Fresh Prep, where the food comes from, the quality of the ingredients, and their impact on the environment are just as important as how the meal tastes.
---
By Frontiers North Adventures | Canada
Price: $9,349 CAD
Combine education and adventure with the trip of a lifetime to experience firsthand the heart of polar bear country. Travelers gain exclusive access to important research infrastructure, world-renowned scientists, and knowledgeable guides to learn how the polar bear habitat can be preserved. Join Frontiers North Adventures to witness the work that is being done and learn how you, too, can contribute to important conservation efforts for generations to come.
---
By Grove Collaborative | United States
Price: Varies (only available in the U.S.)
Improve your cleaning routine for the health of your home and planet! Grove Collaborative offers nontoxic, effective, sustainable, and cruelty-free cleaning solutions and a simple-to-use process that allows you to customize every order. Sign up for flexible, monthly shipments of sustainable cleaning products you will love. Every order is also 100% plastic and carbon neutral!
---
By Montanya Distillers | United States
Price: $30 to $60 USD (not available in Canada)
Liquor connoisseurs will love this American rum made with the highest environmental standards in mind. With no added sugar or artificial flavors or colors, Montanya rums are smooth and full of flavors that are naturally produced through barrel aging. Enjoy every sip knowing that your purchase supports a B Corp recognized as one of the best in the world when it comes to sustainability practices.
---
By Muskoka Roastery Coffee Co. | Canada
Price: $19 CAD / $19 USD
To celebrate the change of weather, the roastmaster at Muskoka Roastery created a special medium roast that is ideal for the winter season. Full bodied, with a natural brightness, clean finish, and subtle honey aroma, this coffee is handcrafted in small quantities to meet exacting standards for quality, uniqueness, and sustainability. With Muskoka Roastery, you know your gift is giving back to the planet because every year the B Corp channels at least 1% of annual sales into community and environmental protection programs.
---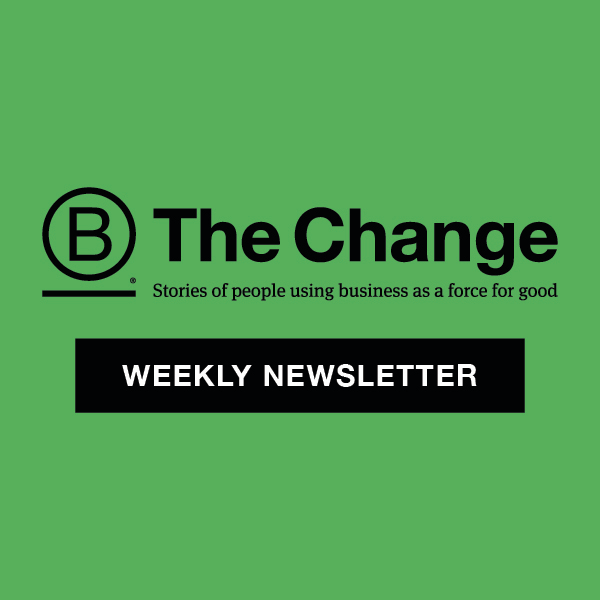 Sign up for B The Change Weekly
Learn more about the people at Certified B Corporations using business as a force for good, and sign up to receive the B The Change Weekly newsletter for more stories like this one, delivered straight to your inbox once a week.
---
By MYO Cosmetic Cases | Canada
Price: $50 CAD / $39 USD
Join the community of artists and everyday makeup users who are rethinking beauty and reorganizing their routines to a more sustainable alternative. Curate your look with only what you need and love. The ECO MYO Kit is a fully customizable magnetic cosmetics case designed for the eco-conscious minimalist. MYO Cosmetic Cases aim to reduce wasteful cosmetic packaging with a refill and reuse makeup system.
---
By New Leaf Paper | United States
Price: $11 USD (only available in the U.S.)
Meet your home and office printer needs with 100% recycled paper. Feel good about using paper that actively works to save trees by using 100% post-consumer recycled fiber — last year alone, New Leaf Paper saved close to 80,000 trees! New Leaf Paper's mission is to be the leading national source for environmentally responsible, economically sound paper.
---
By Only Natural Pet | United States
Price: $35 USD (only available in the U.S.)
The ultimate in sustainable nutrition, insects are the clean protein source that benefits your dog — and our Earth. Low-impact and high-protein Only Natural Pet Mindful Meals offer a recipe that minimizes the impact of your dog's food on the environment while providing the vital energy and nutrients your dog needs to thrive. It's better nutrition and a healthier Earth, fueled by bugs.
---
By Pela | Canada
Price: $55 CAD / $50 USD
Protect the planet and your phone with a beautiful phone case. Pela designed the world's first compostable phone case and didn't compromise any details in the process. Offering a soft finish and military grade drop protection, Pela cases are low-carbon emitting, sustainable, and regenerative, contributing to a circular and responsible economy.
---
By Plaine Products | United States
Price: $50 USD
Plaine Products is on a mission to eliminate single-use plastic from the bathroom. Offering a line of toxin-free personal care products, Plaine Products come in aluminum bottles that can be sent back and refilled time after time. Ease into a lower-waste lifestyle with the zero waste starter kit that includes products that are vegan, non-GMO, cruelty-free, biodegradable, color-safe, and free of parabens, sulfates, and toxins — good for the body and the planet.
---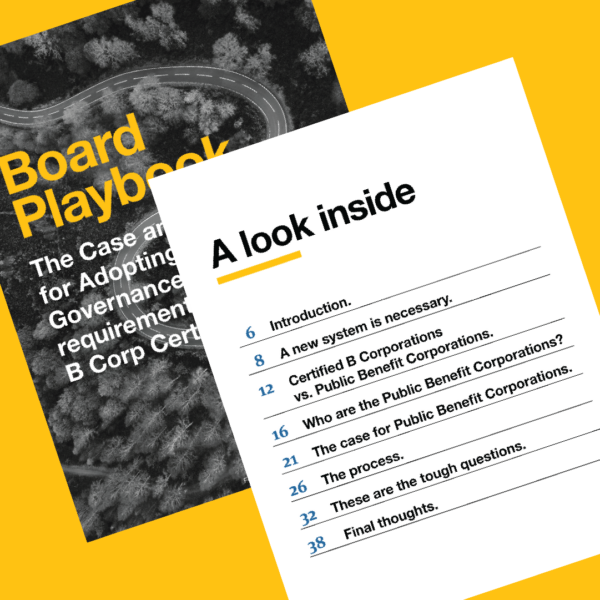 A New Way of Doing Business: The Board Playbook
To help business leaders navigate the journey to adopt benefit corporation status as a requirement of B Corp Certification, B Lab U.S. & Canada provides this downloadable resource, the Board Playbook, to lay out the process and demystify the risks.
DOWNLOAD
---
By SucSeed | Canada
Price: $15 CAD (only available in Canada)
Grow fresh microgreens year-round with this miniature indoor hydroponic garden. It is the perfect tool to get beginners growing and learning from home! Each Micro Garden Kit is equipped with all the means to complete three uses and includes one jar, one net pot, three peat discs, basil, beet, and brilliant blend microgreen seeds, as well as a PDF Micro Garden Workbook for children. All of SucSeed's hydroponic gardens, including the Micro Garden Kit, work toward reducing the 25% of global greenhouse gas emissions that result from commercial food production and distribution by allowing adults and children to grow produce at home.
---
By The Refill Shoppe | United States
Price: $22 USD
Bath salt blends make a great gift for the bath lovers in your life. Mineral salt baths soothe, refresh, and restore. Bundle with some equally refillable and custom-scented bubble bath and lotion or select a kit for a gift that will keep giving, sustainably. Plus, one tree is planted for every order shipped.
---
By The Unscented Company | Canada
Price: $119 CAD / $119 USD
Get organized with a kit that includes everything you need to set up your very own soap refill station! The Soap Refill Station includes laundry, hand, dish, and all-purpose soaps and chicly designed refillable containers for continued reuse. Your cleanup routines can be convenient and contribute to the elimination of single-use plastic packaging. The Unscented Company offers powerful cleaning products that are designed for conscious living.
Sign Up for our B The Change Newsletter
Read stories on the B Corp Movement and people using business as a force for good. The B The Change Newsletter is sent weekly on Fridays.