Who We're Learning from About Climate Justice
January 19, 2023
5 Things Businesses Need to Know About Climate Justice from Frontline Leaders
This article is a personal perspective from an employee at B Lab, the nonprofit behind Certified B Corporations. In this series, we invite B Lab employees to share their experiences, inspiration, hopes, and challenges as they work toward a more inclusive and regenerative world. This edition of B Lab Voices is from Kylie Nealis, Senior Program Manager for Climate Justice, and Raj Aggarwal, CEO of Provoc.
With collaboration, inclusion and equity, and positive social and environmental impact as core values, I believe that Certified B Corporations are uniquely positioned to advance climate justice by centering the needs and voices of those who are most impacted by climate change. During the second half of last year, my team and I embarked on an exploration to do just this, by engaging in conversations with frontline community leaders around climate justice and the role that businesses can play in advancing it. 
Investments in climate change mitigation have accomplished little, and efforts to limit its impact have fallen short. We know that climate justice strengthens current and new climate action initiatives to be more effective and efficient. At the core of climate justice — one of the three pillars in B Lab U.S. & Canada's Theory of Change alongside a stakeholder economy and racial equity — is the recognition that those who are least responsible for climate change are more likely to suffer its most devastating effects. Across the world, including in the United States and Canada, these are predominantly People of Color and systematically oppressed communities who are on the frontlines of climate change. For too long, these people's perspectives perspectives have been excluded from conversations about how businesses can pursue climate action that advances justice and equity and reduces, rather than causes, harm.
To learn from the expertise and experience of these people, B Lab U.S. & Canada's climate justice team, in partnership with Provoc, engaged in open, honest dialogue with 10 leaders of frontline communities in the U.S. and Canada in summer and fall of 2022. Here are the organizations that participated:
In addition to learning about their work on climate justice, we asked:
Whether and how they have engaged with businesses in the past (including examples of successful collaboration as well as tensions).

How they would like to engage with businesses to advance climate justice in the future. 

What they would like businesses to better understand about climate justice. 

Where they would take this work if they were us.

For feedback on the

Climate Justice Playbook for Business

(version one), which B Lab launched in early 2021.

 
As reflected in the playbook, we know we must work even harder to include the voices, leadership, stories, and solutions from the people most impacted by climate change. The next version of the playbook, slated to launch this spring, will include more perspectives and insights from people who live on the frontlines of climate change. Information from this first round of interviews will be used to inform the next version of the playbook. Practical climate justice strategies can be put into action through meaningful and equitable partnerships with frontline and impacted communities, and the B Corp community's collective work moving forward.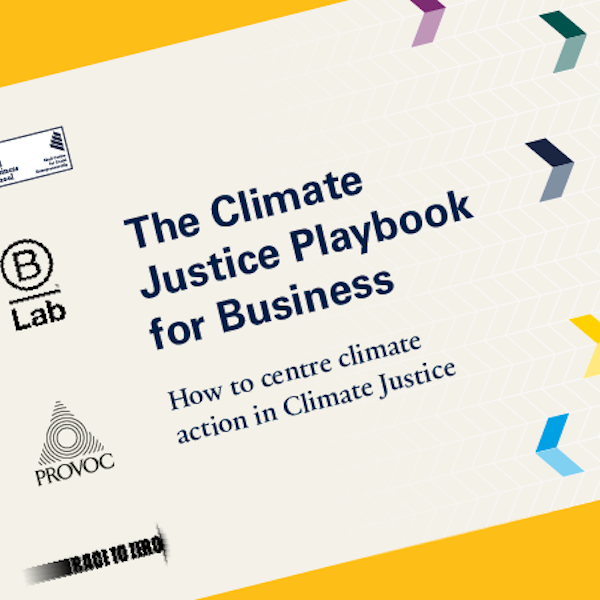 The Climate Justice Playbook for Business
This practical guide from B Lab features information to help business leaders understand the intersection of climate action and social justice and advance a justice-centered approach to climate action.
DOWNLOAD
Please read on for five calls to action from these interviews to help businesses better contribute to climate justice, and watch for these insights and more in the updated version of the Climate Justice Playbook for Business this spring. 
---
Climate justice is racial justice, and it is not a single issue.
In almost every interview, we heard that climate justice and racial justice are deeply intersectional. The fact that the worst effects of climate change disproportionately impact communities of color across the world is a result of a long history of colonization, racism, and systematic exclusion of People of Color. As Cee Stanley, CEO of B Corp Green Heffa Farm, says:
"You cannot talk about climate justice without talking about environmental racism." — Cee Stanley, CEO of Green Heffa Farms
B Lab U.S. & Canada's climate justice program works closely with B Lab U.S. & Canada's Racial Equity Program in the development of  programming to help B Corps better understand and unpack the intersectionality between the two issues.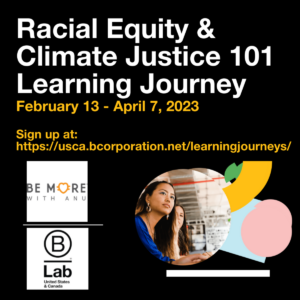 One of the ways we're doing this is through our Racial Equity and Climate Justice 101 Learning Journey, taking place February 13-April 7.  Later this year, we'll convene a Climate Justice Learning Journey Cohort to dig deeper into issues related to climate justice through a series of monthly workshops. 
Financial resources are needed; businesses should start locally.
Another common thread was around the challenges and inequity surrounding access to financial resources, particularly between grassroots community organizations and larger, more established NGOs. Several people spoke about the need to simplify grant-making processes and reduce barriers to entry, such as time-consuming applications. We also heard a call for businesses to ensure their corporate philanthropy is trust-based as well as impactful on a local level. Starting local with your business' funding efforts — for example where your headquarters or majority of your workforce is located, or with frontline and underserved communities across your supply chain — is one of the best ways to ensure a positive financial impact. Here are some specific insights:
"Your bottom line starts with your neighbors. You must be exceptionally mindful of the impact your business has on people and communities." — Michele Roberts, Co-Author, Equitable and Just National Climate Platform

"Ensuring more trust-based philanthropy is critical if there's going to be meaningful collaboration between the climate justice movement and B Corps, but also ensuring that there's an understanding that frontline communities lead." — Shannon Biggs, Co-Founder, Movement Rights

---
Past harms have led to trauma and mistrust of business.
Businesses need to listen, learn, and be accountable in order to begin to heal frontline communities' previous negative experiences with the business community. Too often and for too long, they have experienced businesses as extractive, patriarchal, and without follow through. By listening to frontline communities, we can learn how to more effectively address the issues around climate change. Through deep collaboration, we can best understand our unique role as businesses and build trust with the people and communities who are most impacted by climate change. Some key insights:
"More harm can be caused by amplifying issues frontline communities are facing without providing the financial resources needed to do the work to solve them." — Eriel Deranger, Executive Director, Indigenous Climate Action Canada

"Businesses need to hear what people in frontline communities actually need, and then see how to meet them where they are." — Eriqah Vincent, Co-Executive Director: Network Weaving, Power Shift Network 

---
Good partnerships are equitable, not extractive.
B Lab U.S. & Canada has been striving to differentiate between impactful and harmful community partnerships since the Climate Justice Playbook for Business launched in 2021. In the playbook, we explore the mindset shift that is required for businesses to move from the traditional extractive and transactional mindset under mainstream capitalism to a regenerative and equitable mindset as part of an inclusive economy. We heard the importance of this, as well as long-term and community-centered partnerships:
"Clear principles for partnership and business are needed. B Corp has it via the certification, but what that means need to be more clearly defined." — Brett Isaac, Founder and Executive Chairman, Navajo Power
"It is critical to define extractivism versus just relationships with frontline communities." — Jacqui Patterson, Founder and Executive Director of the Chisholm Legacy Project: A Resource Hub for Black Frontline Climate Justice Leadership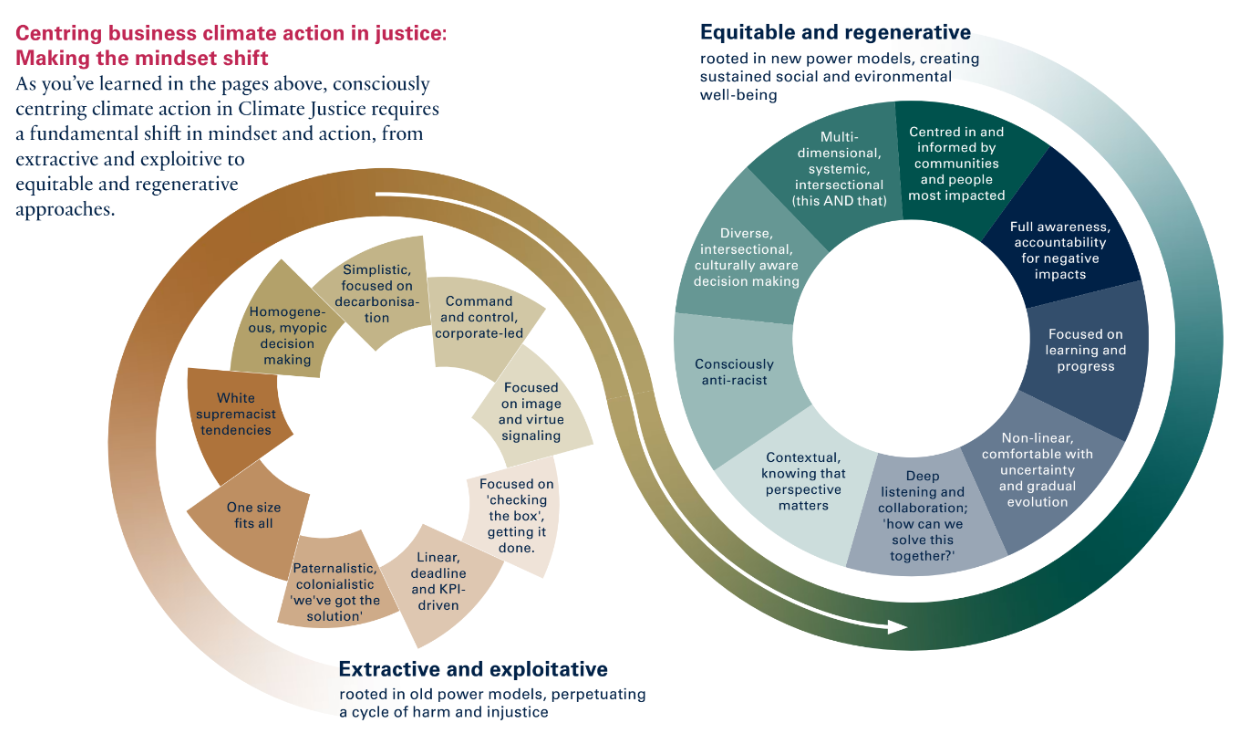 ---
Businesses must make proactive, rather than reactive commitments.
In order to hold themselves accountable and ensure meaningful instead of performative commitments around climate justice, businesses must be proactive in their commitments and consider all the ways in which they can change their behavior. During our interviews, we heard the need for metrics and performance indicators for businesses to evaluate the effectiveness of their climate justice efforts. B Lab U.S. & Canada will be scoping what such metrics might look like later this year. Here's some of what we heard: 
"The most important thing is to come from the heart, make sure you're being ethical, honest about where you are, and check your progress ongoing. Businesses need to build on their progress versus just check boxes." — Kara Boyd, President, Association of American Indian Farmers
This is the beginning of a process of engaging and elevating frontline climate justice leadership in our work at B Lab U.S. & Canada. We'll be embarking on a second series of interviews this winter. Please stay tuned for more insights and learnings from climate justice frontline leaders coming out in an updated version of the Climate Justice Playbook for Business this spring!
---
Learn more about B Lab U.S. & Canada's climate justice work: 
B Lab U.S. & Canada Climate Justice Commitment
Sign Up for our B The Change Newsletter
Read stories on the B Corp Movement and people using business as a force for good. The B The Change Newsletter is sent weekly on Fridays.