Building an Inclusive Economy and Stronger B Corp Community
February 1, 2023
B Locals Strengthen Community Connections Through Events and Collaboration  
The more than 25 (and counting!) B Locals in the United States and Canada play an important role in building an inclusive economy by connecting business leaders and expanding the Certified B Corporation community. The place-based B Corp communities are powered by local leaders who collaborate to host activities and development opportunities. 
The volunteer-led B Locals are among several B Corp networks that aim to create connections, increase the positive impact of their local B Corp community, and raise awareness of the ways business leaders can create a more inclusive economy. Through B Corp Leadership Development (BLD) events that bring together people from B Corps, other businesses, and partner organizations, B Locals create a platform for sharing best practices and networking. 
In the last year, virtual and in-person BLD events featured discussions on racial equity, practices for reconciliation, examples of regeneration, and more. Like the B Locals themselves, the BLD events vary by their community's interest, size, and other factors. But a common thread is maximizing opportunities for collaboration and action. As Nathan Stuck of B Local Georgia says, "Anytime the B Corp community gets together, it's pure magic." 
B The Change talked with five B Local leaders in the U.S. and Canada who are collaborating to build a more inclusive economy to check in on their progress and priorities. They shared highlights and lessons from last year's events as well as a look at what's ahead for their growing B Corp networks.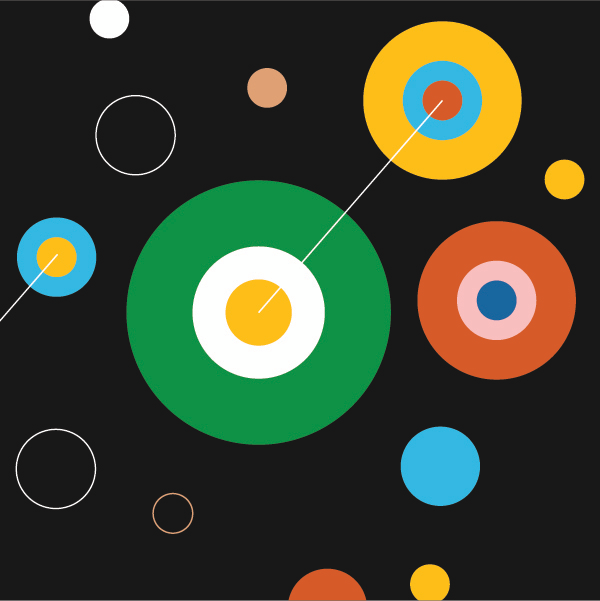 Find a B Local Near You
B Locals are place-based communities of people using business as a force for good. At the core of every B Local are B Corps — for-profit companies using the power of business to transform the global economy to benefit all people, communities, and the planet.
LEARN MORE
BLD New England: Incorporating Regeneration for Growth and Change
Regeneration was the focus at the BLD New England event, where B Corp leaders gathered to share how they are working to have a net positive impact on the planet, build community roots, change habits, and continue growth. Brittany Angelo of B Corp Dirigo Collective and Kelly Wight of B Corp Breckinridge Capital Advisors were co-chairs for the BLD New England, a one-day event in June at the University of New Hampshire organized by B Local Boston with support from Maine B Corps, UNH Sustainability Institute staff, and volunteers from throughout the New England region.
Like some other BLD events, this was the first time the regional B Corp community had gathered in person since the start of the COVID-19 pandemic and enthusiasm was high from the start, Angelo said. "We encouraged everyone to take five minutes to find one new person near them and to get to know them. When we stepped back on stage and let them network, for again, just those five minutes, the energy in the room was electric," she said. "Together, as co-chairs, as a community, we had a really great conference that brought a lot of people together to share ideas and connect." 
The BLD New England event included an action center in partnership with Vote Forward where attendees could write letters to encourage people to vote in the midterms, as well as information from Class Action First Gen Summit about the organization's work with first-generation college students.
With tentative plans for another in-person gathering this summer, the New England B Corp leaders hope to build on the enthusiasm of the people who power B Corps forward. "We often talk about the companies that are doing the hard work to raise awareness about the movement, but what I have learned is the hard work, the passion for this change in the world, that is all coming from individuals," Angelo said. "They are the boots-on-the-ground employees making change in their organization but also finding time, often outside of their 9-to-5 hours, to be a part of this community. That's who we saw at BLD New England in 2022."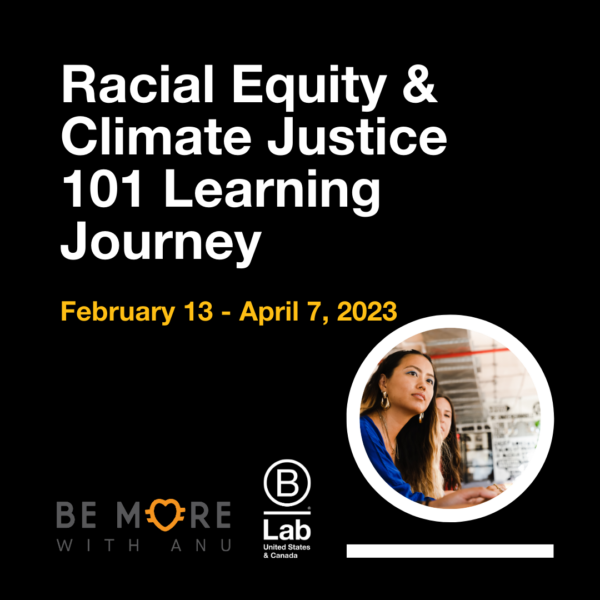 Racial Equity & Climate Justice 101 Learning Journeys
These trainings will help the B Corp community to strengthen its knowledge of racially equitable, inclusive, and climate justice-centered business practices.
LEARN MORE
BLD Southeast: Amplifying Impact by Collaborating with Community Organizations
The BLD Southeast virtual event in September was organized by leaders from five B Locals: Georgia, Mid-Atlantic, North Carolina, Florida, and Tennessee. Nathan Stuck of B Local Georgia and B Corp Profitable Purpose Consulting sees the regional organizations and events as a natural extension of the community's values. "B Locals provide a wonderful opportunity to network, which means finding new suppliers and new customers. There will inevitably be opportunities to speak, to sponsor, to showcase your brand in a room full of people who appreciate what it means to be a B Corp," he said.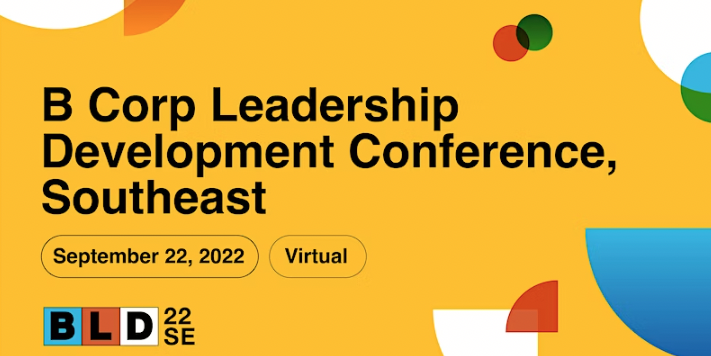 As an organizer for BLD Southeast, Stuck said he has learned the importance of "the art of building the big tent" through partnerships. "We collaborate a lot with like-minded organizations like Conscious Capitalism Atlanta, goBeyondProfit, and the Georgia Social Impact Collaborative. This has opened countless doors to new collaborations, helped expand our academic footprint, and served as a wonderful source of leads for those academic partners."
The tent appears likely to grow again this year, when Stuck and others plan to host an in-person BLD Southeast in September in Raleigh, North Carolina. He encourages other B Local organizers to focus on the value of collaboration and community rather than perfection when organizing events. "Find a B Corp that can host, put together a good group of speakers, provide ample networking time, and pick up some food and drinks," he said. "Keep it simple and make peace with the fact that something will inevitably go wrong, so just roll with what the event day brings you."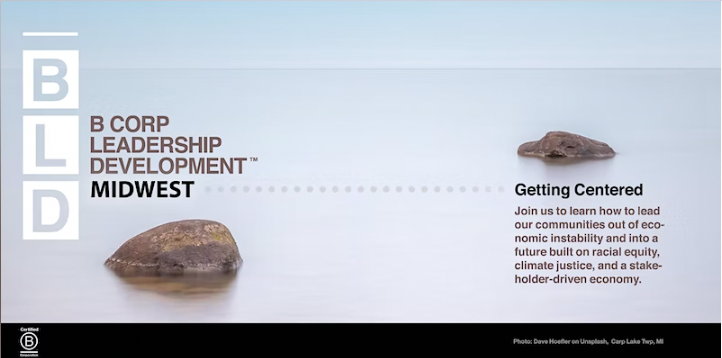 BLD Midwest: Getting Centered for a More Inclusive Economy 
With a theme of "Getting Centered," the inaugural BLD Midwest event brought together leaders from Illinois, Michigan, Minnesota, Wisconsin, and other Midwest communities. Tim Frick of B Corp Mightybytes said he and other organizers opted for a virtual gathering with sessions exploring the three pillars of B Lab U.S. & Canada's Theory of Change: racial equity, climate justice, and a stakeholder-driven economy. 
For Frick, the event reinforced the value of collaboration and community but also revealed the potential for additional learnings and work on equity and inclusion. "B Locals also present opportunities for B Corps to partner with other B Corps and cross-sector partners on a variety of things: co-promotions, collective impact, community building, ethical supply chains, and so on," he said. "I really appreciate having a values-aligned network I can turn to with questions or when I need referrals."
That also applies to the people organizing B Local events, he said, who typically take on those duties on top of their daily tasks. "With B Locals primarily made up of volunteers, everything will take longer than you think it will," he said. "Find aligned partners — both inside and outside the B Corp community — with whom you can share planning and promotion duties." The next BLD Midwest event likely will be in person, Frick said, although timing and location still need to be discussed.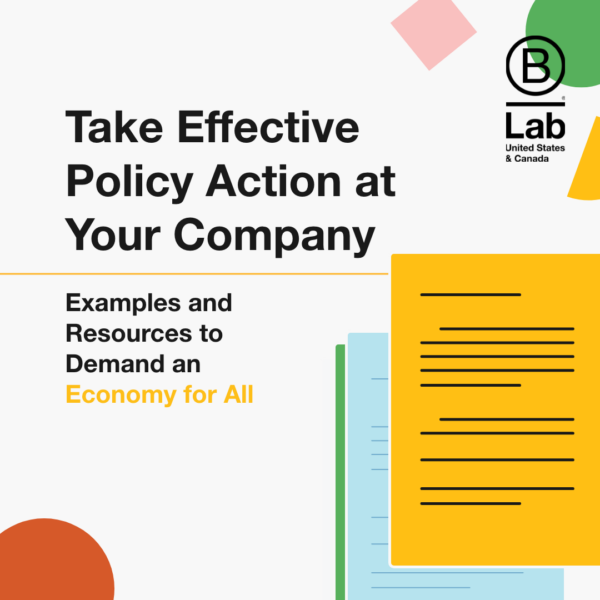 Examples and Resources to Demand an Economy for All
This new free downloadable resource shares how B Lab U.S. & Canada and the B Corp community are building a stakeholder economy and driving collective political action to make the rules of the game more equitable and beneficial for all.
DOWNLOAD
BLD Canada: Moving Forward on a Path to Reconciliation
A two-part virtual event series brought together B Corp leaders across Canada for discussions and exploration of reconciliation and climate justice. During the first BLD, A Path to Reconciliation, Indigenous voices in the Canadian B Corp movement and beyond shared how companies can begin to walk the path of reconciliation to restore relationships, taking action individually and as a collective. In September, the We Are All Connected BLD explored climate justice through an intersectional lens.
Michelle Reid of B Lab U.S. & Canada helped organize the BLD events with partners from B Locals in Vancouver, Quebec, and Ontario, and others across Canada. "Reconciliation was top of mind for a lot of Canadian B Corps. We want to provide a tangible way for people to start thinking about a reconciliation action plan: where do we start, what do we do," she said. "It wasn't something that was shame-based — a lot of this work sometimes has that — but instead was Indigenous leaders inviting us in to start doing something."
Read more about the BLD Canada event: Responsible Business Requires Truth and Reconciliation
While individuals from B Corps can share their best practices and lessons, Reid said the BLD Canada events also highlight that each company must determine its path forward on reconciliation, climate justice, and other challenges. "Speakers can say 'This is the template, but you as an organization decide how it will be specific to yourselves.' There are many pathways," she said. 
What's ahead this year for Canadian B Locals? Another two-part BLD with French interpretation to make the event more inclusive. Leading up to Champions Retreat 2024 in Vancouver, the Canadian B Corps will collaborate to determine how each organization wants to shape and participate in the broader community event. "There is a richness to the community. A lot of B Corps are doing important work in silos, and others aren't aware of it," Reid said. "B Locals are good vehicles to share those stories, those learnings. You don't get the full value of certification until you are in community."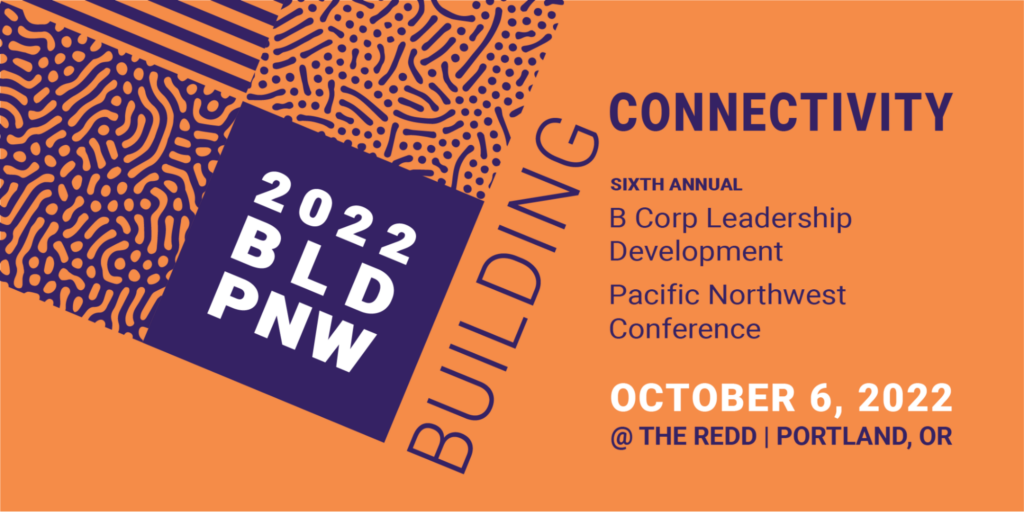 BLD Pacific Northwest: Scaling Systems Change with Suppliers and Other Stakeholders
With one of the larger regional B Corp communities, B Local PDX (for Oregon and southwest Washington state) was among the early B Locals to form and now employs an administrative director. Wes Griffin took over that role last year in the midst of planning for the Pacific Northwest BLD, the group's first in-person gathering since the pandemic began. Griffin said the October event was designed to showcase connectivity and the interdependent nature of the B Local PDX community. Speakers from the food and agriculture industry — some from B Corps, others from community partners including Oregon Food Bank and PCUN-Oregon's Farmworker Union — spoke to how supply chain relationships can be shaped to better serve workers, customers, and community. "It's not just the actions of a single company," he said. 
As a newcomer to B Local PDX, Griffin was impressed by the level of enthusiasm and interaction at the BLD, especially during informal networking times between speakers and sessions. "The strength of existing friendships and partnerships made it a welcome challenge to keep sessions on schedule," he said.  
B Local PDX has a calendar of year-round events that include monthly learning sessions at lunch or happy hour, Always Be Collaborating (ABC) events, and B Corp 101 sessions for companies interested in certification. Some of these are virtual, to enhance access, while others are shifting back to in-person, Griffin said, for those in the community who appreciate the value of coming together. Another addition is a series of events highlighting unique workplaces.
All of it is built around the strength that can be found in the B Corp community, he said. "B Locals help facilitate connections that will benefit your business and help increase the type of impact you're seeking," he said. "It just keeps you at the forefront of where the movement is heading."
Watch Sessions from BLD PNW 2022
Sign Up for our B The Change Newsletter
Read stories on the B Corp Movement and people using business as a force for good. The B The Change Newsletter is sent weekly on Fridays.