How B Corps Are Supporting Workers Through Policy and Advocacy
May 31, 2023
Activism and Retirement Programs That Align with B Corp Values and Connect with Workers
As companies with a vision of a stakeholder-driven economy, Certified B Corporations aim to provide a workplace where people feel welcomed and valued. While recent years revealed and exacerbated income and equity gaps in societies around the world, B Corps have had an opportunity to connect with people seeking jobs that align with their values and support them as they work for a more inclusive economy.
While B Corp Certification helps attract and retain talent, the value of a stakeholder approach can extend further to benefit workers, their families, and the communities they call home. With innovative policies and programs that support employees, B Corps also create waves that can contribute to broader systemic change. It's all part of the collective B Corp community goal of a stakeholder-driven economy that benefits people and the planet.  
For the latest examples of policy change and advocacy to support workers and create positive social and environmental impact, B The Change reached out to B Corps on the B Hive, an online platform for members of the B Corp community. With transformative retirement investment options, activism policies, and other stakeholder-minded programs, the three B Corps noted below — Wholegrain Digital, LIFT Economy, and Sustain.Life — are among the many B Corps finding ways to create purpose-driven workplaces where people feel valued and can contribute to social change.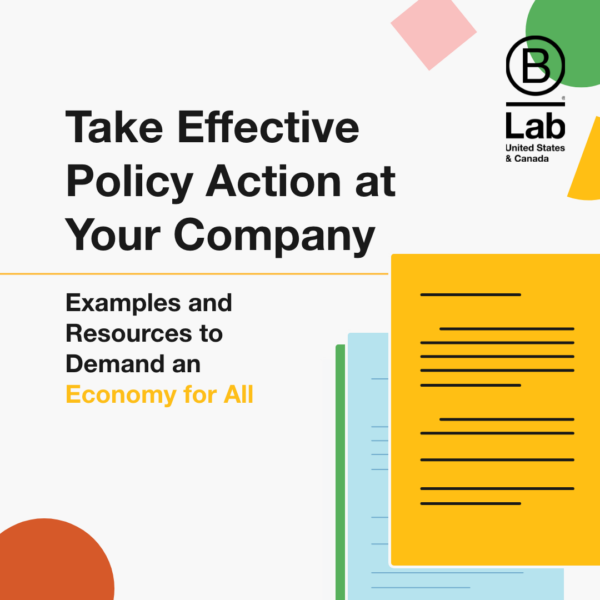 Examples and Resources to Demand an Economy for All
This free resource shares how B Lab U.S. & Canada and the B Corp community are building a stakeholder economy and driving collective political action to make the rules of the game more equitable and beneficial for all.
DOWNLOAD
An Employee Activism Policy That Serves as a Model for Others
By establishing an activism policy to support its employees, Wholegrain Digital helped advance a template that other companies can use to do the same. Tom and Vineeta Greenwood, Co-Founders of the B Corp digital agency based in London, England, said the idea behind the non-violent direct action (NVDA) policy originated when they became aware of barriers to activism related to people's employment. 
"We had conversations about what a company could do to support employees taking part in activism and created a draft policy," Tom Greenwood said. During the six months it took to develop the policy, Wholegrain Digital consulted with Bates Wells, a B Corp law firm in the U.K., on how to consider potential risks and create a policy that reflects the spirit of what the agency wanted to achieve. 
"Through this process, we found other companies who were interested in exploring the idea of an employee activism policy and who fed in their own perspectives," Tom Greenwood said.
During that time, Wholegrain Digital worked with Ben Tolhurst at Business Declares to refine the policy and create a more general version that now serves as an open-source template for other companies to use as a starting point.
The Wholegrain Digital policy spells out types of support the B Corp offers, including paid time off to take part in activism, protection of employment, some financial support toward NVDA training, and even bail money, if needed. It also outlines employee obligations related to transparency and risk. As Tom Greenwood said in an article announcing the policy: "In a world with increasingly urgent environmental and social crises, together with growing authoritarianism at home and abroad, it's more and more important that people feel that they can stand up for what matters to them and make their voices heard. Our policy does not endorse any specific personal actions, but it hopefully sends a clear signal that we respect and thank those who are willing to take a stand on behalf of others."
The Next Egg: A Retirement Investment Initiative for a More Resilient Future
Shifting U.S. retirement funds to more values-aligned, life-affirming ways of investment is the goal of a project by LIFT Economy, a B Corp impact consulting firm based in California, in partnership with the Sustainable Economies Law Center. Called the Next Egg, the project focuses on transitioning the $37 trillion (and counting!) in U.S. retirement investment accounts toward self-directed retirement investment options that benefit people, communities, and the planet. 
LIFT Economy sees an opportunity to build an appetite for policy change to reshape the economy so it serves all life, with no one left out. The current retirement savings model puts power in the hands of financial managers, who then frequently direct it toward investments that may be harmful to communities and the environment.
"It's so ironic that we're using retirement funds in the very way that is undermining the resilience of retirement futures," said Erin Axelrod, a partner worker/owner at LIFT Economy. "What we need for our future is a polyculture of approaches. Just like agriculture, we cannot rely on monocultures."  
The concept behind the Next Egg originated when LIFT Economy realized the importance of good benefits in attracting and retaining team members alongside a desire to align its retirement plan with its mission to transform the economic system. "Many of our clients are asking these questions," Axelrod said. "However, the answer is really custom — not cut-and-dried." 
To build momentum toward different ways of investing for retirement, the Next Egg online platform provides resources including a community of practice for answering commonly-held questions, plus blog posts, interactive online gatherings, and recorded webinars to guide people along the path toward more aligned retirement savings. "There is a learning journey before any decision gets made," she said. "The first step is examining your current plan and seeing where those funds are invested — tracing the path of impact of those funds and what that means." 
Axelrod and other LIFT Economy workers themselves piloted a 401(k) plan for their worker-owners that allows them to self-direct where their money is invested in ways that allow the funds to be tax-deferred. Axelrod's investment choices support a local ecovillage in her neighborhood with programs that build food and housing security. "While we're supportive of those alternative retirement savings mechanisms, we believe there's a whole world of creative options — including radically reimagining what retirement could look like — that haven't yet been tried and can catalyze the future of a resilient retirement."
The Future of Work Is Now
The community of Certified B Corporations knows that profits don't have to come at the expense of other stakeholders. Learn more in this report.
DOWNLOAD
Advocating for More Sustainable 401(k) Plan Options
Another B Corp seeking retirement investments that align with company and employee values is Sustain.Life, which provides software-as-a-service (SaaS) platforms that help companies take climate action. "Our 401(k) provider originally said that they would not be able to offer a socially responsible fund, but we pushed back after our team had concerns," CEO Annalee Bloomfield said. "Our fund manager did research on responsible funds they could offer, our sustainability team reviewed them, and ultimately, we selected options that had a better environmental footprint."
When Sustain.Life initially started offering a 401(k) plan, employees discovered the options didn't score well for sustainable investment.
"We wanted our 401(k) investing options to put our employees' funds to work in a way that matches our mission and values, so we went back to our partner to work on making better options available," Bloomfield said. 
If the current offerings in your company's retirement program don't align, she said it's important to ask for other options and build demand for more values-aligned funds. "Even if your financial partner doesn't have a green solution that's already available as a package, it makes a huge difference for them to be consistently hearing from their clients that they want those kinds of solutions," Bloomfield said. "It's also a good idea to educate your team on how influential our money can be — our investments fund all kinds of projects, and it's smart to evaluate whether these match your values."
In addition to the retirement options, Sustain.Life provides employees of the New Jersey-based B Corp with an annual sustainability stipend. Bloomfield said the stipend can be used to purchase things like carbon-free transit like bikes and bike share memberships, solar panels, reusable diaper services, and home improvement technology like smart thermostats and tankless water heaters. 
Sign Up for our B The Change Newsletter
Read stories on the B Corp Movement and people using business as a force for good. The B The Change Newsletter is sent weekly on Fridays.