5 Key Takeaways About B Corp Brand Awareness
November 16, 2022
Consumers in the U.S. and Canada view B Corp Certification as highly trusted and rigorous, according to our Brand Awareness survey
How do customers make values-aligned decisions in the store? How do job seekers decide which companies to join? Demonstrating purpose – backed by credible action – is critical to winning over these audiences. But declining confidence in institutions, the proliferation of certification programs, and confusion driven by corporate greenwashing all make it harder for businesses that do the right thing to stand out.
This is where trusted certifications play a role. Research conducted in 2022 by the Certified B Corp Fors Marsh shows that the B Corp brand is an essential marker of consumer trust. With over 2,000 B Corps in the U.S. and Canada, the movement is finding its way into public consciousness, all while maintaining high brand equity and credibility.
Most consumers are willing to pay more for sustainable goods but increasingly expect companies to address societal issues. B Corps are companies verified to meet high standards for social and environmental impact; purpose, accountability, and transparency are baked into their DNA. Whether through action on policy, climate justice, or racial equity, B Corps in the U.S. and Canada use the power of business to positively impact their stakeholders.
To unearth areas of opportunity and growth for the B Corp movement, Fors Marsh helped B Lab U.S. & Canada design and execute a robust online survey of over 2,000 respondents. The study captured awareness and perceptions of the B Corp Certification among both consumers and job-seekers. 
Key Findings on 2022 B Corp Brand Awareness and Consumer Trust
More than one-third of U.S. and over 30% of Canadian adults are aware of the B Corp brand.
The data: The survey found that 37% of U.S. adults report being aware of one or more elements of B Corp branding, including the logo, slogans, or the name itself – a slight decline from 2020. B Corp brand awareness reported by Canadian adults was 31% which is almost identical to the findings in 2020. Similar to 2020, more adults recalled the B Corp logo or slogan than reported being aware of the B Corp Certification. General awareness of many certifications decreased between 2020 and 2022, however, B Corp awareness remained stable.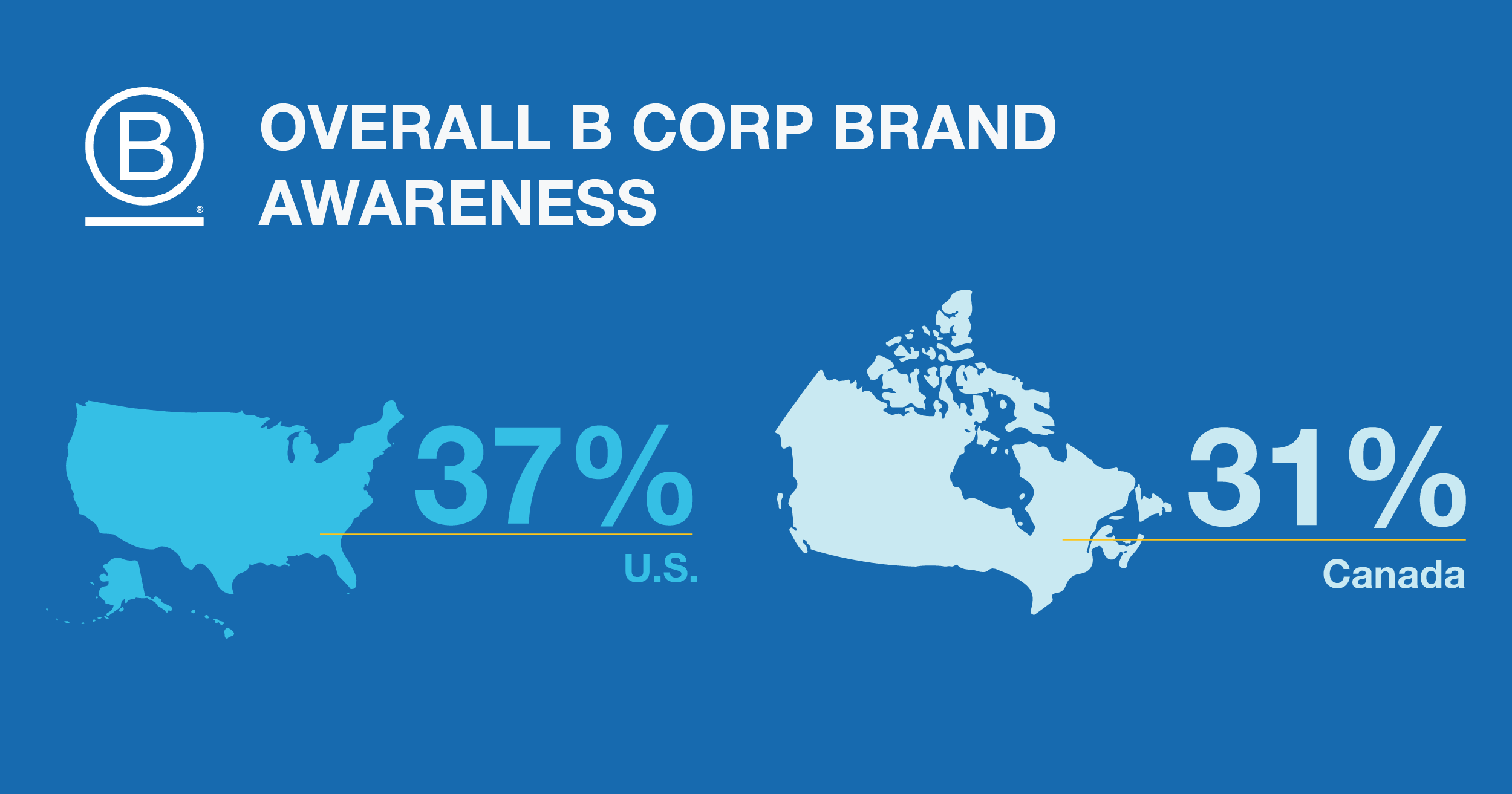 The takeaway: Despite a relatively high level of brand recognition in the U.S. and Canada, B Corp is not yet a household name. Awareness is the first building block in the B Corp movement's efforts to create a more inclusive, equitable, and regenerative economic system. Collective action of the B Corp community can help increase the public's awareness of the B Corp brand. The fact that brand awareness remained stable compared to other certifications suggests that B Corp is holding ground in a crowded field of sustainability and social impact programs.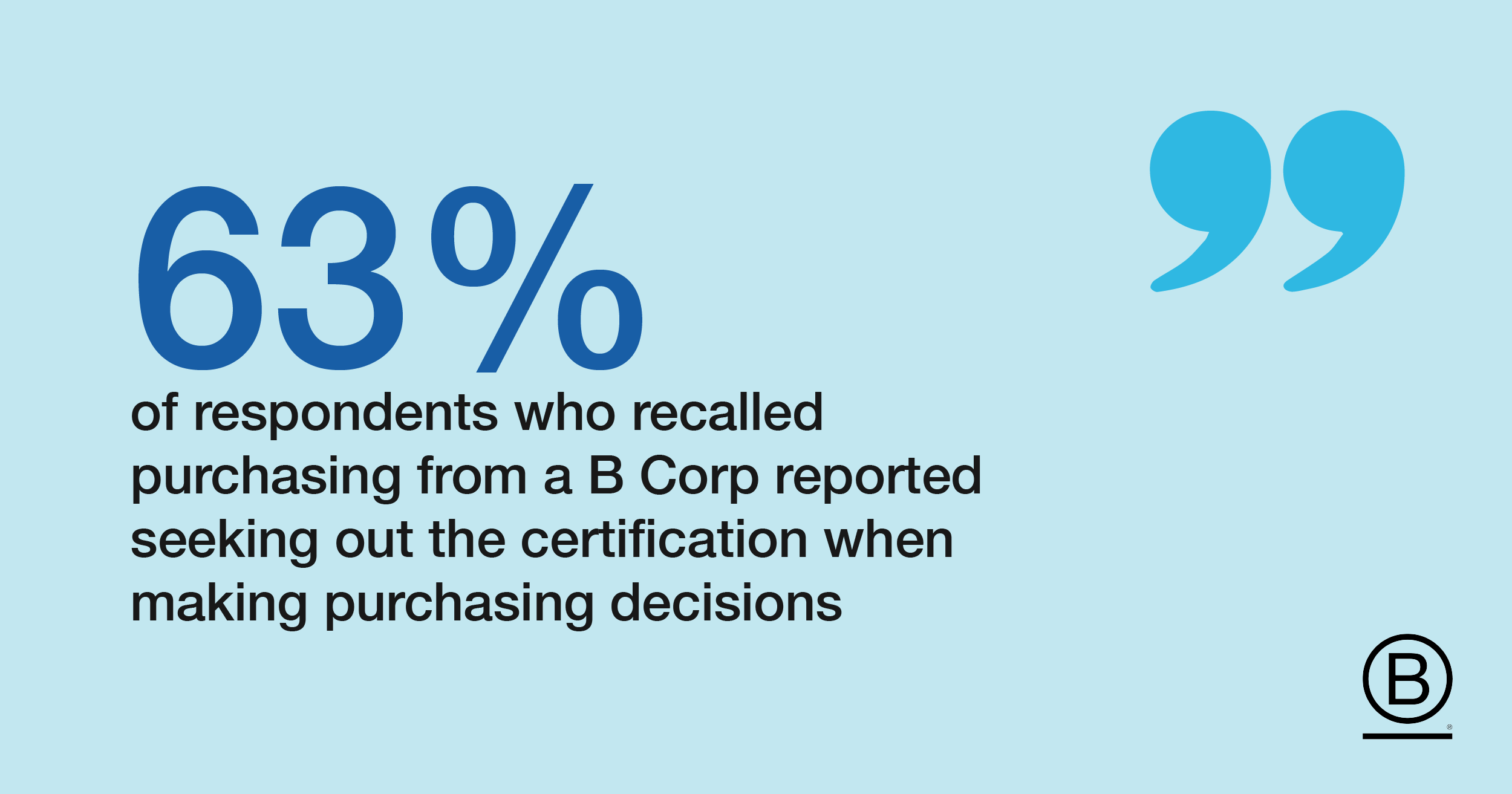 2. People view B Corp Certification as trusted and rigorous.
The data: B Corp is viewed as one of the most trusted and rigorous certifications, particularly by those who were aware of it prior to taking the survey – 88% view the standards as somewhat or very/extremely rigorous. Among respondents who recalled purchasing from a B Corp, 63% reported seeking out the certification when making purchasing decisions. Even among consumers who were unfamiliar with the B Corp brand, a majority (66%) reported being interested in purchasing from a B Corp after learning more about the certification. The top values associated with Certified B Corps were support for employees, fair business practices, and providing a living wage.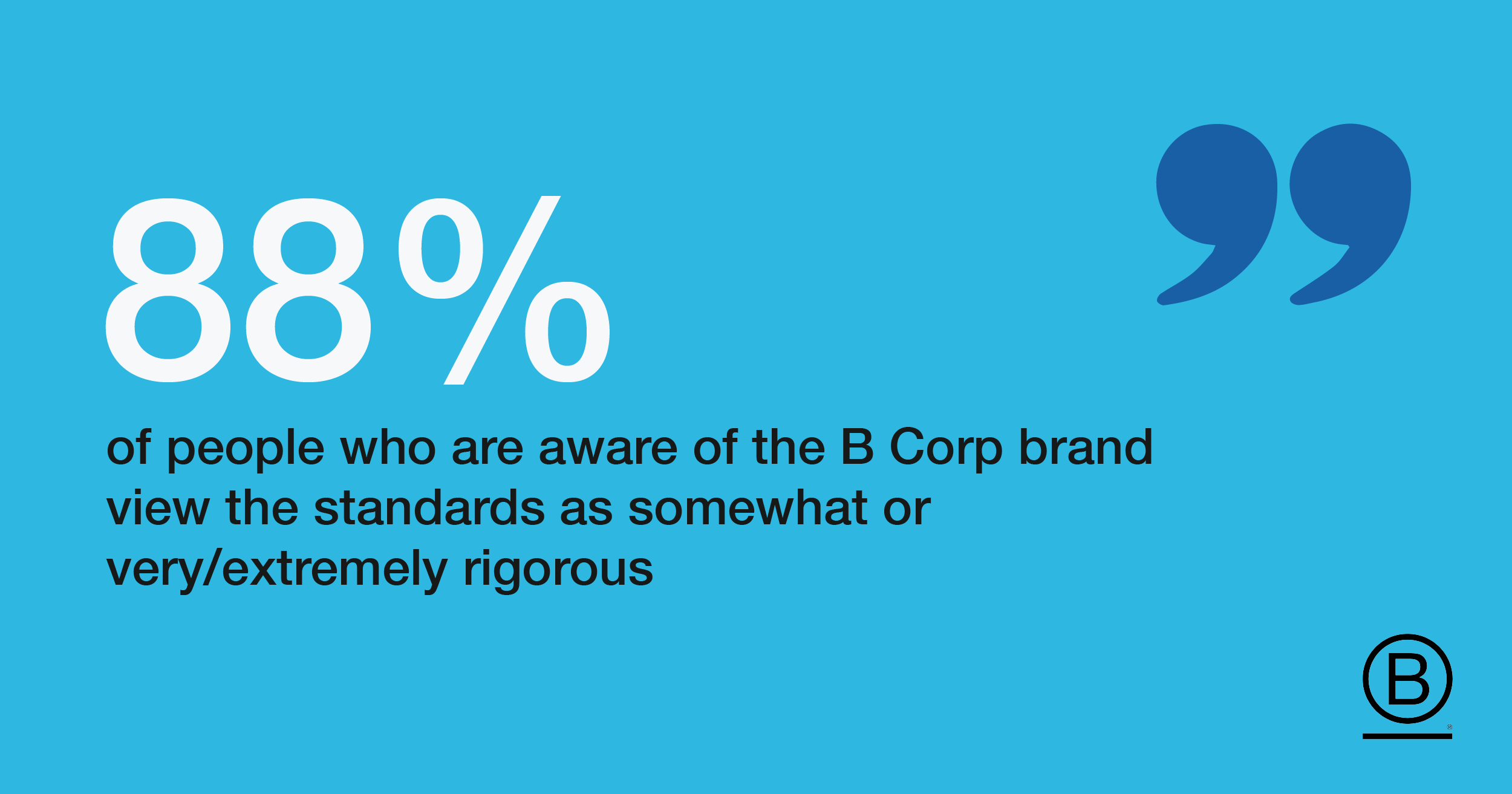 The takeaway: In a time of failing trust in corporations and institutions, it's the small, impactful, purpose-driven, brands that continue to excel. According to Gallup, small businesses hold more consumer trust (68%) than the police, government, church, or any other public institution. B Corps can leverage this trust with consumers – especially ones who actively seek out B Corps. These respondents report being less influenced by price and convenience, and more influenced by brand name and company business practices, compared to consumers who do not seek out B Corps.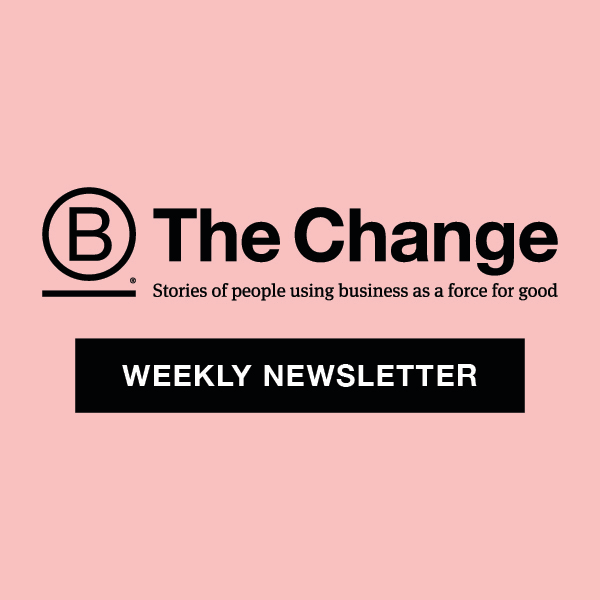 Subscribe to B The Change Weekly
Learn more about this growing movement of Certified B Corporations using business as a force for good, and sign up to receive the B The Change Weekly newsletter for more stories like this one, delivered straight to your inbox once a week.
SUBSCRIBE
3. Those who are aware of the B Corp Certification are more likely to purchase from B Corps, though many frequently purchase from B Corps without knowing it.
The data: Although few adults reported unaided recall of purchasing from a B Corp, the majority of respondents reported purchasing from various B Corp brands when presented with a list of 10 certified companies. Seventy-six percent (76%) of those who said they were unaware of the B Corp Certification reported purchasing from one or more of these B Corporations. Sixty-four percent (64%) of adults in the U.S. and 69% in Canada believe consumers can impact social or political change through their purchases.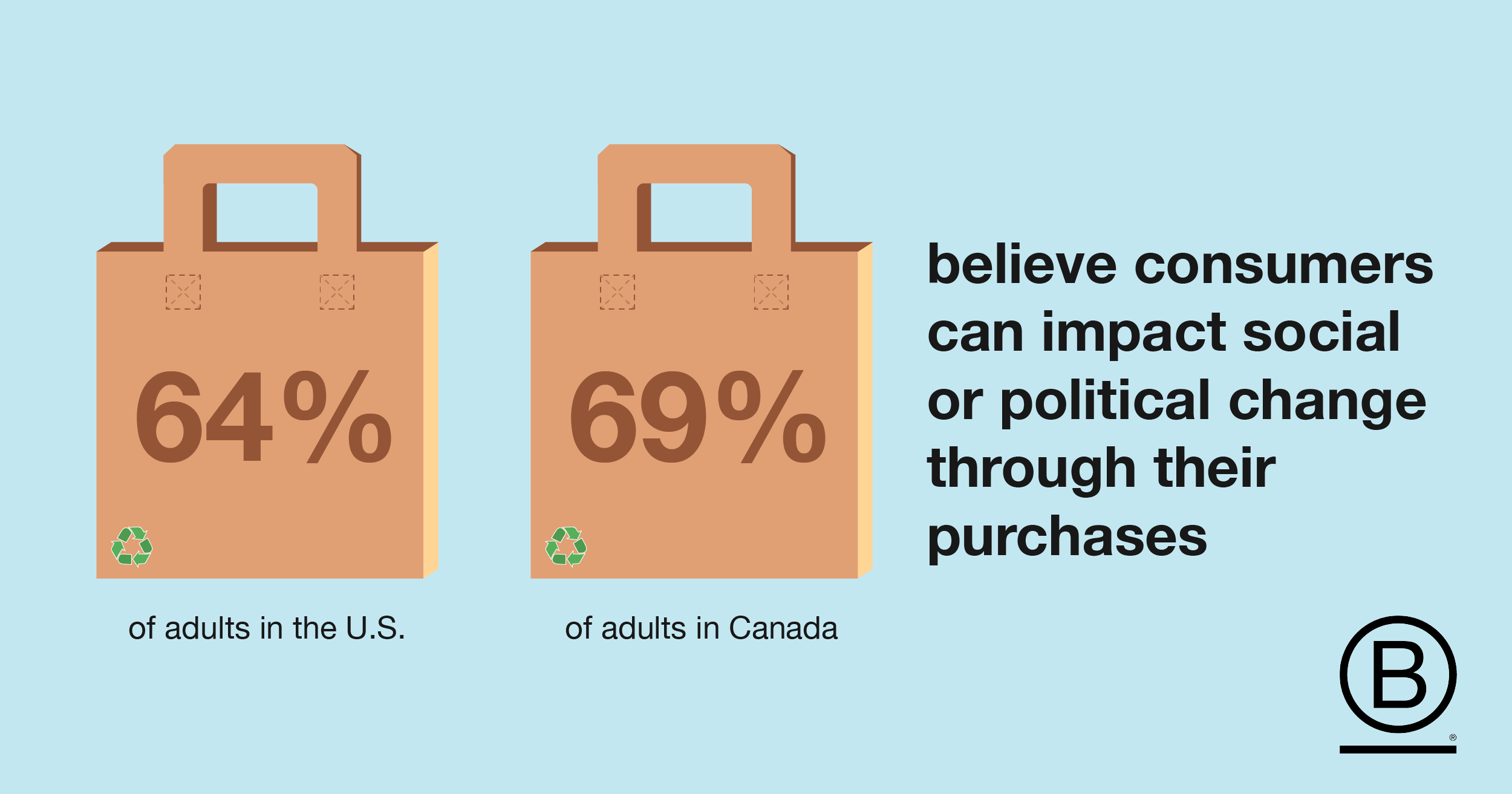 The takeaway: Big and small, B Corps have tremendous reach with consumers. Purpose-driven companies have an edge when it comes to positive brand associations, and consumers are 2.5 times more loyal to companies that integrate their values throughout their supply chain. B Corps tend to grow faster than category averages, even when compared to a similar set of emerging brands. B Corp Certification provides brands an added lift, whether through conscious or unconscious associations. Most consumers believe they can effect change through purchasing, and align their behaviors accordingly. 
4. Younger people are more aware of the B Corp logo and more trusting of B Corp Certification.
The data: According to the survey, 61% of U.S. adults ages 18-24 and 55% of adults ages 25-29 reported being aware of one or more facets of the B Corp brand. As age increased, brand awareness decreased, with the lowest awareness falling at 21% for ages 60+. Additionally, U.S. adults under age 30 were more likely than those over age 30 to have a great deal or a lot of trust in the B Corp Certification (53% vs. 35% respectively).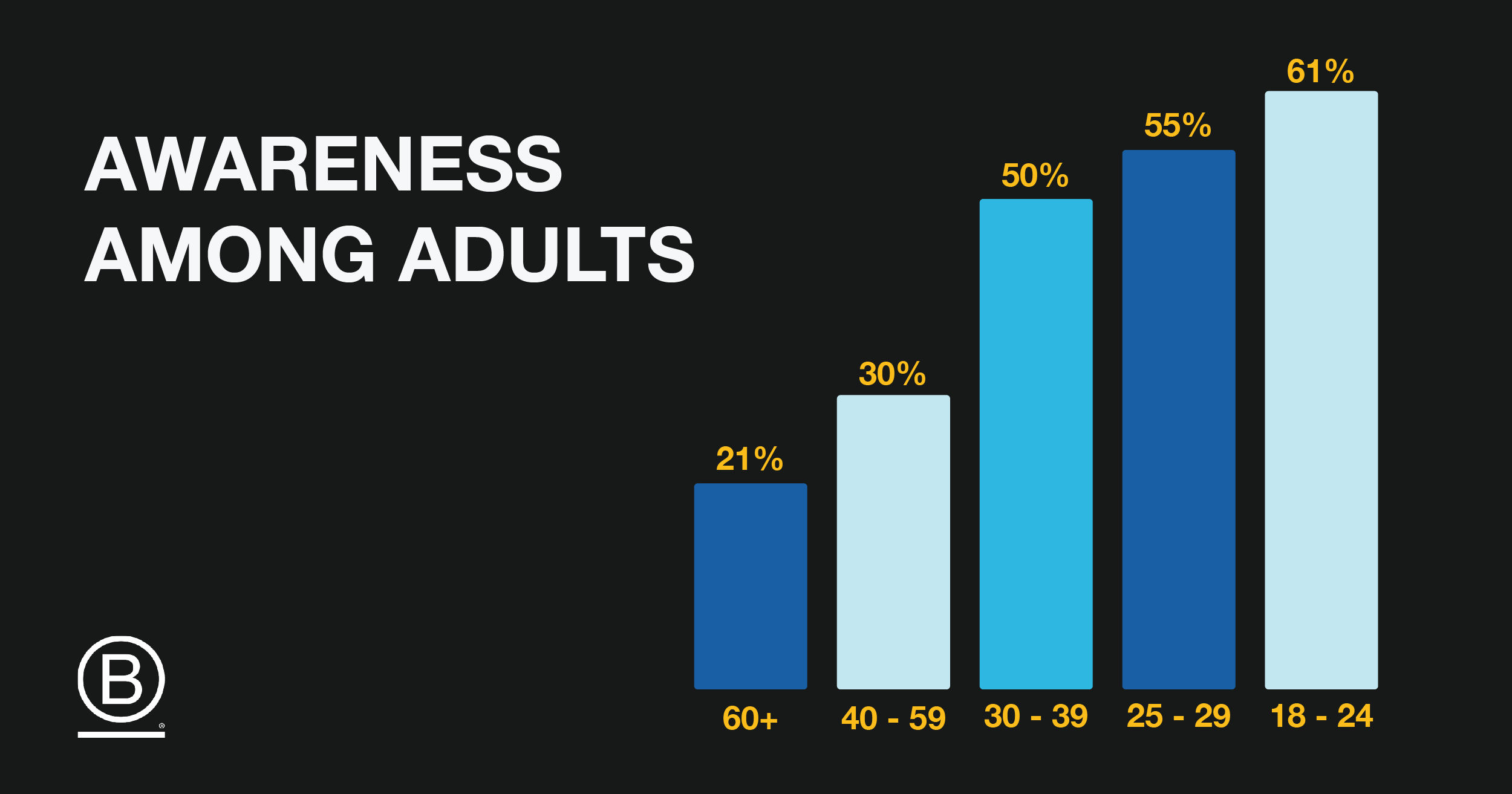 The takeaway: Younger people in the U.S. are more aware of the B Corp brand, and it's more likely to sway their purchasing decisions. In addition to Fors Marsh's research on B Corp, multiple studies show that, of all generations, Millennials and Gen Z are the ones making purchasing decisions based on their values and impact, and are willing to spend a premium to do so. B Corp Certification can be a key lever for companies looking to attract younger consumers because of the trust and rigor associated with the certification.
5. B Corp Certification can help attract and retain talent.
The data: In addition to seeking competitive salary, benefits, and job security, survey respondents said they are looking to work for businesses that engage in fair business practices, have a diverse and inclusive workforce, embed diversity and inclusion in their company values, and engage in environmentally responsible business practices. Moreover, the majority want to work at businesses that not just provide these benefits but actively support social issues such as providing a living wage and engaging in fair business practices. After learning about the B Corp Certification, nearly half of adults said the certification would make them more likely to accept a job offer from a B Corp.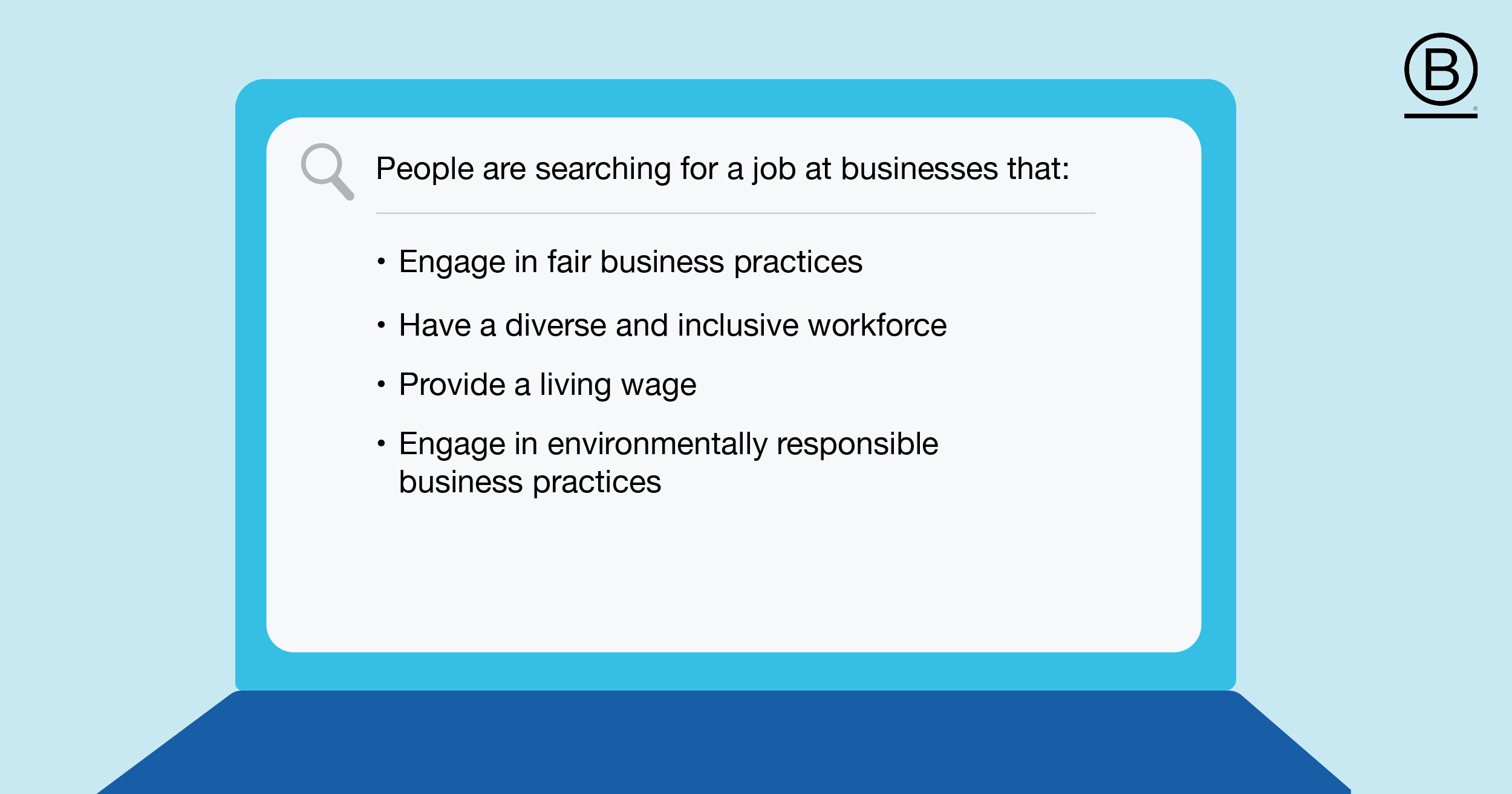 The takeaway: The B Corp Certification presents businesses with the opportunity to not only attract values-aligned employees but also to advocate for change in broader economic systems. The values that B Corps are measured against are those that resonate most with job seekers, providing an opportunity for real change. 
What your B Corp can do to increase awareness of the B Corp Certification
Let the world know! It's essential to purposefully address your customers, suppliers, community, and the general public about why you are a B Corp and why your stakeholders care.

Display the B Corp logo on your website, print materials, packaging, presentations, storefront signage, and more (consult our

Brand Book

for usage guidelines). 

Storytelling is essential in the transformation of business and society. Telling the story of your certification is a great way to engage with the media. 

Social media is a key channel to announce your certification, talk about what being a B Corp means to you, and engage with different audiences. Use hashtags to participate in conversations about trending topics.

Employees don't want to leave their values at home. Consumers are employees, just at a different time of the day, and B Corps are measurably great places to work. Talk about your B Corp journey with your prospective employees and within your company.

Join B Corp Month, our annual campaign in March that celebrates what it means to use business as a force for good.
———– 
1 Methodology: Web-based survey of U.S. and Canadian individuals drawn from a pool of panel members. Data were weighted to be generalizable to the population. Canadian and U.S. adults were weighted separately and thus are reported separately throughout the briefing deck.
Subgroup splits are shown for U.S. adults only due to sample size limitations for Canadian respondents. 
Fielding Dates: 3/24/22–4/5/22
2 Just Good Business: An Investor's Guide to B Corps, Yale Center for Business and the Environment, March 2018 
Sign Up for our B The Change Newsletter
Read stories on the B Corp Movement and people using business as a force for good. The B The Change Newsletter is sent weekly on Fridays.