Give Something Greater: 16 Gifts for a Conscientious Host
November 9, 2022
A B Corp Gift Guide to Help Say 'Thank You for the Hospitality'
With calendars full of holiday parties and travel, stock up on quality gifts for your conscientious hosts. In addition to showing thoughtful appreciation for hospitality, the items below are from Certified B Corporations that prioritize community and interdependence. 
As part of B Lab U.S. & Canada's "Give Something Greater" focus for this year's B Corp Holiday Gift Guides, these companies, products, and services are selected for their commitment to positive social and environmental impact for the people behind them. B Corps are companies actively working to build a stakeholder economy, which requires businesses to create value for multiple stakeholders including workers, customers, communities, the environment, and shareholders. The 16 suggestions that follow are a mindful way to say thank you to friends and family who love being the conscientious host.
---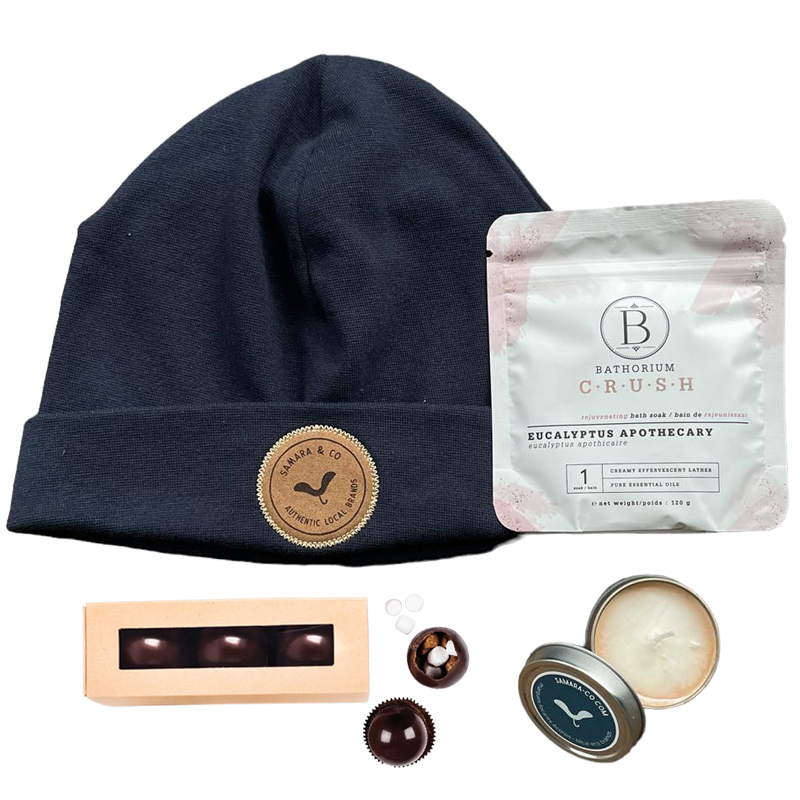 No Planet B Curated Meaningful Gift
Samara & Co | Canada
Price: $45 CAD
This is the kit for the host who may need some R&R during or after the holidays. Samara & Co curated this gift set from top Canadian brands that focus on sustainable practices, quality ingredients, and ethical labor standards, all while helping their local economy. It features a set of three hot chocolate bombs from Chocolat Boreal and a eucalyptus apothecary crush from Bathorium, plus Samara & Co's all-natural soy candle and organic cotton/recycled polyester toque.
---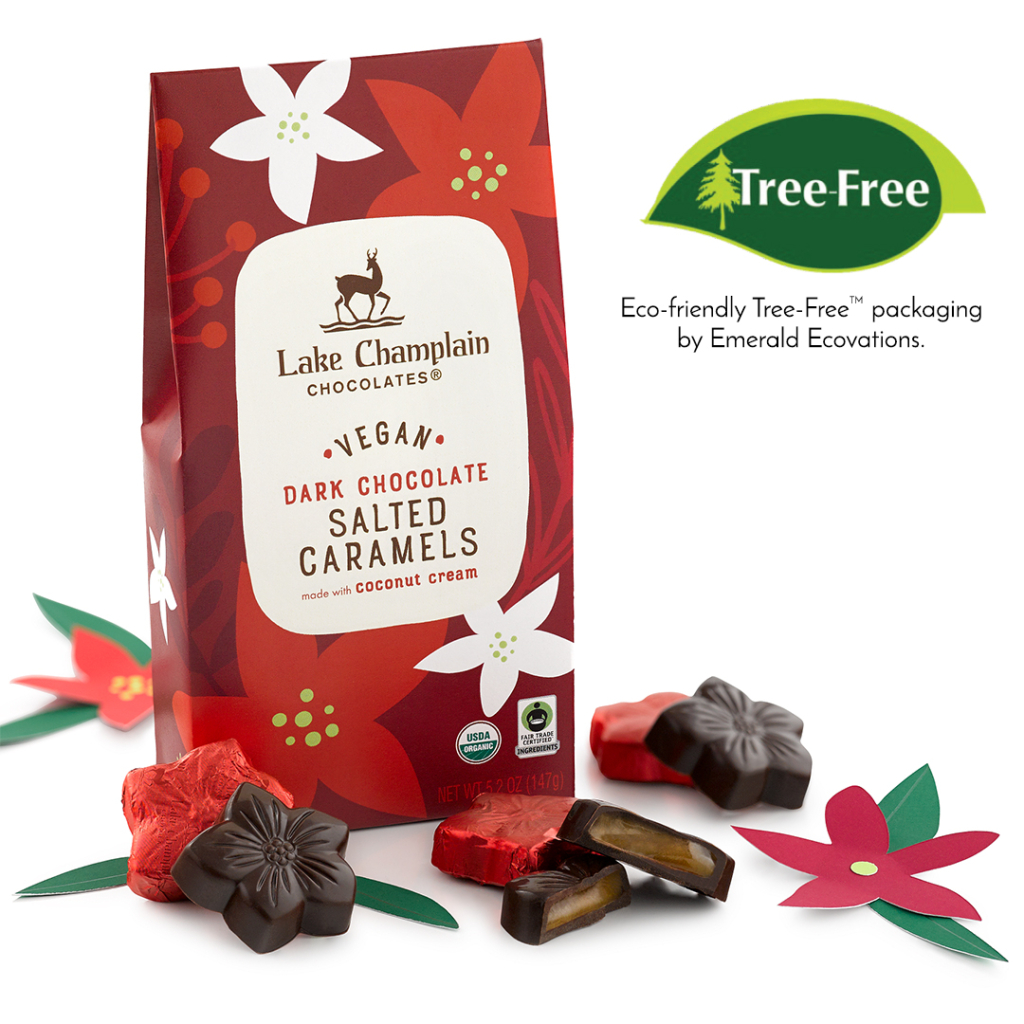 Vegan Salted Caramel Poinsettias
Lake Champlain Chocolates | United States

Price: $14 USD
By taking its iconic sea salt caramel recipe and swapping the local cream for plant-based coconut milk, Lake Champlain Chocolates creates a vegan truffle collection that uses fewer natural resources and produces less carbon and methane emissions. The B Corp pays a fair premium for its chocolate to help lift cocoa farmers out of poverty, support educational programs around sustainable farming practices, and strengthen local cocoa-growing communities. These organic caramel poinsettias come in tree-free, compostable packaging printed with vegetable inks. 
---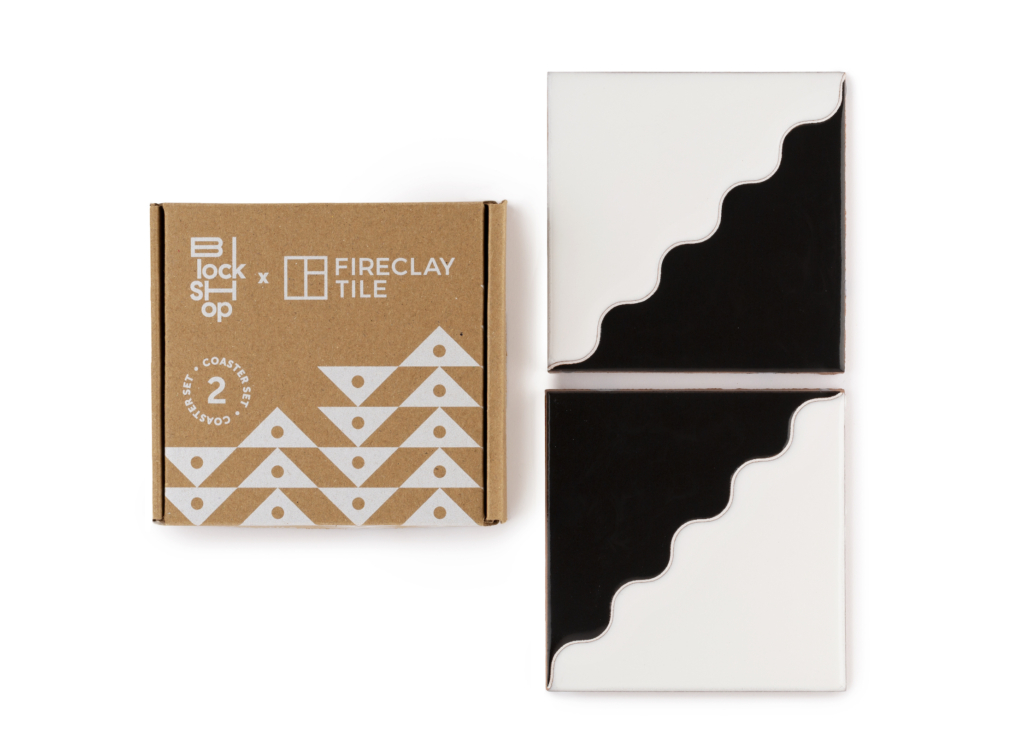 Fireclay Tile | United States

Price: $35 USD
Produced in collaboration with Block Shop Textiles, these hand-painted coasters feature raw edges and cork bottoms. Fireclay Tile donates 5% of proceeds to Allies in Arts, a national nonprofit dedicated to women and LGBTQIA+ artists. All of the certified climate-neutral tilemaker's products are sustainably made in the United States. As an employee-owned company, Fireclay Tile helps workers and their families build wealth and helps increase sales, profitability, and retention compared to organizations.
---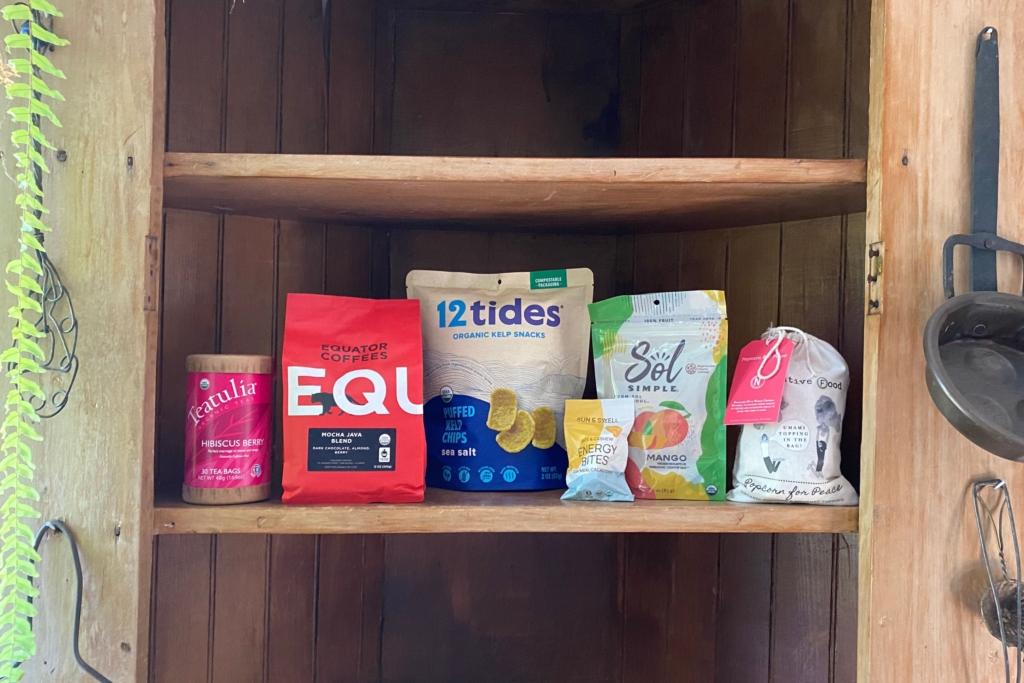 We The Change Fest and We The Change Extravaganza
Narrative Food | United States
Price: $45 and $85 USD
These two gift boxes curated by Narrative Food feature B Corp products and benefit We the Change, an organization of women leaders of B Corps and other purpose-driven enterprises. Both boxes celebrate the ecosystem of B Corp companies dedicated to shifting our global economic system to benefit all and prioritizing equity, regeneration, and interdependence. 
---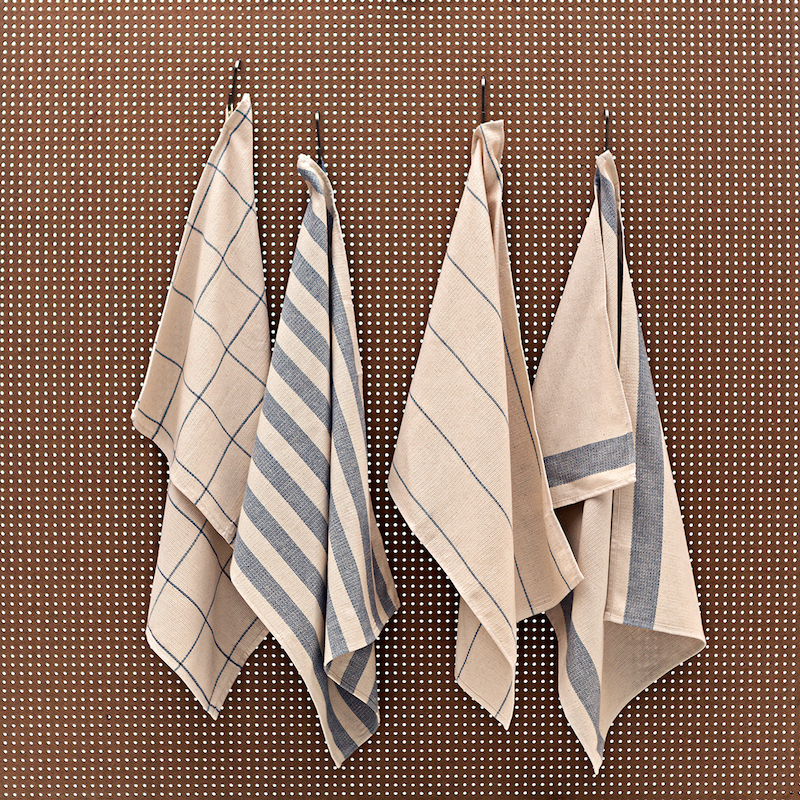 MEEMA | United States

Price: $30 USD
This set of four patterned towels reflects MEEMA's goal of designing products for function and joy. Their everyday goods are designed to perform at a high level, look modern and beautiful, and be planet-friendly. MEEMA fabrics are made from upcycled denim and cotton discarded by jean manufacturers and yarn mills. Waste from that process is used as compost by coffee growers — continuing the circular cycle. 
---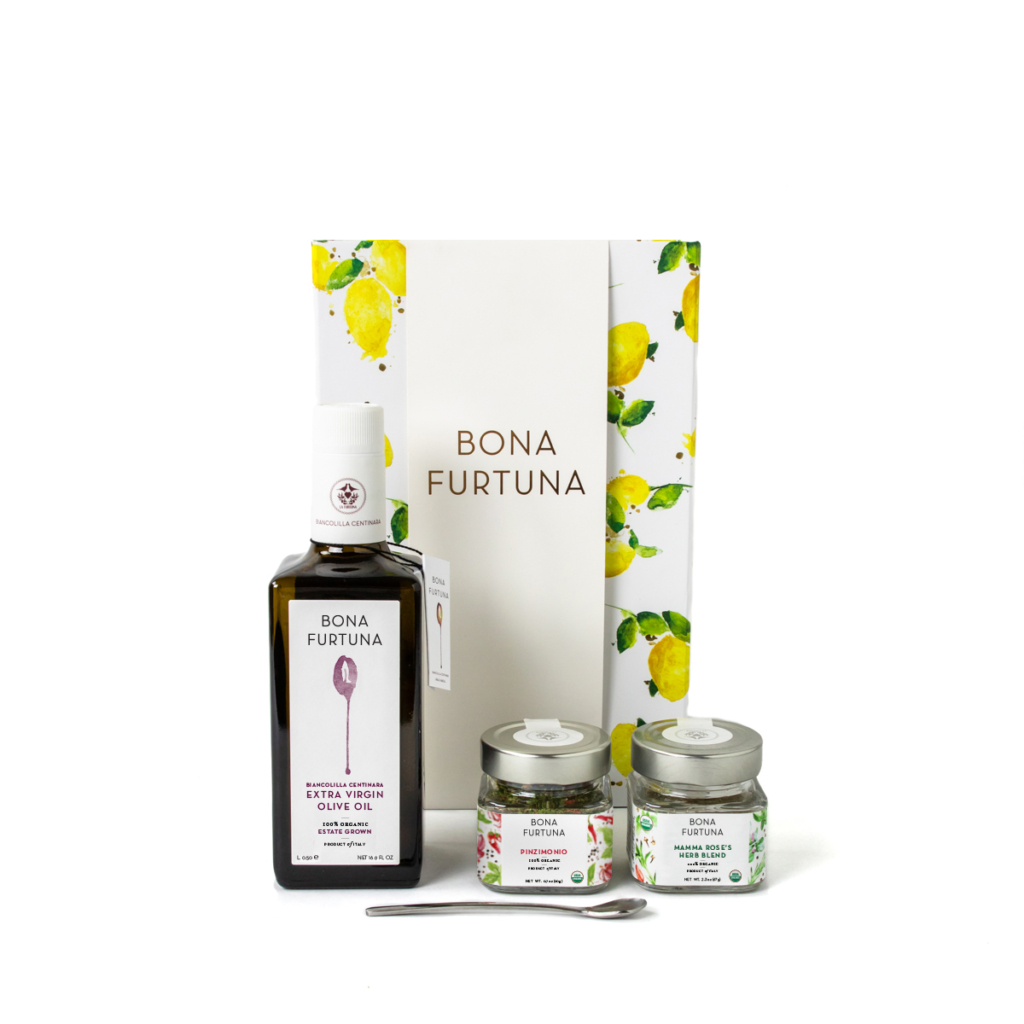 Bona Furtuna | United States
Price: $95 USD
This gift set features products exclusive to Bona Furtuna's 100% organic farm in Sicily, including an exclusive olive oil made from Biancolilla Centinara Olives. Rediscovered and brought back from the brink of extinction by the farm's chief scientist, Biancolilla Centinara olive trees are an ancient varietal that now thrives on Bona Furtuna's farm. Herbs and spices from the farm make up the two traditional herb blends. As a member of 1% for the Planet, Bona Furtuna gives 1% of revenue to the Slow Food chapters in its two communities: Slow Food Monti Sicani and Slow Food in the Tetons. 
---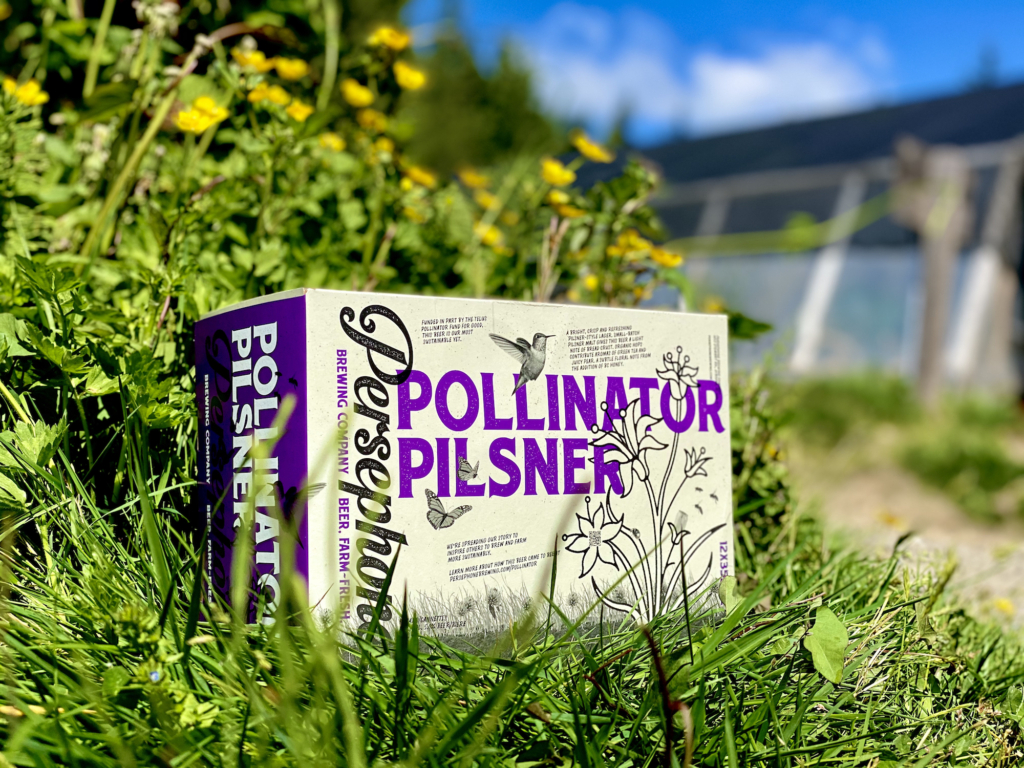 Persephone Brewing Company | Canada

Price: $20.29 CAD
A bee-friendly beer from a B Corp must be good, right? The Pollinator Pilsner from Persephone Brewing Company is made from Canadian-grown fully traceable malt, 100% organic hops, and honey that comes from Bee Friendly Farms. The beer also involves a collaboration with TELUS Agriculture, which leverages technology and data to enable a better flow of information across the agriculture and food industry.
---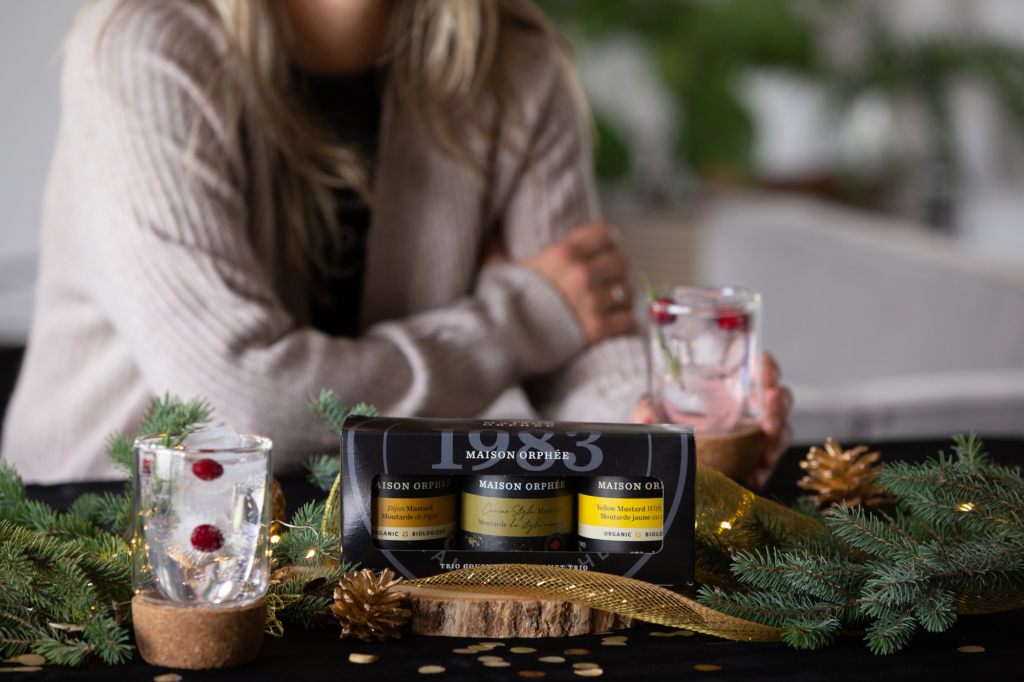 La Maison Orphée | Canada
Price: $18.99 CAD
This La Maison Orphée team favorite includes a trio of small-batch mustards made from organic mustard seeds, sea salt, seasonings, and its own organic apple cider vinegar. A spoonful will add some zip to holiday cheese or charcuterie boards, or an at-home meal. In addition to the traditional Dijon, this online-exclusive set features Spicy Maple Mustard and Caviar-Style Mustard, all in jars perfect to recycle or reuse. This trio is a spotlight of the company-wide commitment to working with local and international producers who share strong social and environmental values.
---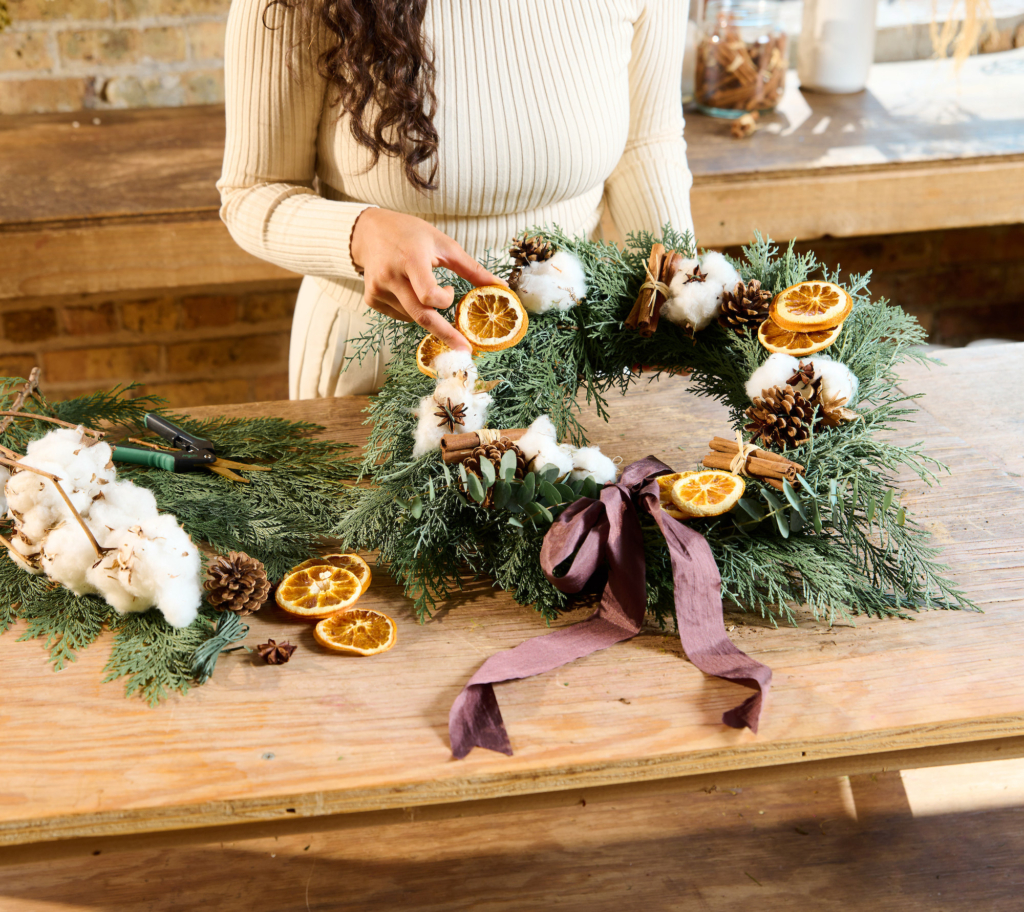 Flower Bouquets and Holiday Wreaths
Flowers for Dreams | United States
Price: $85 USD
Give flowers and give back to the community with Flowers for Dreams, which creates floral bouquets, plants, and wreaths for delivery in the Midwest. Every made-to-order bouquet sold online benefits a local small nonprofit through the Flowers for Dreams Foundation, which has donated nearly $1.1 million to more than 200 community organizations. These donations help advance organizations working for equity, opportunity, and environmental stewardship, especially small neighborhood nonprofits.  
---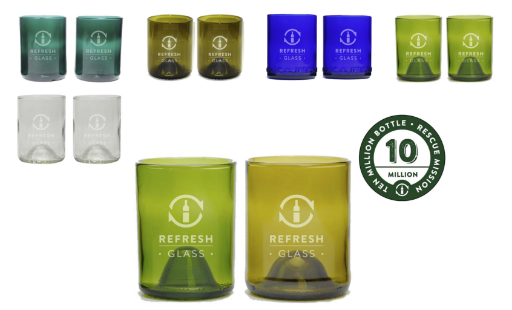 Eco Promotional Products, Inc. | United States
Price: $19.85 USD
Show appreciation for your host and for the planet with this two-piece set of 12-ounce glasses made of recycled glass. Orders of four or more include the option of laser engraving with a family name, company logo, or other decoration. Eco Promotional Products sources sustainable products to reduce the impacts of climate change, promote environmental education, and encourage ethical business practices. The B Corp has a saying to remind customers of the importance of purchasing recycling items: "Remember, our products take from landfills, they don't fill them." 
---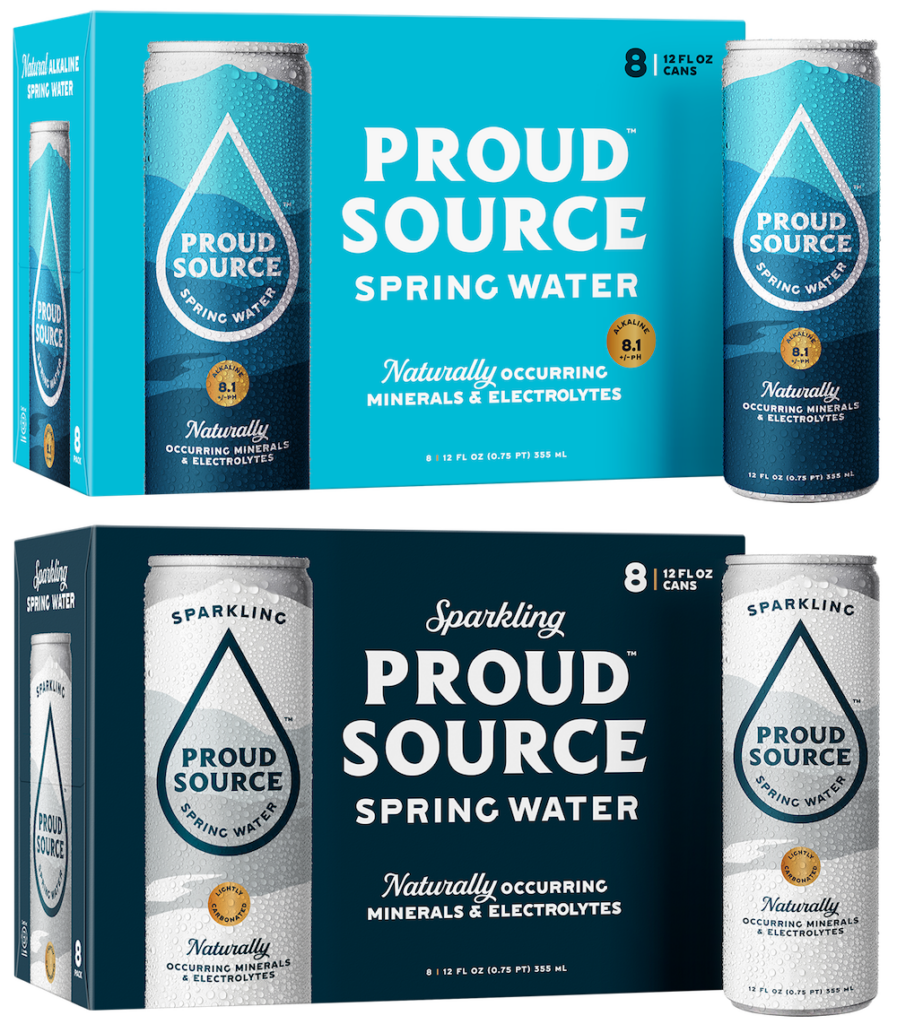 Proud Source Water | United States
Price: $29.99 USD (24-pack of 12-ounce cans)
Bring some eco-friendly bubbly that everyone can enjoy to your next event. Natural minerals and electrolytes provide a subtly sweet finish to this sparkling water, which Proud Source Water sources with the future in mind. The B Corp has pledged to take no more than 5% of daily output from source springs and packages its sparkling water in recyclable aluminum cans and bottles. With a commitment to small communities, Proud Source Water was launched to bring jobs to Mackay, Idaho, and has since added operations in Marianna, Florida. 
---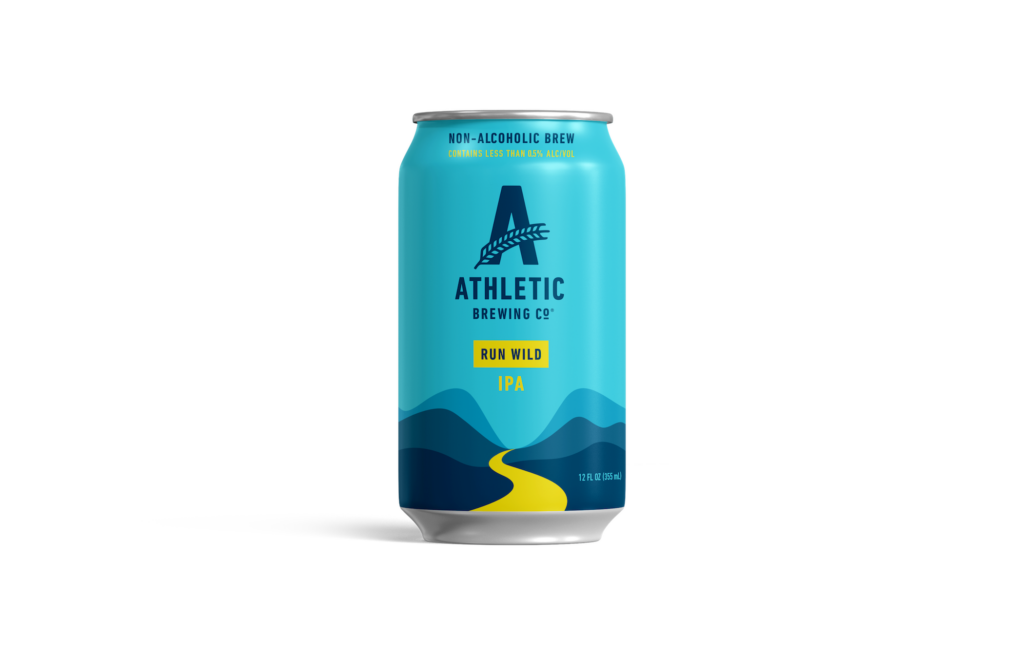 Athletic Brewing Company | United States
Price: $13.99 USD
As one of several year-round non-alcoholic offerings from Athletic Brewing Company, Run Wild is a sessionable IPA perfect for giving to hosts who love craft beer. Brewed with a blend of five Northwest hops, Run Wild has an approachable bitterness that balances its specialty malt body. Athletic Brewing Co. is a non-alcoholic beer company dedicated to making great-tasting craft brews without compromise. In addition to its core brands and limited-time offerings, the B Corp brews four impact beers per year and donates 100% of sales to nonprofits fighting for causes in justice, equity, diversity, and inclusion.
---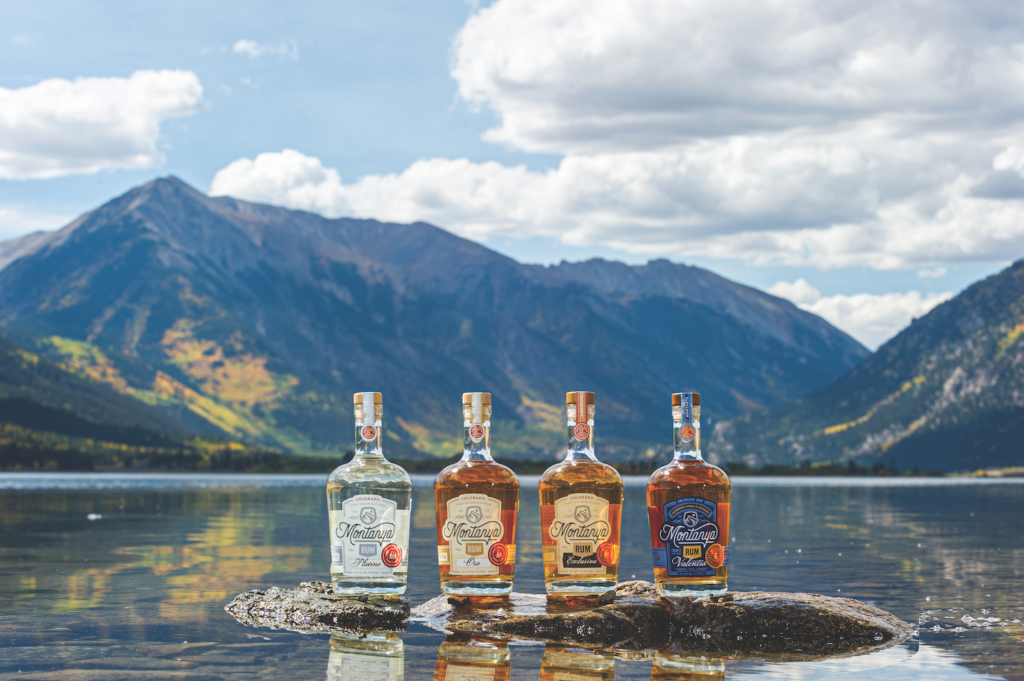 Montanya Distillers | United States
Price: From $34.99 USD
Crafted through barrel aging with no added sugar, molasses, caramel, or artificial colors, Montanya Rum is smooth and flavorful. Distilled in Crested Butte, Colorado, these rums benefit daily from the high altitude during distilling and aging. With women filling roles throughout the company, Montana prioritizes full-time, year-round jobs, and above-average wages in its community. The B Corp is 100% wind powered and works with a bottle supplier that is the first beverage packaging company to be certified Cradle to Cradle for its lower-impact production methods. 
---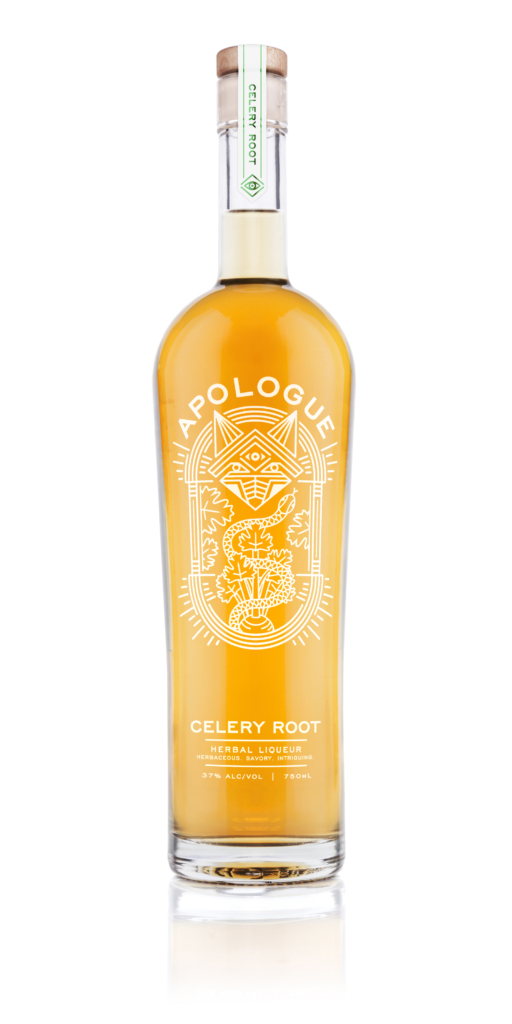 Apologue LLC | United States
Price: $34.99 USD
Apologue liqueurs are crafted from natural, non-GMO ingredients to create flavors that are delicious, adventurous, and versatile. By working directly with independent farmers and suppliers, the company sources ingredients that provide unique flavor for its liqueurs. Apologue donates 2% of sales of its celery root liqueur to Growing Solutions Farm, a vocational farm for young adults with autism that provides the namesake ingredient.
---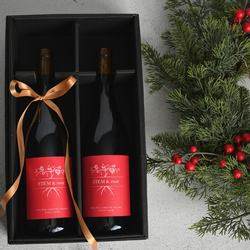 Et Fille Wines | United States


Price: $48 USD
Seeking a silver lining from the challenges of 2020, Et Fille Wines dedicated that year's Pinot Noir to benefit science, technology, engineering, and mathematics (STEM) education. The winery donates a portion of sales to Girls Inc. PNW's Eureka! Program, which uses a STEM-based approach to engage and empower eighth- to 12th-grade students. Each gift box features two bottles of 2020 STEM + root ready to share with your host. 
---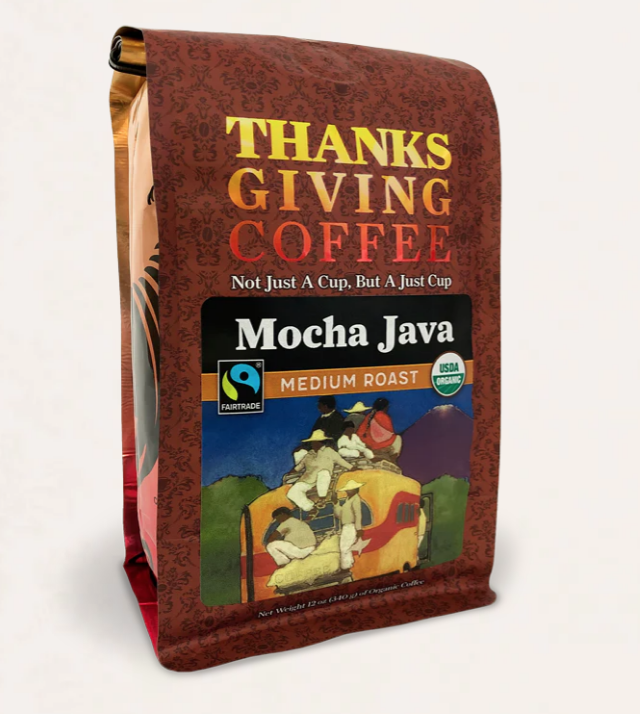 Thanksgiving Coffee Company | United States
Price: $16 USD (12 ounces)
Celebrating 50 years in business this year, Thanksgiving Coffee Company continues to prioritize fair trade practices that empower partner cocoa farmers on five continents to get the price they deserve for their harvest. The B Corp's Mocha Java blend combines two Ethiopian Sidama coffees — a washed plus a dry-processed — with a wet-hulled Indonesian coffee from the island of Sumatra. Through its products and practices, Thanksgiving Coffee Company spreads its message: "Not Just A Cup, But A Just Cup."
Sign Up for our B The Change Newsletter
Read stories on the B Corp Movement and people using business as a force for good. The B The Change Newsletter is sent weekly on Fridays.