Patagonia and B Corp Community Co-Create a New Model of Capitalism
September 6, 2023
Outdoor Retailer Continues to Deepen Commitment to Social and Environmental Impact
What can I do to be of most service right now?
For Patagonia Founder Yvon Chouinard, being of service has long meant doing business differently. The company continually strives to improve its impact and build its commitment to people and the planet. Patagonia cemented its commitment to environmental and socially responsible practices in 2012 by becoming a Certified B Corporation. The company also adopted benefit corporation legislation to embed purpose in its governance structure. 
At that time, Chouinard noted the meaning of the outdoor retailer's legal commitment to purpose and impact: "This B Corp thing allows us to have a way that I think the values of my company can continue, even after it's sold and it's way down the line," he said. "And I'm pretty excited about that."
In 2022, Chouinard and his family stepped up again by transferring their company ownership to a trust that directs all profits to fight climate change. "Truth be told, there were no good options available. So, we created our own," Chouinard said in announcing the change. 
The ownership transfer amounts to an estimated donation of about $100 million per year. It also shows how businesses can help shape a stakeholder economy. As one of the larger and more well-known B Corps, with about 1,000 employees and annual revenue above $1 billion, Patagonia demonstrates how businesses can create a profit while building positive social and environmental impact.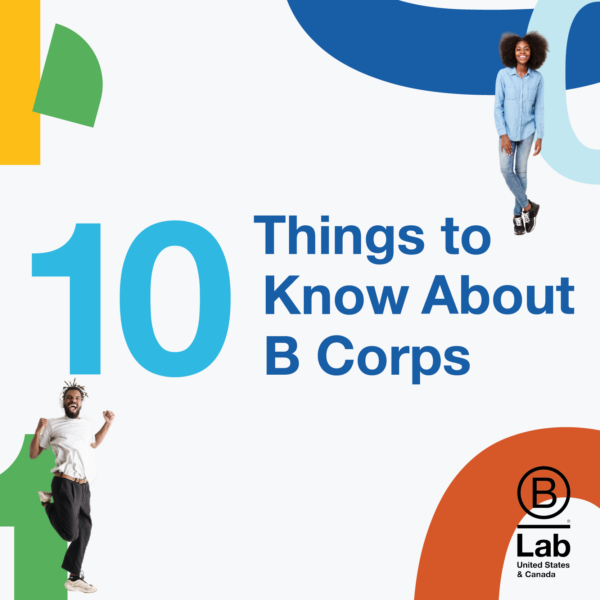 B Corp 101 Guide
Certifying as a B Corp is a major milestone and accomplishment — but it is just one part of a company's ongoing impact improvement journey. This downloadable guide features information for people new to or curious about the Certified B Corporation community.
LEARN MORE
A Legal and Moral Business Commitment to Positive Impact
Patagonia was recognized for its recent innovation and longtime commitment to purpose during a session at Champions Retreat 2022, a gathering of the B Corp community. Patagonia President Jenna Johnson started the session by sharing a statement from Founders Yvon and Melinda Chouinard, crediting the company's employees for their contributions to its success since its founding in 1973: "They have done the hard work over the past decades to overcome the barriers of convention and reduce the environmental harm we cause in our day-to-day business. It requires all of us working together to meet the needs of our time and follow our true North Star to give back to Mother Earth more than we take from her."
Johnson said B Corp Certification provides a meaningful framework for Patagonia's impact work and transparent operations. "Through our legal structure, we're able to kind of morally hold ourselves to those commitments that we've made," she said. "Our B Corp commitment is really sitting at the heart of our purpose trust and continues to be our guiding light for how we will run our business."
Being part of the B Corp community, which consists of more than 7,300 companies worldwide, also helps drive Patagonia's pursuit of continual improvement and enhanced social and environmental impact. "The coming together of like-minded businesses who are all trying to create positive change and really pushing the system in a way that can create a better world is absolutely critical," Johnson said.
Johnson acknowledged that most B Corps are smaller businesses with less revenue and fewer resources than Patagonia. She also said a focus on accountability and values can help amplify each company's impact and contributions to a stakeholder-driven economy. "We don't need everyone doing the exact same thing and even at the exact same scale," she said. "All of us really passionately living into what we bring into this world as we co-create a new model of capitalism together is how we're going to be successful at it."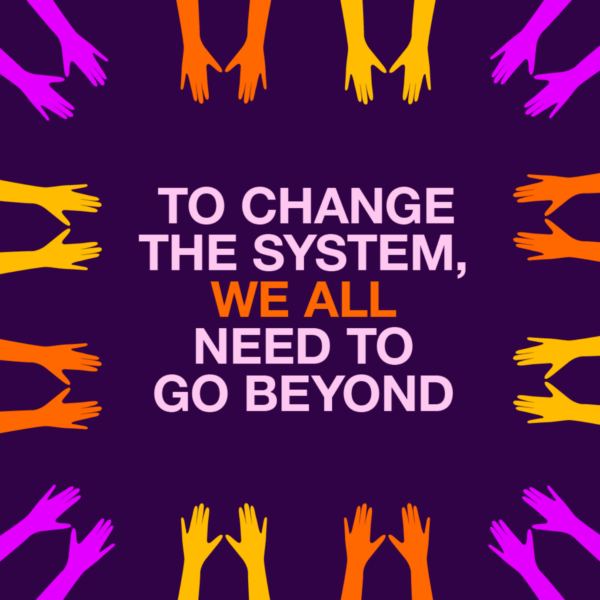 We Go Beyond
This downloadable guide from B Lab U.S. & Canada features B Corp collaboration examples to help more businesses and organizations find ways to go beyond their own impact to support other companies, community members, and more.
LEARN MORE
While Patagonia's new ownership structure is a meaningful and lasting move, it is just one component of the company's impact efforts, Johnson said. "Part of the ownership structure is also taking our B Corp commitments and really solidifying them in what we're trying to do," she said. "Although we are one company looking to flip capitalism on its head, find a better way of showing up, and [show that] responsible businesses can be profitable and important in this world, we are only one company in that same regard. We need all of us to come together to do this work in order to immediately create a new system."
Johnson said Patagonia continues to learn and develop new ways of doing business for the better. "We are far from perfect. … We've had 50 years to get to this point, and we've pushed ourselves really hard every single year to do better and to live into our values."
Watch the conversation: A New Model of Capitalism
Sign Up for our B The Change Newsletter
Read stories on the B Corp Movement and people using business as a force for good. The B The Change Newsletter is sent weekly on Fridays.