Shaping a Stakeholder Economy Through Certifications and Supplier Partnerships
January 4, 2023
Fair Business for a Better World: How Businesses Can Ensure Positive Impact on People and Planet
Building a stakeholder economy — a system that works for all people and the planet — involves doing something different depending on the business. But common values of interdependence, transparency, and justice can guide the work of business leaders seeking to enable sustainable production for workers, farmers, and producers on the frontlines of rising economic inequality and climate change. 
As a business community committed to these values, Certified B Corporations are trying new practices and learning how to help stakeholders throughout their supply chains amid social and environmental challenges. Some of these companies produce the world's most common and popular goods — cotton, coffee, cocoa — in industries known for paying low wages and engaging in questionable labor practices. B Corps and other businesses are working to change that by partnering with suppliers and collaborating with other organizations to prioritize better wages, prices, and conditions for workers and growers. 
To amplify their reform efforts, forward-focused companies are also pursuing third-party certifications — including B Corp Certification and fair trade affiliations — to provide transparency and verification that their practices and policies are positively affecting people and the planet. At Champions Retreat 2022, a panel discussion featured leaders from Fairtrade America, Fair Trade USA, and two B Corps who shared how their organizations are shaping a stakeholder economy.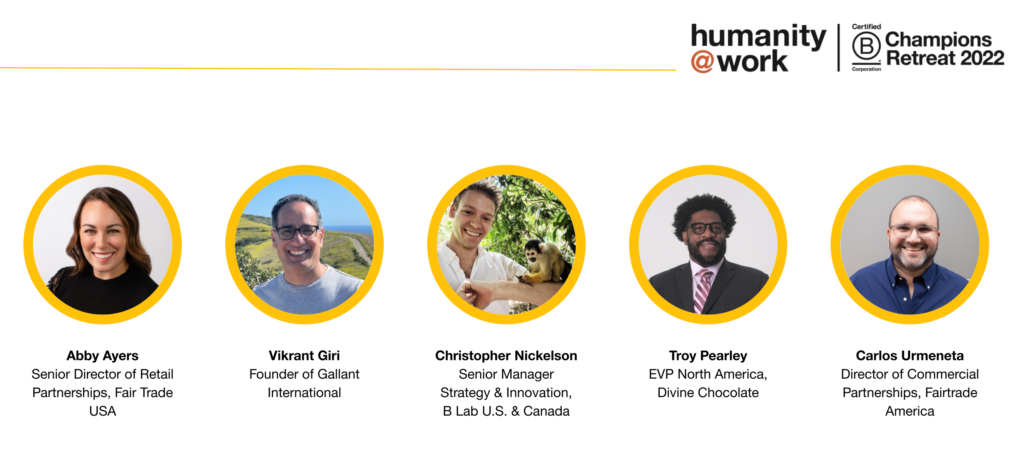 From the business perspective, the "Fair Business for a Better World" discussion included Vikrant Giri, Founder of B Corp Gallant International, which creates organic and fair trade cotton products, and Troy Pearley, EVP North America at Divine Chocolate, a Fairtrade and B Corp premium chocolate company co-owned by cocoa farmers. They were joined by leaders of three certification organizations: Abby Ayers, Senior Director, Retail Partnerships, Fair Trade USA; Carlos Urmeneta, Director of Commercial Partnerships, Fairtrade America; and discussion moderator Christopher Nickelson, Senior Manager, Strategy & Innovation at B Lab U.S. & Canada. These three organizations offer certifications that provide a framework and path for companies looking to improve worker rights, gender equality, climate resilience, and more. And they are partnering with each other to amplify their impact and build momentum for a stakeholder economy. 
Watch the full discussion on B Lab U.S. & Canada's YouTube channel.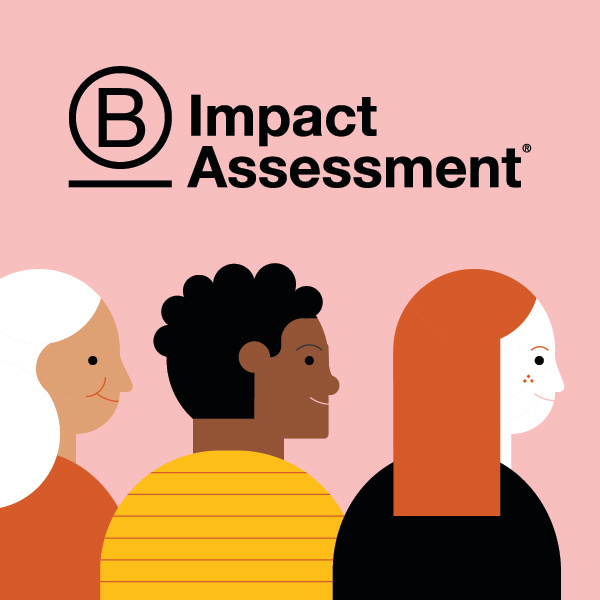 Guide to B Corp Certification
Businesses in the Certified B Corporation community have used a third-party verification of their impact. Use the free B Impact Assessment to evaluate your company's impact on all stakeholders, including the environment, your workers, your community, and your customers.
LEARN MORE
Changing Business Practices to Shape a Stakeholder Economy and Benefit People and Planet
Companies like Gallant International and Divine Chocolate that choose B Corp and fair trade certifications make a public commitment to sustainability and social impact. They also help raise awareness of the connection between our changing climate and people's livelihoods, and how businesses and consumers can act on both global challenges.
Giri said Gallant International works with its suppliers to ensure products meet social and sustainability standards, which also benefits their bottom line. "Last year we helped 700-plus partners to certify their organic practices," he said. "Learning about organic, about fair trade … has given me an opportunity to practice those standards and values, run a business, make money, and help those farmers and workers to grow their own businesses."
Gallant also has connected with new and existing clients by sharing how the company values the people and purpose behind its sustainable products and why it pursues third-party certifications, Giri said. "When you grow, you make a distinct impact. Your story that you bring — having connection with your farmers and your workers — is much more valuable than those links. Bring that story to your clients, and they become loyal." 
Divine Chocolate also shares the story behind its cocoa-containing treats with customers to better connect with people seeking purpose-minded businesses, Pearley said. "The mindset has evolved in terms of understanding why these products are at a premium price. We like to think our products are affordable luxuries," he said. "You buy products that have transparency in the supply chain. … Retailers want to partner with sustainable brands that are doing great things."
Through its farmer ownership model, Divine Chocolate is challenging and changing the current cocoa industry model. "This is the most challenging work that I've ever participated in, but it's also the most meaningful work," Pearley said. "This is not a ready-mix process. It's a journey. … It's meaningful work. You'll be pleased when you see consumers making small choices that make a big impact with the producers that you work with."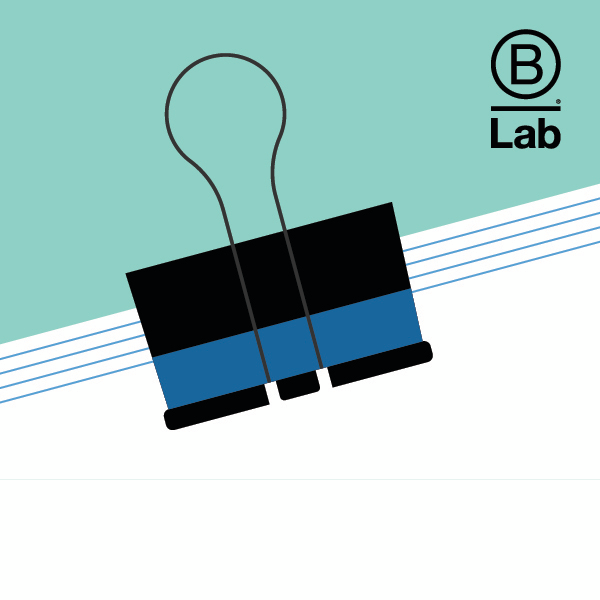 The Future of Work Is Now
The community of Certified B Corporations knows that profits don't have to come at the expense of other stakeholders. Learn more in this downloadable report.
DOWNLOAD
Certifications Help Meet Growing Consumer Demand for Sustainable Businesses 
Certification organizations have seen growing interest in a stakeholder economy among customers, workers, and business leaders since the COVID-19 pandemic drew more attention to frontline workers and income disparities around the world. Research shows that people are willing to pay more for sustainable goods but increasingly expect companies to address societal issues — and certifications like B Corp and fair trade can foster connections with these customers.
Ayers of Fair Trade USA said the organization is building an innovative model of responsible businesses, conscious consumerism, and shared value to eliminate poverty and enable sustainable production. "As consumers are becoming more aware, they're also putting more responsibilities on the brands," she said. "They have higher expectations for brands and are expecting brands to live up to those expectations. … We have a real opportunity to leverage the questioning of our consumers."
Business leaders are finding that fair trade policies and practices create value for people in the supply chain and beyond, she said. "It's not just good for producers, it's also good for business." It's also a way to seek continual improvement and set new goals for your business. "As you do good, as you set sustainability commitments and goals, as you move toward certification, celebrate that but be critical of the business results you're getting," Ayers said. "Looking at the business results can drive real change."
Urmeneta said Fairtrade America sees new opportunities for the U.S. branch of a producer-led system that includes more than 2 million farmers worldwide. "People have bought into the benefits that fair trade and sustainability bring," he said. "There is tremendous potential, and I think the U.S. and North America are lagging compared to the rest of the world. As supply chain transparency becomes a bigger requirement globally, you have to be talking about human rights and due diligence."
Business leaders can use their power and influence to shift the system and create a stakeholder economy where B Corp and fair trade standards are the norm, Urmeneta said. "In order to really move the needle, we need to go beyond business as usual. This is a unique opportunity to be part of that transformation," he said. 
Watch Now: Fair Business for a Better World
Sign Up for our B The Change Newsletter
Read stories on the B Corp Movement and people using business as a force for good. The B The Change Newsletter is sent weekly on Fridays.