The Connection Between Climate Change and Social Justice: Climate Justice
April 17, 2023
No matter which way you look at it, climate change is unjust. It's a human-made crisis mainly created and exacerbated by those with economic power and privilege. But the disastrous effects of climate change disproportionately negatively affect historically marginalized and underserved communities. 
This connection between climate change and social justice is what we call climate justice. Climate justice is one of the three core pillars in B Lab U.S. & Canada's Theory of Change. It's the recognition that those who are least responsible for climate change are more likely to suffer its most devastating effects. Climate justice places people and equity at the center of climate action and advocacy — it's taking a human-centered approach to the issue.
What we know to be true is that we have a responsibility and opportunity to consider all the different ways climate change and social justice are interrelated and continue to advocate and fight wholeheartedly for climate justice by integrating it into our existing climate action efforts.
How Climate Change Is a Social Justice Issue
Climate change is rooted in racism, white supremacy, and inequitable systems. For example, certain businesses and countries are emitting far more emissions than others, but other businesses and developing countries are getting hit harder by that impact. 
When climate disasters and extreme weather events are hitting, they're hitting people of color and low-income communities here in the U.S. and across the world the hardest and fastest. Other groups of people that are particularly vulnerable to climate change crises include persons with disabilities, Indigenous peoples, female-headed households, children, migrant workers, those who have been displaced, etc. 
We can also see climate change in other social justice conversations, including: 
Gender Equity:

During times of conflict and crisis — like after a natural disaster or during mass migration caused by crop failures or water shortages — women are at a greater risk of experiencing gender-based violence, including along migration routes and in refugee camps.

Reproductive Justice:

Pregnant people are more vulnerable to heat-related illnesses, and exposure to extreme heat and wildfire smoke is associated with stillbirth and premature and low-weight births.

Public Health and Well-being:

From poor mental health and increases in violent crime to higher rates of respiratory, heart diseases, and pest-related diseases like Lyme disease and West Nile Virus, the impacts of climate change have been shown through various health impacts in populations everywhere.
We need to be thinking about the human implications of the climate crisis, which are numerous, and how we can be of service to those implications. Social justice and human rights need to be a part of the conversation around climate and environmental justice to create fair and just solutions that benefit both people and the planet. 
How Climate Change Is a Racial Justice Issue
Racial justice is another piece of climate justice that needs to be understood. Racial justice is climate justice, and climate justice is racial justice.
Low-income communities and systematically oppressed communities of color have been affected the most by climate change impacts. This results from a long history of colonization, racism, and systematic exclusion of people of color. There is a direct correlation between communities experiencing significant climate risk now or in the future and past policy and lawmaking that has deepened racial inequities. 
Examples that showcase environmental racism and its connection to climate change include:
Redlining in heat-vulnerable communities.

Redlining, which is the act of withholding services (i.e., loans, insurance) from potential customers who reside in neighborhoods classified as "hazardous" to investment, is said to have helped reshape the urban landscape of U.S. cities. But it also left communities of color far more vulnerable to rising heat waves and droughts.

Urban development in flood-prone neighborhoods.

Some redlined neighborhoods are also more likely to flood when a natural disaster strikes. And while many homeowners would gain wealth from insurance and relief programs, Black homeowners in these communities are shown to lose money and receive less aid in these difficult situations, impacting their livelihoods far worse than others.

Exposure to higher levels of air pollution.

We now know through numerous

studies

that racial and ethnic minorities and low-income groups are exposed to worse air quality levels.
You cannot talk about climate change without also talking about environmental racism. And the first step toward more people and businesses acknowledging this underlying connection is understanding the social impact and its direct ties to racial equities.
That's why B Lab U.S. & Canada's Climate Justice program works closely with B Lab U.S. & Canada's Racial Equity Program in the development of programming to help B Corps better understand and unpack the intersectionality between the two issues.
>> B Lab U.S. & Canada recently launched the course "Racial Equity & Climate Justice 101 Learning Journey for B Corps." This course starts with those foundations: What is the history of racism and colonization? What are the impacts of our biases and perspectives? How does it all roll up into the climate crisis we're currently in and the role that businesses play? Learn more about the course.
Consciously centering climate action in climate justice requires a fundamental shift in mindset and action — from extractive and exploitive to equitable and regenerative approaches. This is uncovered in the Climate Justice Playbook for Business, released by B Lab U.S. & Canada in 2021. On the left side of the wheel below, you'll see examples of how the current, broken system perpetuates a cycle of harm and injustice through paternalistic, colonialistic, and white supremacist modes of thinking. 
We must evolve and shift our mindset to the wheel on the right, which depicts an equitable and regenerative approach rooted in new power models that create sustainability in terms of social and environmental well-being.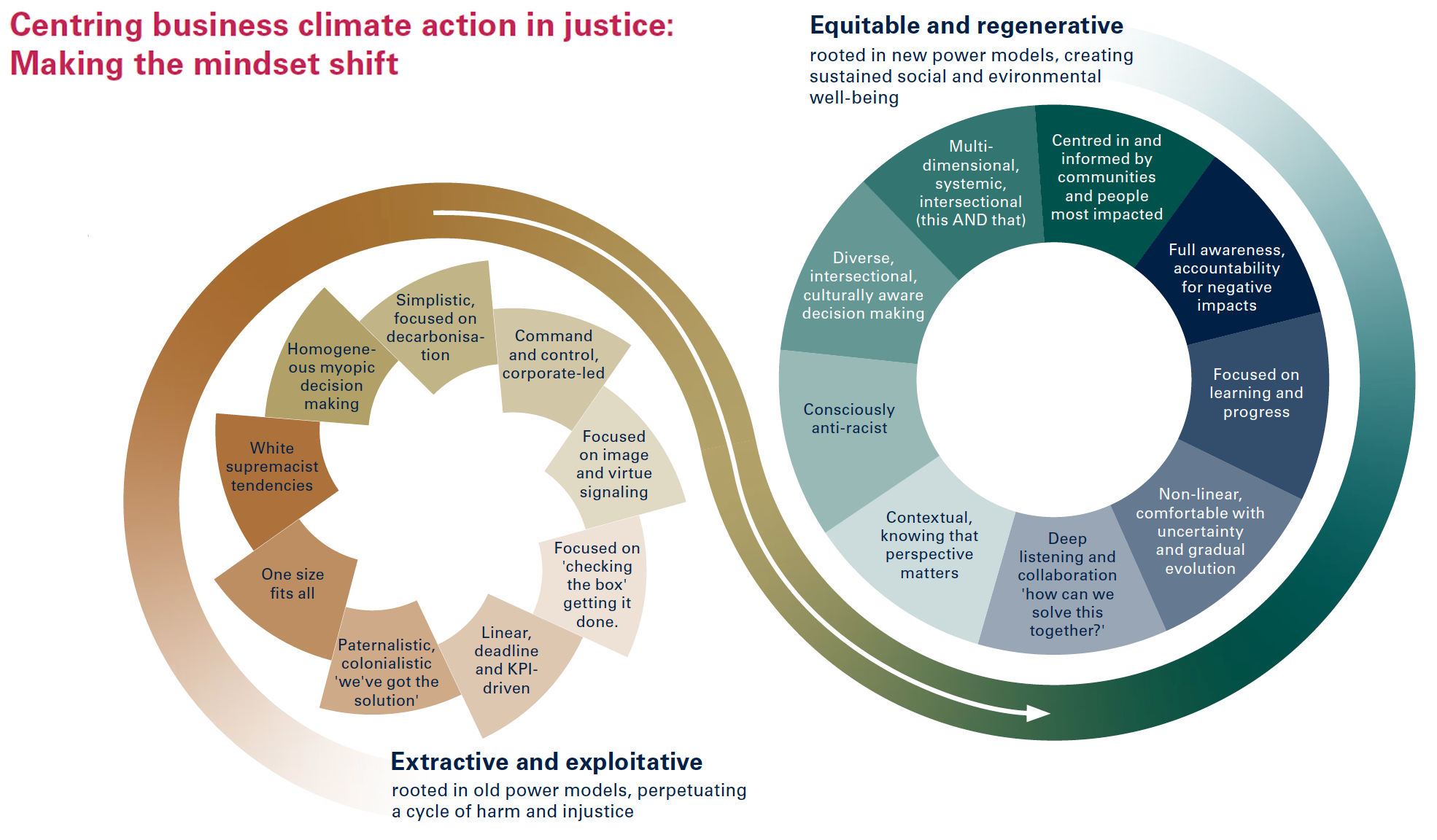 How Businesses Can Address Climate Change
Knowing that there is a connection between climate change and social justice gives B Corps such power and potential to tap into areas of our business operations, community partnerships, and other organization partnerships. A lot of it simply starts from the ground up.
Here are a few ways B Corps can address and influence climate change mitigation from a human rights perspective. 
Reduce Scope 3 emissions and support climate justice projects in communities along your supply chain.

Look at your value chain and supply chain. Think about all the people involved in making your business run and taking your product to market. What effects are you producing in the communities you're operating in and that your value chain touches? How can you support climate justice in communities where your products are produced? Having informed decision-making at all steps of your value chain, encouraging your suppliers to reduce their carbon emissions, and supporting clean energy are great ways to reduce your impact.

Get involved in your local community.

Where is your company based? Find local organizations and initiatives you can partner with. What does your local community need to be more resilient to climate change? Support local organizations that are working on advancing climate justice where you live.  What are the people most impacted by climate change already in your community talking about? Use your business and your platform to extend the reach of those voices. What types of solutions and climate policies are they calling for? Support them.

Take it back to the well-being of your employees.

As climate change worsens, it will affect more and more people, and many of those people will have worked at a B Corp. You don't need to think of the larger picture immediately. First, consider the health care and wellness resources you provide your employees and their families.

Influence and push other businesses to do better.

Not all companies can apply for B Corp Certification this year or the next, but they

can

start thinking about how they can center themselves in climate action. The

Climate Justice Playbook for Business

is accessible to every business, no matter your B Corp status. Anyone can take the understanding of climate justice, share it with other businesses, and create healthy competition. You don't have to apply to be a B Corp to think about the connection between climate change and social inequalities
Key Takeaways for B Corps on Climate Justice
As a B Corp, you and your business are in a position of power to help others understand what climate justice means and make a difference in communities impacted the most severely by climate change. B Corps are already thinking about both people and the planet as shareholders. They have already achieved a certain set of rigorous standards that show how they're putting as much focus on people and the planet as they are on profit. 
Once you're a part of that and understand its power and potential, the real work happens. It might be a slower progressing movement and climb, but there's a powerful obligation to keep climbing, and B Corps understand that.
Here are five key things to remember when spreading awareness and sparking change on the climate justice movement. 
This is deep, challenging, personal work.

We have to set aside conventional ways of thinking and doing to do this work well. The work is non-linear and hard and must start from within each person. It's a professional and personal journey rooted in mindfulness, humility, and self-awareness.

People and equity must be at the center.

Climate justice cannot be just a lens. People and justice must be at the center of all climate action and advocacy. We must listen to and take the lead from those historically impacted at the margins.

We must all work together — not just B Corps.

We need more than businesses simply working alone on their own impact. Collaboration, collective voice, awareness, and action will enable us to solve the climate crisis and create a just, equitable, regenerative future. 

The time to start is now.

You're not alone if you're at the beginning of this journey. 

A fundamental mindset shift is essential.

As mentioned above, the global business community must evolve its thinking on climate action — from extractive and exploitative approaches that perpetuate a cycle of harm and environmental injustice to equitable and regenerative ones focused on creating sustained social and environmental well-being.
Learn More: The Connection Between Climate Change and Social Justice
B Lab U.S. & Canada stands firmly in solidarity with historically marginalized communities worldwide — those who are currently and will be most affected by the devastating impacts of climate change and global warming. We are committed to centering all climate action and advocacy in climate justice. If you're looking for more information on this subject, we have several resources, articles, and tools available to explore.
Sign Up for our B The Change Newsletter
Read stories on the B Corp Movement and people using business as a force for good. The B The Change Newsletter is sent weekly on Fridays.