To Improve Inclusion in Business, B Corps Can Take JEDI Training Learning Journeys 101
February 16, 2023
Learning Journeys to Support Equitable, Inclusive, and Climate Justice-Centered Business Practices
"As human beings, we really have to center around skill-building, which means unlearning unskillful habits and learning new habits in order to create behavior change. The beautiful thing is that doing this is not complicated at all. It's quite simple, actually. But it requires psychological safety, trust, and empathy." — Anu Gupta
Sometimes, having a goal is not enough to make change happen. The idea behind Certified B Corporations is to couple an impact goal with metrics, so business leaders can measure progress and ensure their impact matches their intent. To improve inclusion in business, leaders and employees must first understand the root of the challenges and how to implement solutions. Leaders need more hands-on training on how to center the voices of People of Color and frontline communities in their business practices. 
B Lab U.S. & Canada is launching its first in a planned series of Learning Journeys with the goal of providing the B Corp community with the necessary tools, education, and support to galvanize around racial equity and climate justice. The Learning Journeys also are designed to prepare leaders to safely navigate multi-gendered and multi-race spaces and communities. This approach provides true impact to organizations, their stakeholders, and their communities.
The first Learning Journey cohort, Racial Equity and Climate Justice 101, will launch this month. B Lab U.S. & Canada is partnering with three organizations to support members of the B Corp community on their individual Learning Journeys.
Be More with Anu

will be primarily supporting members of the B Corp community who identify as Black, Indigenous, or other People of Color; white or trans women, or otherwise do not identify as white men.

White Men for Racial Justice (WMRJ) will support members of the B Corp community who identify as white men. There are already more than 50 men from the B Corp community who are members of WMRJ.

Groundwater Institute

will support members of the B Corp community in a shared and safe multi-gendered, multi-race space.
"The Racial Equity & Climate Justice 101 Learning Journey is intended to launch participants on a journey of individual introspection and transformation, and also to gain a better understanding of concepts and practices around racial equity and Justice, Equity, Diversity, and Inclusion (JEDI) that can be applied within their companies as well," says Hugues Sygney Jr., Senior Program Manager of Racial Equity at B Lab U.S. & Canada, who is co-leading the launch of the Learning Journey program.
Learning Journeys, Sygney explains, will be prioritized as one of B Lab U.S. & Canada's four Racial Equity Pillars to inspire B Corp leaders to become year-round champions of achieving racial equity. The Learning Journey will focus on: 
the history of race and racism; 

how both play out across all aspects of our society today; and 

self-reflection on how they play out, consciously and unconsciously, in ourselves and our relationships. 
The Learning Journey is broken down into 101, 201, 301, and 401 levels, all building upon one another to give participants an immersive and expansive breadth of knowledge around racial equity and anti-racist frameworks.
Kylie Nealis, Senior Program Manager of Climate Justice at B Lab U.S. & Canada and co-lead on the Learning Journeys, adds: "My hope is participants in the inaugural Racial Equity & Climate Justice 101 Learning Journey this winter will gain a solid foundation around racial equity and climate justice from which they can effect change through their individual and company actions. I want participants to walk away understanding that climate justice is racial justice, and that you cannot talk about climate justice without talking about the history and systems of racism and oppression that have fueled the climate crisis."
The course will be hosted on Thinkific, an online course platform, and registrants will receive a link to the platform and a code to log in upon registering via Eventbrite. Individuals and teams are encouraged to sign up, and B Lab offers a discounted rate for five people from the same company to register for $2,000 (a total savings of $500). Individual registrations are $450 (no one is turned away for lack of funds; learn more on the registration page). 
A note on language: Inclusion and justice in business and society are continually evolving, including in the terms used to define this discussion. Multiple acronyms are currently included in this work's lexicon and are represented in the quotes of those contacted by B The Change for this article, including JEDI (justice, equity, diversity, and inclusion) and DEIB (diversity, equity, inclusion, and belonging).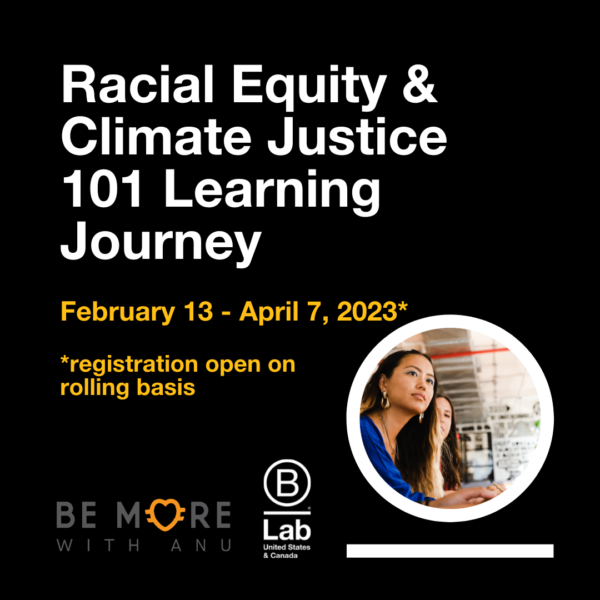 Join the Learning Journeys
Find all the details about the Learning Journeys and register now: Journeys are self-paced from Feb. 13 through April 7.
LEARN MORE
Why Train for Justice and Inclusion in Business? Why Now?
While the Learning Journeys will ultimately become a series, the first 101 journey intentionally starts with a personal and internal focus. "My aspiration for the leaders that will participate in B Lab U.S. & Canada Learning Journey series is to build a solid and comprehensive understanding of how racism has impacted our society systematically, and particularly Black, Brown, Indigenous, and People of Color disproportionately," says Sygney.
"However, in order to understand the multilayered challenges, participants need to begin their Learning Journey with themselves (101) to prevent unintentional harm to impacted communities and Black, Brown, Indigenous, and People of Color leaders." 
This self-guided work to improve inclusion in business is at the root of what inspired Anu Gupta to launch Be More with Anu and, ultimately, to partner with B Lab U.S. & Canada on this first Learning Journey. "[My past work] experiences helped me see that implicit bias is the root cause of all DEIB [Diversity, Equity, Inclusion, and Belonging] challenges we face today. And these challenges transcend the courtroom into our board rooms, interview rooms, negotiation rooms, and classrooms. I founded Be More to capitalize on the science and train good people in impact-driven organizations to measurably break bias so they can actualize and live up to their DEIB commitments," Gupta says. "Hugues, Kylie, and I connected to find ways to bring our network up to speed on the essentials of DEIB, breaking bias, racial equity, and wellness, so we can truly move forward on the people part of the triple bottom line. We quickly recognized the alignment in our missions and visions, and I feel so honored to be able to bring our unique empathy-driven approach to DEIB to our U.S. and Canada B Corp movement."
The Learning Journeys are built on the idea that not all businesses are large enough to have a full-time expert on inclusion in business on staff. And, without that dedicated focus, it can feel like efforts are one-and-done, without a truly lasting impact on the business's practices or relationships. "The asynchronous e-learning method of content delivery really takes that pressure off, which we know can be make-or-break for small businesses just beginning to engage in the work," Gupta says.
When asked about the most common challenges for businesses working on DEIB, Gupta shares that people most often want to know how to make the changes "stick." 
"Our approach really centers around habit formation for this reason; when we're talking about bias, it's not enough to study and learn the answers like one would a formula or an equation," he says.
"As human beings, we really have to center around skill-building, which means unlearning unskillful habits and learning new habits in order to create behavior change. The beautiful thing is that doing this is not complicated at all. It's quite simple, actually. But it requires psychological safety, trust, and empathy." 
For B Corp EarthHero, the format, subject matter, and timing of the Learning Journeys have aligned well for the business. Osiris Mancera, Sustainability Marketing & Partnerships Lead at EarthHero, says the company started a JEDI committee in the summer of 2021, inspired and supported by JEDI Collaborative, a nonprofit with the goal of empowering and supporting leaders in the natural products industry to work toward and accomplish their diversity, equity, and inclusion goals. EarthHero has since crafted its JEDI statement and, led by Mancera and the JEDI internal committee, is continually working to integrate JEDI into EarthHero's daily tasks and long-term projects across all departments. 
"I am excited about Learning Journeys because of the accessible trainings and JEDI-related education it will entail," Mancera says. "For me, this means being able to better serve EarthHero and our stakeholders by incorporating the latest research into what we're doing as a company and offering the knowledge I learn to others so they can continue advancing their sustainability journeys."
For Mancera and EarthHero, this is a lifelong learning journey, one that aligns with the company's B Corp values. "One of the things that drew me to EarthHero in the first place was our B Corp status," Mancera says. "This past May, we worked on our recertification, which I was able to lead alongside a group of students from the University of Colorado Boulder's Masters of the Environment Program, who supported the creation of a management system and ongoing goal-setting process so we would be better equipped moving forward. In a similar vein, I joined our B Local Colorado's marketing committee and helped organize a quarterly meet-up at EarthHero's office and warehouse, which allowed us to network and learn more about local B Corps. I am so glad to continue integrating myself and EarthHero into B Lab so that we continue upholding ourselves to the highest standards alongside other brands doing the very same thing."
It is this community learning — and unlearning — that can hopefully continue to inspire further ripples of change and positive, justice-centered impact. "Whenever we talk about building habits and skills, we're really talking about a way of being in addition to a way of doing," Gupta says. "And changing our own ways of being has ripple effects. When we show up more skillfully, it creates a world where others are more likely to feel like they belong, which we define as being able to truly celebrate yourself at work."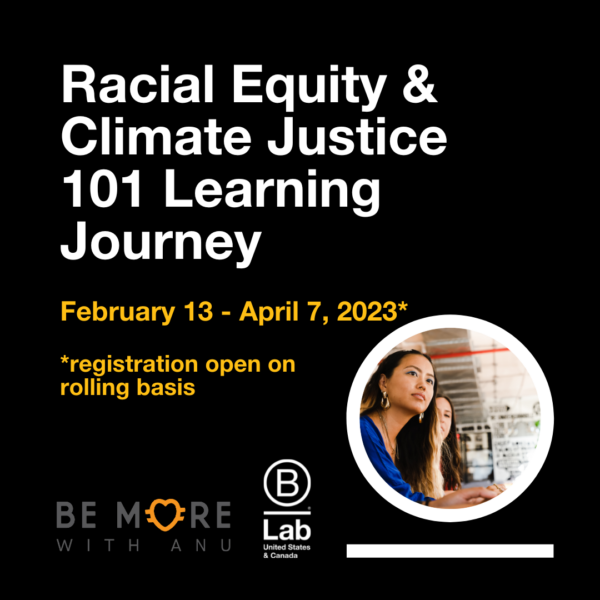 Join the Learning Journeys
Find all the details about the Learning Journeys and register now: Journeys are self-paced from Feb. 13 through April 7.
LEARN MORE
How the B Corp Community Is Addressing Racial Equity
A B Corp Climate Justice Commitment
Sign Up for our B The Change Newsletter
Read stories on the B Corp Movement and people using business as a force for good. The B The Change Newsletter is sent weekly on Fridays.