Relationships As a Framework for Reconciliation Within Businesses
June 14, 2023
Canadian Companies Work Toward Trust and Connections with Indigenous Communities
For Certified B Corporations in Canada, racial equity is more than one of three pillars in B Lab U.S. & Canada's Theory of Change. It also is part of a national call to action for reconciliation with Indigenous peoples that the Canadian government adopted in 2021.
To support Canadian B Corps and other businesses in their individual and collective reconciliation efforts, B Lab U.S. & Canada recently sponsored a B Corp Leadership Development (BLD) webinar in Canada featuring Indigenous voices and allies. Hosted by B Local Vancouver, B Local Québec, and the Atlantic B Corps in Canada, the online event provided business practices, policies, and pathways to create and build relationships with Indigenous peoples and help advance economic justice and racial equity. 
"Reconciliation is the process of repairing damaged relationships between individuals or groups," said Michelle Reid of B Lab U.S. & Canada. "It involves acknowledging and addressing past wrongs, listening to and understanding each other's perspectives, and working toward restoring trust and rebuilding relationships."
By adopting the United Nations Declaration on the Rights of Indigenous Peoples, Canada committed to legal, economic, and moral actions that acknowledge and recognize the harms done to Indigenous peoples during colonization. Gwen Bridge of Gwen Bridge Consulting said the Canadian Truth and Reconciliation Commission emphasized the importance of developing relationships with Indigenous peoples to create a framework for healing and actions for economic and social parity. 
That framework involves learning from and talking with Indigenous peoples to build deeper understanding that can provide a foundational relationship, Bridge said. "When you demonstrate that you can understand the significance of what's being shared with you, it goes a long way to building relationships. The understanding relationship is infinitely more important than the search for any plan of action.
"Within the ecology of the world, Indigenous peoples are 5% of the population but maintain 80% of the biodiversity. It's really important to understand how Indigenous peoples view their relationship to the land — land is the fundamental relationship," she said. "Reconciliation is the work we're doing in support of the relationship."
Pathways to Build Relationships with Indigenous Communities
During the webinar, leaders of Canadian businesses and organizations that are building relationships with Indigenous peoples shared examples and lessons that other companies can use in their reconciliation efforts. 
At the Canadian Council for Aboriginal Business (CCAB), Tabatha Bull guides the not-for-profit organization's mission to support the Indigenous economy through efforts including mentorship, business development and networking, and procurement. CCAB offers a Progressive Aboriginal Relations certification program to support organizations in developing and implementing reconciliation action plans. She outlined the program's four pillars:
Employment:

Information on supporting Indigenous people in the workplace and building the number of Indigenous workers and leaders. 
Business development:

Procurement strategies to build supply chain connections between corporations and Indigenous-owned companies that also strengthen communities.  

Community relations:

Partnerships and relationships that increase the positive impact of businesses on their communities. 

Leadership to actions:

Ripple-effect strategies to encourage partner businesses to build a Reconciliation Action Plan or otherwise commit to supporting Indigenous businesses. 
David LePage of Buy Social Canada said the social enterprise sees the marketplace as a way to advance reconciliation and community building. "Our premise is that every purchase or every market exchange has an impact. And so when we buy or we sell, when we exchange goods and services, there's an economic or social, cultural and environmental impact whether it's intentional or not," he said. 
Our decisions on what to buy and who to buy from have deeper implications on our communities and the environment, LePage said. "The market has been built on values of extraction and exploitation. … That was part of the dominant way of doing procurement," he said. "So we don't have to just change the policy. We really have to change behavior in the marketplace."
Like regenerative practices that protect the land, marketplace practices that benefit workers and producers align with B Corp values and can help companies realize a more inclusive economy, he said.   
"The real marketplace that was developed and practiced by Indigenous communities was really the foundation of what we call social procurement. So it's really about us learning from the traditions of the Indigenous community — how to use trading and how to use the market to build healthy communities."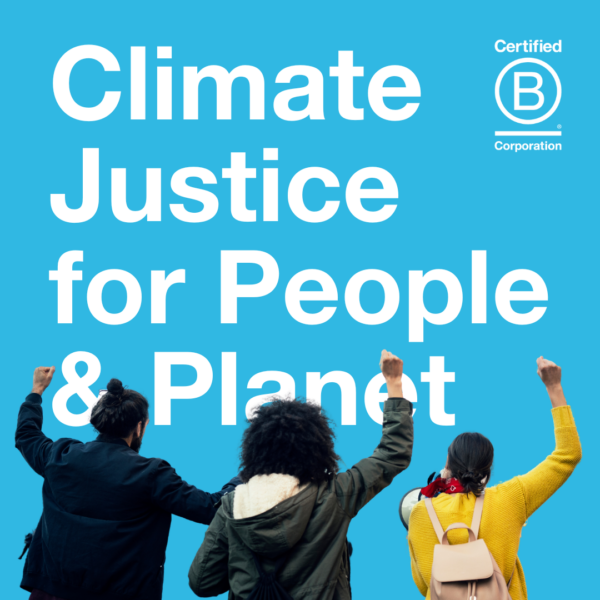 A Climate Justice Toolkit for Business
This free downloadable resource helps businesses engage in reflection, learning, and action around climate justice. The toolkit includes a Climate Justice Reflection Challenge, glossary, and calls to action.
DOWNLOAD
Building Capacity with and Among Indigenous Communities
At Chandos Construction, a commercial building company and employee-owned B Corp, Tim Laronde serves as National Director for Indigenous Strategies. In creating his role a few years ago, Laronde and Chandos President Tim Coldwell sought to build knowledge of and relationships with Indigenous communities. The company's four-part strategy includes: 
Building Indigenous cultural awareness.

Laronde has developed a presentation with a historical timeline and steps toward reconciliation that he shares with Chandos workers, partners, and client consultants.

Hiring, retaining, and promoting Indigenous workers.

At Chandos, Laronde has created an employee resource group as a way for Indigenous employees within our organizations to network and work toward initiatives and causes. 

Increasing procurement with Indigenous businesses.

Laronde builds authentic relationships with Indigenous communities so they have a seat at the table where business decisions are made. 

Supporting business development and customer relationships.

Laronde encourages Chandos team members to get out in their communities to learn priorities and long-term goals, and partner to help create wealth and capacity.    
Capacity-building is one of the priorities at Aurelia, where Erin Light and others work with governments and Indigenous organizations to develop social services. "There's a child welfare crisis in this country, particularly as it relates to Indigenous kids in care," she said. "We have the privilege and the challenge of helping to support Indigenous communities and trying to keep their kids from being removed from the community."
As a partner in this work, Aurelia co-develops training, policies, and procedures with Indigenous communities so children can maintain connections with their families and heritage. "Rather than being removed from the community and placed in predominantly white foster homes, these kids would be able to stay surrounded by their community in a residential placement facility that was run and owned by the community," Light said. "The result of kids being removed is essentially that they're completely detached from their community and their language. And once they are removed, they usually don't end up going back to the community. We like to think of the work that we do as translational."
Sign Up for our B The Change Newsletter
Read stories on the B Corp Movement and people using business as a force for good. The B The Change Newsletter is sent weekly on Fridays.