Weaving Truth and Reconciliation with Indigenous Communities into Work
October 11, 2023
Canadian B Corps Share Resources and Frameworks to Co-Create Reconciliation Action Plans
When organizations open themselves to acknowledge the impact of colonialism on Indigenous peoples' cultures, economies, and well-being, the task of reconciliation may seem overwhelming. But all organizations and businesses, no matter their realm of work, can turn to reconciliation resources and frameworks to redress the harms of colonization on Indigenous peoples. 
At Champions Retreat 2022, a gathering of people in the Certified B Corporation community, a panel discussion focused on truth and reconciliation efforts at businesses and organizations in Canada. The panel featured:
Annie Korver

, a member of the Métis Nation and founder of B Corp

Rise Consulting

.

Karen Restoule

, a member of Dokis First Nation and co-founder of the nonprofit

BOLD Realities

.

Jay Wall

, Principal Creative Director of B Corp

Briteweb

. 
Their business and organizational efforts align with the Canadian government's national truth and reconciliation framework for renewing relationships with Indigenous peoples. Truth and reconciliation efforts also contribute to advancing progress on the three pillars in B Lab U.S. & Canada's Theory of Change: climate justice, racial equity, and a stakeholder-driven economy.
In Rise Consulting's work with clients, Korver said the reconciliation process starts with listening to understand how colonialism — from the doctrine of discovery to land dispossession to residential schools — impacted Indigenous peoples who prior to contact were living and thriving in their communities. The reconciliation process must acknowledge the ongoing legacy of colonialism and build relationships with Indigenous communities to shape the future, she said. 
"Our elders teach us that there is no reconciliation without truth," Korver said. "And to reconcile means that something has been broken — it wasn't broken, but it's broken now. And we have the agency and the influence to be part of shaping the future."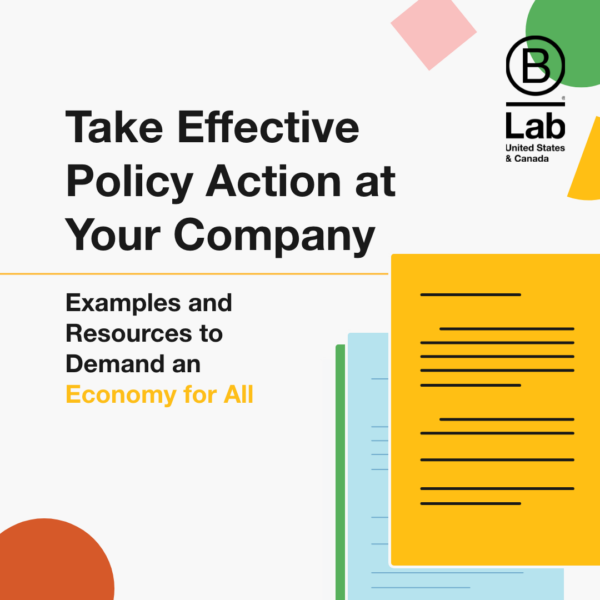 Take Effective Policy Action at Your Company
This free downloadable resource shares how B Lab U.S. & Canada and the B Corp community are building a stakeholder economy and driving collective political action to make the rules of the game more equitable and beneficial for all.
DOWNLOAD
Korver and Restoule discussed how principles such as tribal sovereignty, self-determination, and relationship-building should form the basis of reconciliation conversations and action. Restoule also spoke to the legacy of colonialism and the corresponding governmental policies that grew increasingly intrusive to Indigenous peoples. 
"We're talking about that long-standing history of colonial oppression and assimilation through a pretty robust policy framework, both in Canada and the U.S.," Restoule said. "Where we really saw European settlers, explorers come across and look to establish themselves here in North America, and issuing a bunch of policies that pushed Indigenous people out of the way in order to give way to western expansion." 
Those policies included the creation of residential schools, which housed thousands of Indigenous children forcibly removed from their families in an attempt to break familial and cultural ties.
Grounding Reconciliation in Relationships with Indigenous Peoples
Korver said businesses and organizations can lean into the work of the Truth and Reconciliation Commission of Canada. The commission was created through a legal settlement between Residential Schools Survivors, the Assembly of First Nations, Inuit representatives, and the federal government and church bodies that created and operated the schools. The commission created 94 calls to action to redress the legacy of residential schools and advance the process of Canadian reconciliation. 
Korver said the calls to action were guided by a framework of 10 principles. These include grounding reconciliation in relationship-building and including Indigenous communities in truth and reconciliation actions — or, as Indigenous people say, "Nothing about us without us." For businesses and other organizations, this can include a Reconciliation Action Plan.
"The intent with the Reconciliation Action Plan is to center the voices of Indigenous peoples and to consider how you can be in a relationship," Korver said. "How you can move forward and participate actively, proactively, with accountability, as it relates to reconciliation." 
She said Rise grounds the vision of a Reconciliation Action Plan in an organization's identity and values, determining how they intersect with reconciliation and what commitments look like on a personal and organizational level. The Reconciliation Action Plan ultimately includes specific, measurable objectives and goals that the organization seeks to meet over a determined time frame. Leadership is then held accountable for those goals. 
Korver also said that reconciliation is "a team sport" and that efforts should be shared among everyone at an organization. It's important that everyone knows they have a role to play and no action is too small. 
"This isn't meant to be on the desk of one person," Korver said. "Reconciliation needs to be in the hearts of all of us."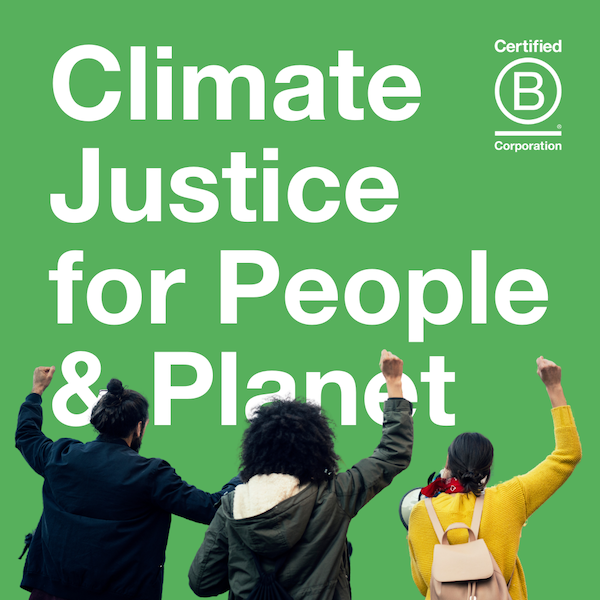 Climate Justice Toolkit
This free resource helps businesses engage in reflection, learning, and action around climate justice. The toolkit includes a Climate Justice Reflection Challenge, glossary, and calls to action.
DOWNLOAD
Small Steps to Move the Dial on Reconciliation
Restoule, who co-founded BOLD Realities to advance the industry-Indigenous relationship, encouraged people and businesses to move the dial on reconciliation within their "hug range." That means looking within personal and professional realms of responsibility to identify potential for impact. 
"It's doing what you can within your own individual space, that sense of personal responsibility and commitment to advancing things, making things better, to what you do at an organizational level," said Restoule. "Look at your mandate, and see what you can do." 
Restoule gave the example of the restaurant chain Tim Hortons creating an orange-sprinkled doughnut for National Day for Truth and Reconciliation, also known as Orange Shirt Day. All proceeds from doughnut sales go to Indigenous charities. Restoule said though some criticized the campaign, she emphasized that even a small act, like buying a doughnut, can be a first step. 
"That is your small way, and perhaps the first step in a long-term, lifelong engagement with learning about what happened, but more importantly, sorting out within yourself how it is that you can contribute to moving the dial on reconciliation," Restoule said. 
Resources and Frameworks for Reconciliation Action Plans
Wall said that while 94 calls to action may sound overwhelming, it only takes about an hour to flip through the document, get a sense of the actions, and see which stand out as possibilities for a business or organization. 
He pointed to number 92 as a good starting place for businesses. That action calls upon businesses to adopt the United Nations Declaration on the Rights of Indigenous Peoples as a reconciliation framework and to apply its principles, norms, and standards to corporate policy and practices involving Indigenous peoples and their lands and resources. Those principles include consulting with and obtaining consent of Indigenous peoples before proceeding with economic development projects; ensuring Indigenous people have equitable access to jobs, training, and education opportunities; and providing education for management and staff on the history of Indigenous peoples.
Wall said that Briteweb, which is a creative agency dedicated to social change, collaborated with Indigenous creators to draft a Reconciliation Action Plan for 2022 and 2023. The plan includes three tenets of reconciliation: providing cultural awareness training for staff and contractors, supporting Indigenous community development, and creating Indigenous employment and educational opportunities. He said the plan will be evaluated and updated at the end of this year. 
"As part of our plan, we have ways to measure progress and check in regularly on that," Wall said. "And then when we come up toward the end of 2023, we'll be looking at, 'OK, what's next in our cycle? What have we learned? Where have we stumbled? Where are we really inspired and what are the next opportunities?'" 
Wall said the plan has become central for the Briteweb team, and he thinks that's in part due to regular communication with members of Indigenous communities. Whether it's sharing their personal journeys, talking about what their communities looked like before the impacts of colonization, or discussing work to revive Indigenous languages and culture, hearing those stories in parallel to the actions being taken as part of the plan has been powerful, he said. 
"It has become even more important to the team than we had ever imagined or hoped," Wall said. "And I think part of the power of that has been in having these regular calls where we bring in Indigenous knowledge keepers to share with us their perspectives." 
Watch the full conversation: Weaving Truth & Reconciliation with Indigenous Communities into Work
Sign Up for our B The Change Newsletter
Read stories on the B Corp Movement and people using business as a force for good. The B The Change Newsletter is sent weekly on Fridays.