What's Your Vision of an Inclusive and Regenerative Future?
January 25, 2023
Realizing a World Centered on Racial Equity, Climate Justice, and a Stakeholder Economy
At Champions Retreat 2022, leaders and collaborators in the Certified B Corporation community were encouraged to envision an inclusive and regenerative future where the three pillars of B Lab U.S. & Canada's Theory of Change — racial equity, climate justice, and a stakeholder economy — are realized. Dr. Tiffany Jana of B Corp TMI Consulting Inc. invited attendees along on an Afro-Futurist Regeneration Journey, which they described as an "inclusive, imagination-fueled flight into the next decade," where every business operates as a force for good.
The Afro-Futurism genre includes art, music, literature, and other works by creators such as Erykah Badu and P-Funk and movies such as Blank Panther. "Afro-Futurism is about rewriting and prewriting a future in which the well-being of the African diaspora is centered. And the delusion of white supremacy is largely absent," Dr. Jana said.
"Fly with me into the future," Dr. Jana said. "In the tradition of the African diaspora in centering our well-being, in centering our thriving, we're not exclusionary of everyone else. So you're welcome on this Afro-Futurist adventure — regardless of your race, your identity, who you are — because Afro-Futurism assumes a mindset of abundance."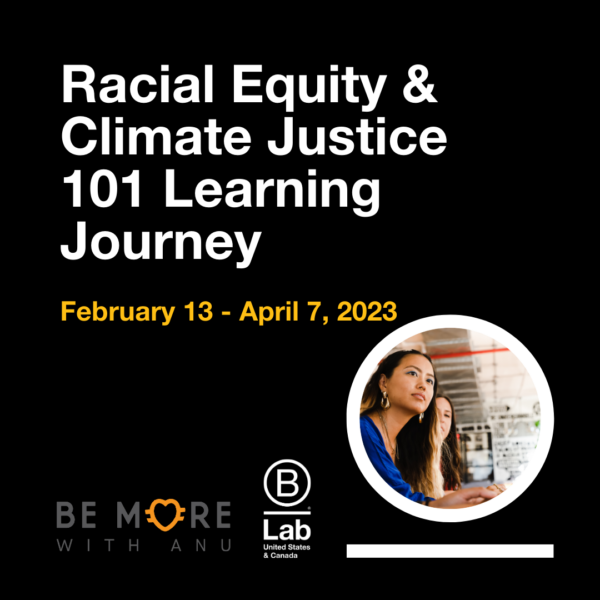 Racial Equity & Climate Justice 101 Learning Journeys
These trainings will allow the B Corp community to strengthen its knowledge of racially equitable, inclusive, and climate justice-centered business practices.
LEARN MORE
B Corps Envision an Inclusive and Regenerative Future Economy
What does an equitable and regenerative future look like for B Corp leaders and others working every day toward a shared vision of a stakeholder economy? We share Dr. Jana's inspiring description of time travel — and encourage you to join the journey and share your aspirational perspective. 
When we get to 2035, we will have solved for all of the challenges that are currently plaguing us. We are going to be in the aspirational future.
We are now at 2035. … We survived that pandemic and remember how the world was activated around justice, around climate change? We were able to heal our waters; we were able to do so many amazing things. I want to know what you see from your vantage point – the things you care about. 
Dr. Jana shared a few examples of their vision for 2035: 
The B Corp community rebranded work as conscious co-creation, and we not only bring our whole selves to work now, but we become our fullest selves through the work now.

We consciously co-create and we go to work in order to become our best selves.

 

We were able to

abolish the prison system

. … We're going to actually provide people with the help that they need to become the most participatory citizens that they can be; the healing that they need. 

Poverty was alleviated

because we recognize there was always enough to go around!

Our

list of endangered species is shrinking

because we've been able to take such good care of the planet. 
Co-create, world-build: What do you see in 2035? 
Get inspired by these visions of the year 2035 shared by attendees at Champions Retreat 2022: 
We've stopped depleting our soil and putting chemicals in it. We've healed from the ground up.

We have healthy soil and regenerative food systems for all.

We now

have a global economy that is radically inclusive

because our elected officials, our governments have adopted the B Corporation stakeholder principles so that they serve the people rather than corporations. 

I finally enjoy a world where we don't need to be talking about accessibility as an afterthought. … We finally realize that

we are a vast majority of diverse people that just want to live a happy life

. 

There's no more concept of the 1%, only the 100%, because

opportunities and wealth are equally distributed

. People in the Global South … can provide for their families where they live. 

The word or

the idea of waste no longer exists

. All material is seen as the resource for the creation of the next thing.

I am the parent to two teenage daughters who have

complete autonomy and control over their bodies

— and safety. 

We have gone through a

massive truth and reconciliation globally

. … We became connected as one global, human community.

What I'm

eating is healing me

and not killing me. 

Artists, poets, and musicians are elevated

as are avatars of wisdom and fully supported. 

Universities have been eliminated because

we've recognized the good and the intent of most people and that they do have some skill

, some interest that they can utilize and apply and help us build a community through their skill set. …

We appreciate all that people can do

. In 2035, everybody is a contributor to the community.

I turned on the news, and

there was not a single thing about gun violence

. 

The trans community is no longer in mourning for the trans day of remembrance because

we no longer have gender-based violence.

 

I'm so excited to be able to participate in and understand

people who have learned so much through different sensory experiences

. … We finally have the benefit of how they have developed differently in the world. 
Dr. Jana closed the visionary exercise by urging B Corp leaders to ground their work while creating a better reality: "It is all real, all possible because we spoke it into being. … It can be so," they said.
"Let's go forward and co-create the world we just visited."
What is your vision of an inclusive and regenerative future? Share yours here!
Watch the Afro-Futurist Regeneration Journey from Champions Retreat 2022
Sign Up for our B The Change Newsletter
Read stories on the B Corp Movement and people using business as a force for good. The B The Change Newsletter is sent weekly on Fridays.